While many Guests dart to the parks after dropping off their luggage, the resorts and their respective pool areas are a great place to make memories, too. When I was a Cast Member, I always laughed when a family told me they enjoyed the resorts more than the parks! But that's totally valid; many Guests imagine their perfect vacation as lounging by the pool.
So, which is the best pool at Disney World? Each pool provides a different experience for Guests. Here are five of the best Disney resort pools!
Samawati Springs Pool—Animal Kingdom Lodge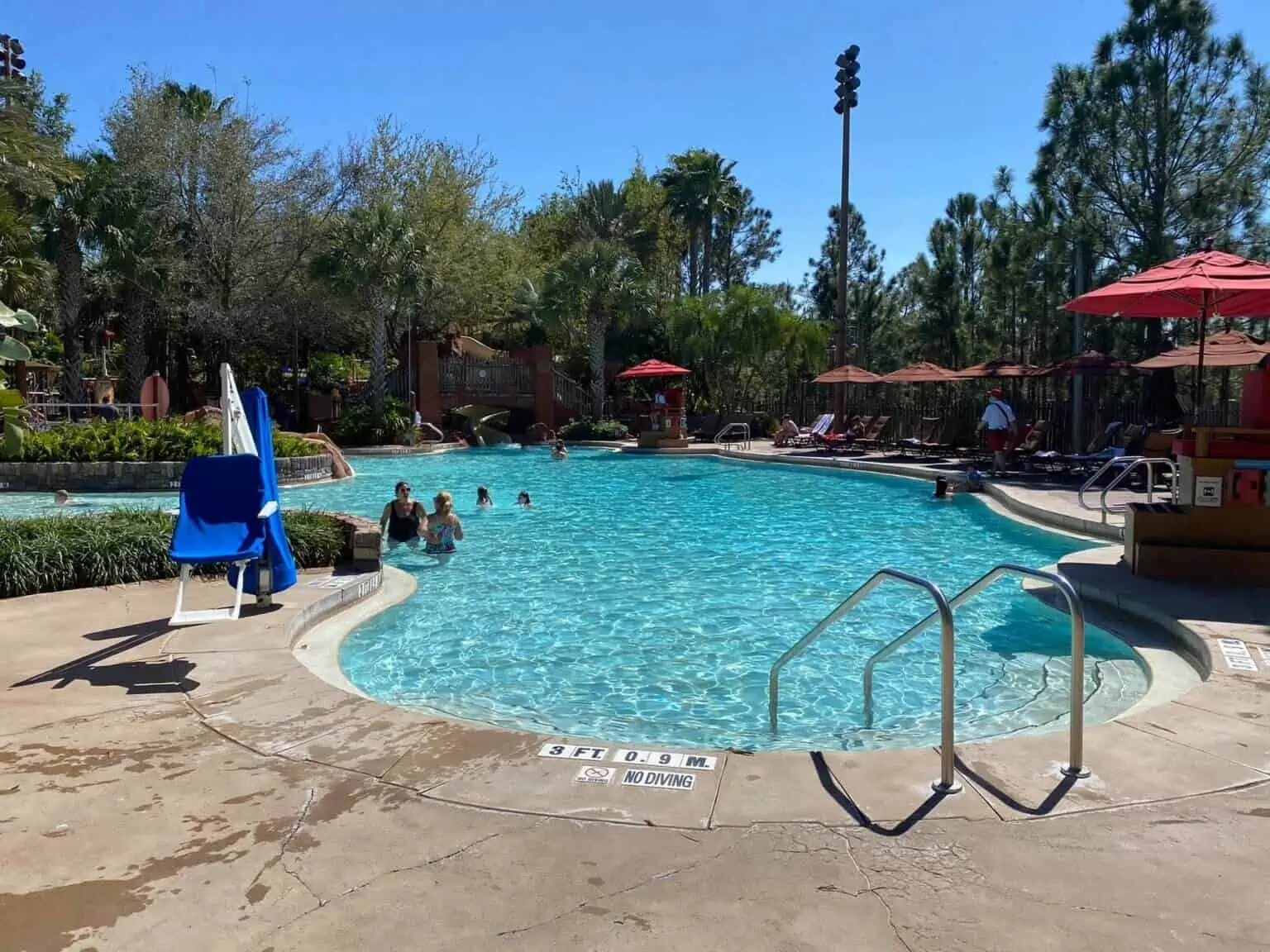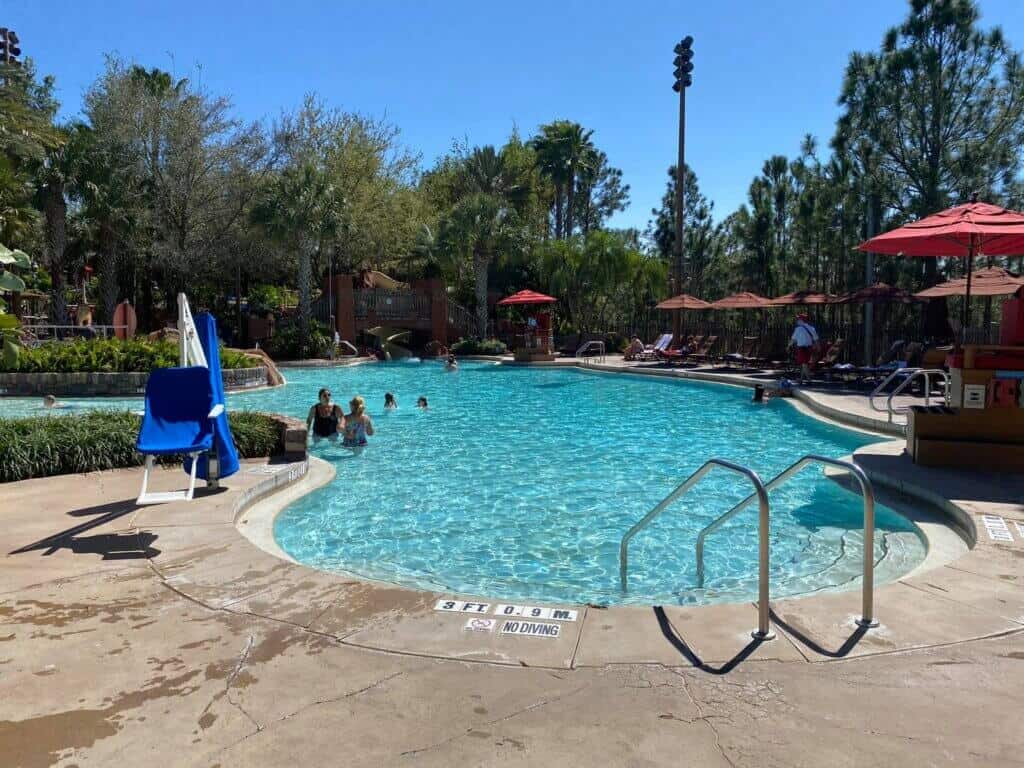 This location is number six for the best pool at Disney World (it's also the most underrated)! Animal Kingdom Lodge has two unique pools, and I can't decide which I like more! The Uzima Springs Pool is large, featuring a waterslide and exotic scenery. The Samawati Springs Pool is smaller but includes a more extensive play area for children. If your child loves to swim, they'll probably enjoy this resort the most, as the play area features three zones with different activities for them to try!
Beach Pool—Grand Floridian Resort & Spa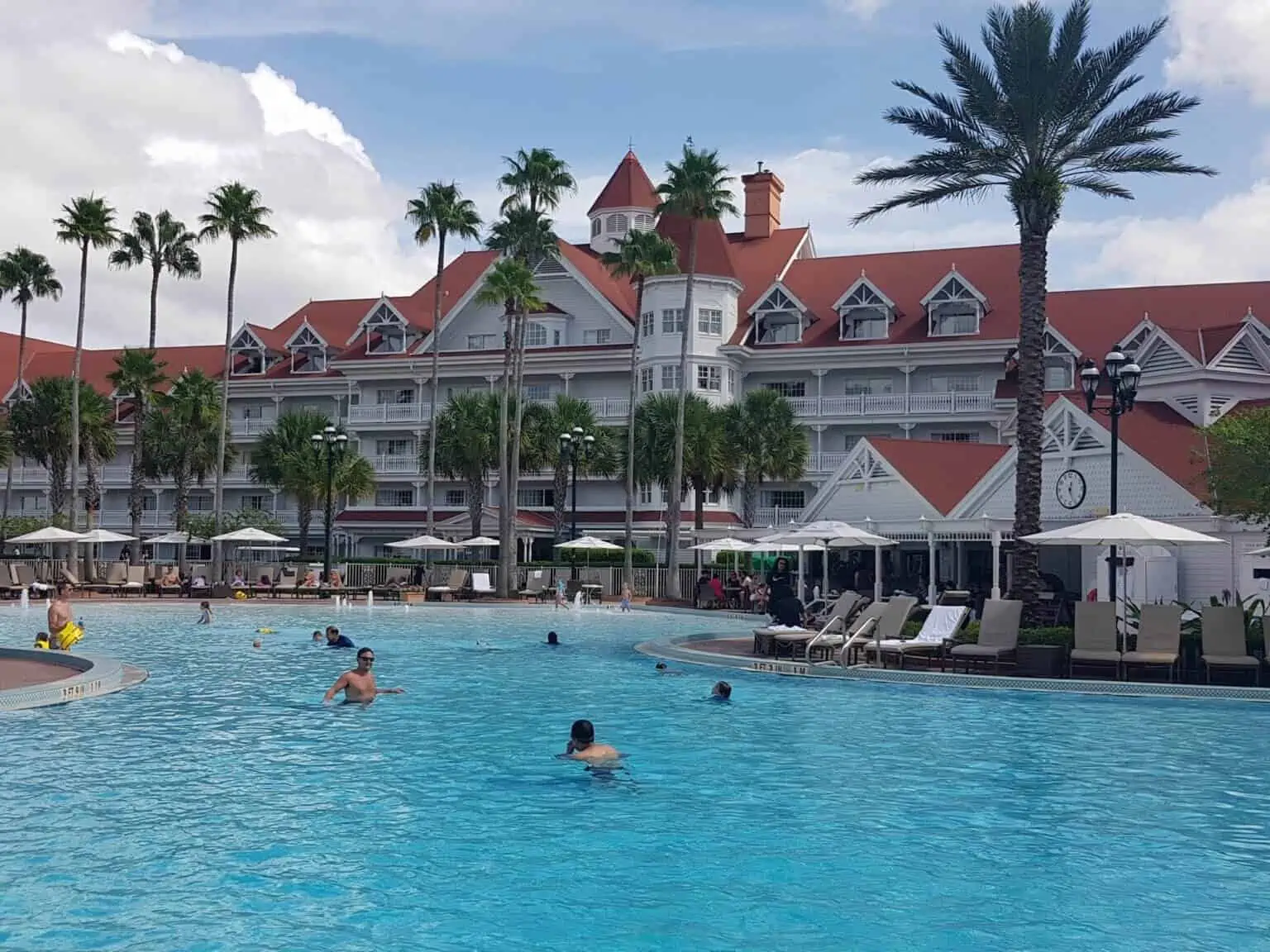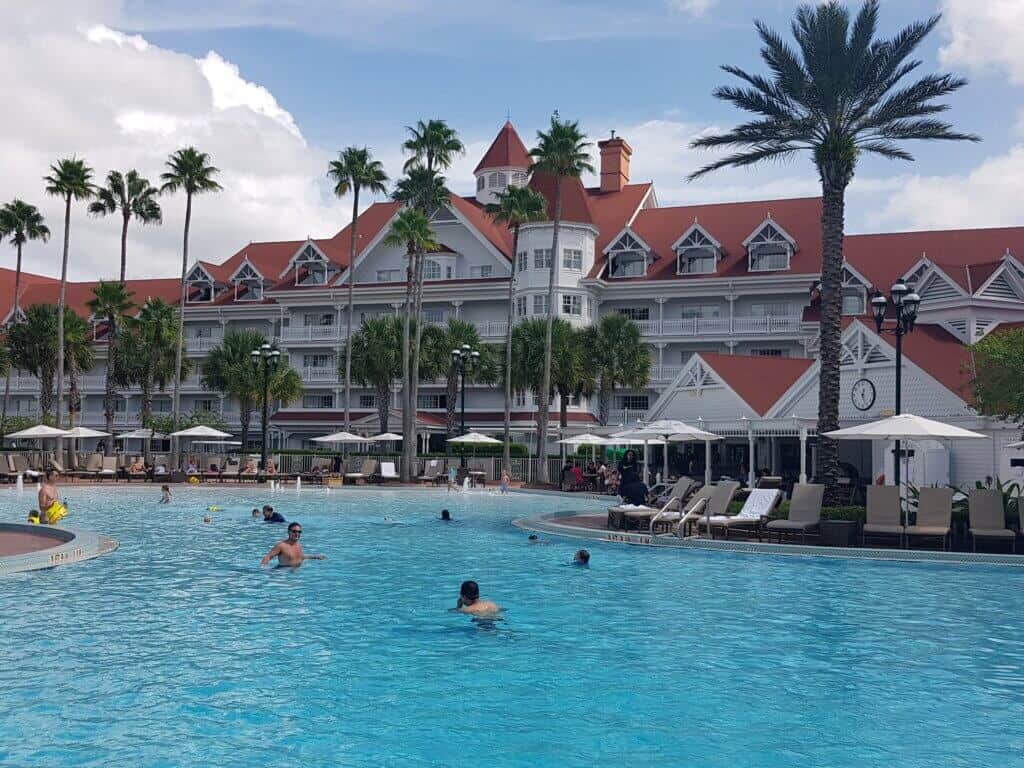 This resort pool overlooking the Seven Seas Lagoon is definitely the most picturesque! Palm trees and waterfalls line the pool area, creating the feel of a tropical paradise. Children can enjoy a waterslide and the play area adjacent to the main pool. If you're looking for a leisure swim, the Courtyard Pool is located behind the main building.
Doubloon Lagoon—Port Orleans Resort—French Quarter
This pool area gets extra points for theming. Guests who swim at this resort will feel like they've been transported to a Mardi Gras celebration in New Orleans! This pool area is decorated with bold colors, and a snaking sea serpent slide hugs the sides. Adults can enjoy a full-service bar or relax underneath a waterfall in the pool. Doubloon Lagoon is one of the best Disney resort pools!
Fuentes del Morro Pool—Caribbean Beach Resort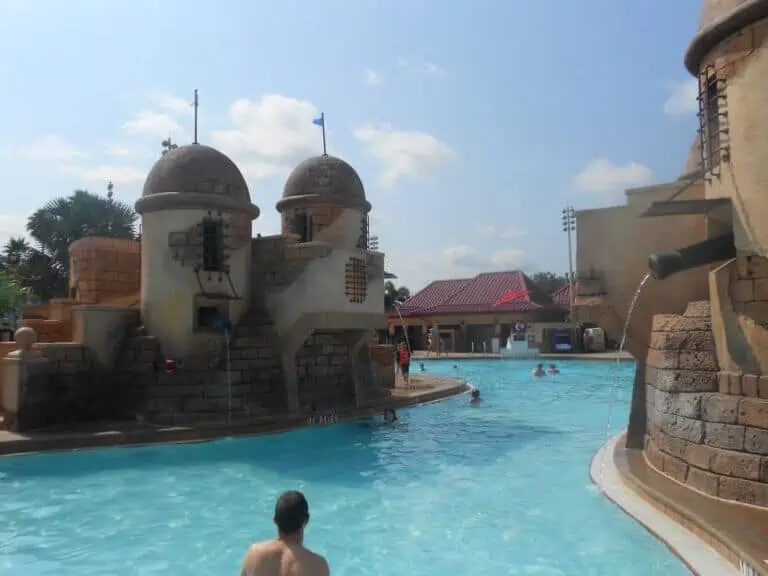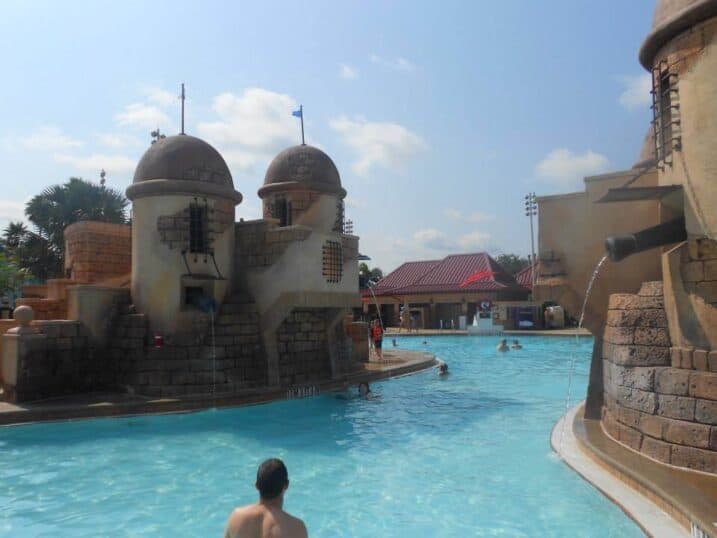 This pirated-themed recreation area is one of the best Disney resort pools. You will not tire of exploring all the unique corners and Spanish-colonial architecture surrounding the pool. Fuentes del Morro features two waterslides, a play area, and hot tubs. Even if the pool is crowded, there is plenty of space to find a secluded area. For an extra treat, head to this resort's pool at night to swim underneath the orange glow.
The Dig Site-Coronado Springs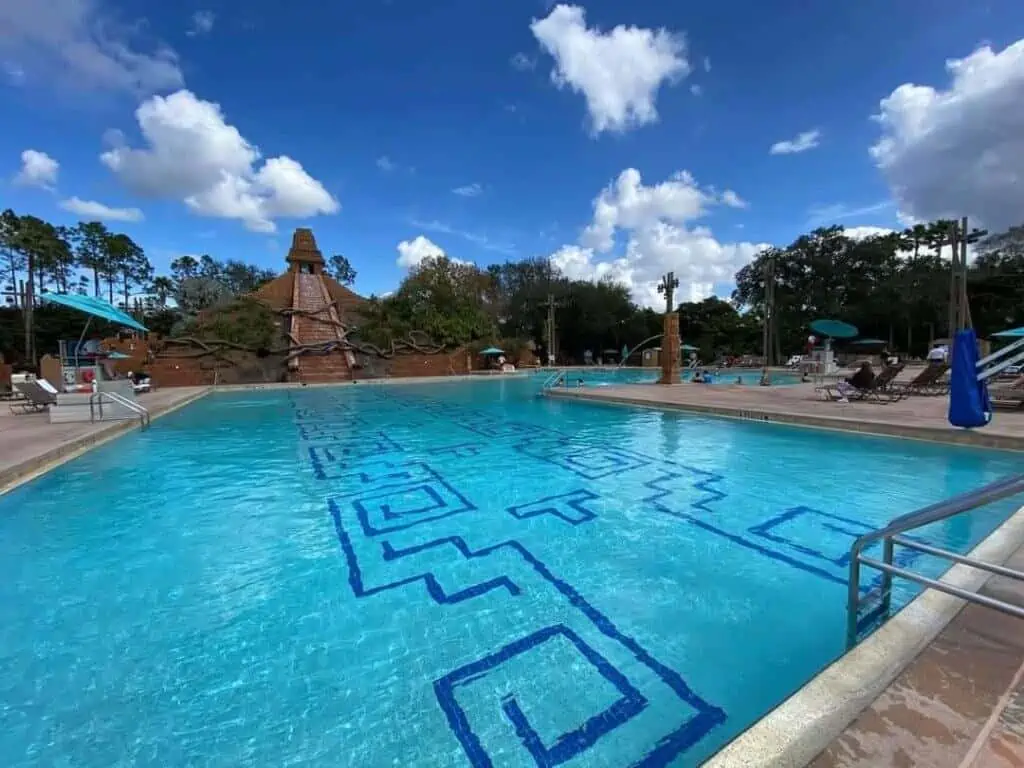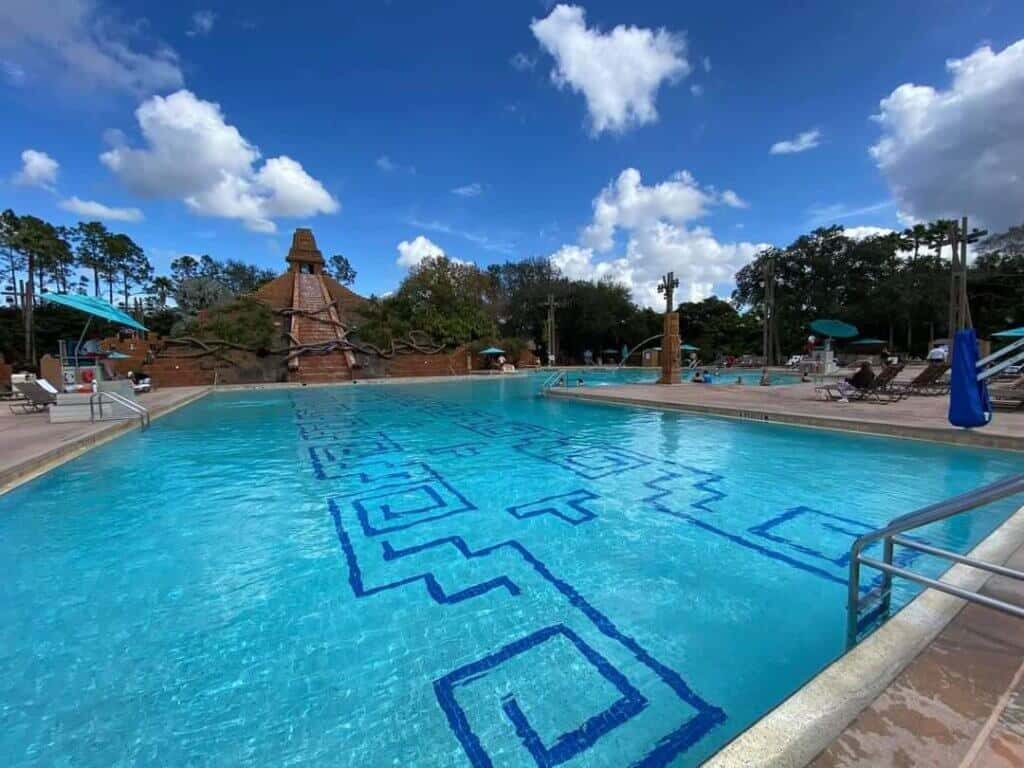 With a Mayan step pyramid with a waterfall cascading down its side, this Disney resort pool comes in as our second most relaxing pool. This is one of the larger pools on property, and is located on a moderate resort. This pool features a more up beat feel to it, and we highly recommend the water slide here.
Another great feature is the large hot tubs just steps away from the pool area. Just a word of warning, they can fill up fast at peak times of the evening.
Stormalong Bay—Yacht and Beach Club Resorts
(pictured at the top of the page)
This is the best pool at Disney World because it caters to every age the most successfully and contains so many areas to explore. Stormalong Bay stretches over three acres and forms a complete circle, mimicking a lazy river. You can also take a plunge down the waterslides or sunbathe in inch-deep water on the edge of the sand. In addition, you can grab lunch at a quick service food and beverage location right next to the pool or cool yourself off with ice cream at Beaches and Cream (if you want to eat dinner there, I recommend a reservation). Even if Stormalong Bay is too crowded for your taste or you want to spend time away from children, Yacht and Beach Club has three leisure pools that you can enjoy
There are also hidden hot tubs located in the middle of the pool setup, so be sure to go and enjoy those as well!
Final note
Pool hopping is not allowed on Disney property. There are usually folks checking at the gates to ensure your magic band or key matches and they issue you a wristband for the day.
No need to bring your own towels. They provide them inside the pool area, and have a disposal bin for them.
Apply sunscreen prior to going to any pool in Florida, and reapply often – trust me, you can burn even on those cloudy days much sooner than you think.
Stay hydrated. Drink plenty of water, and especially if you enjoy some of the drinks at their pool bars.
Enjoy, you're on vacation and the pools are some of the best parts about being in Florida!