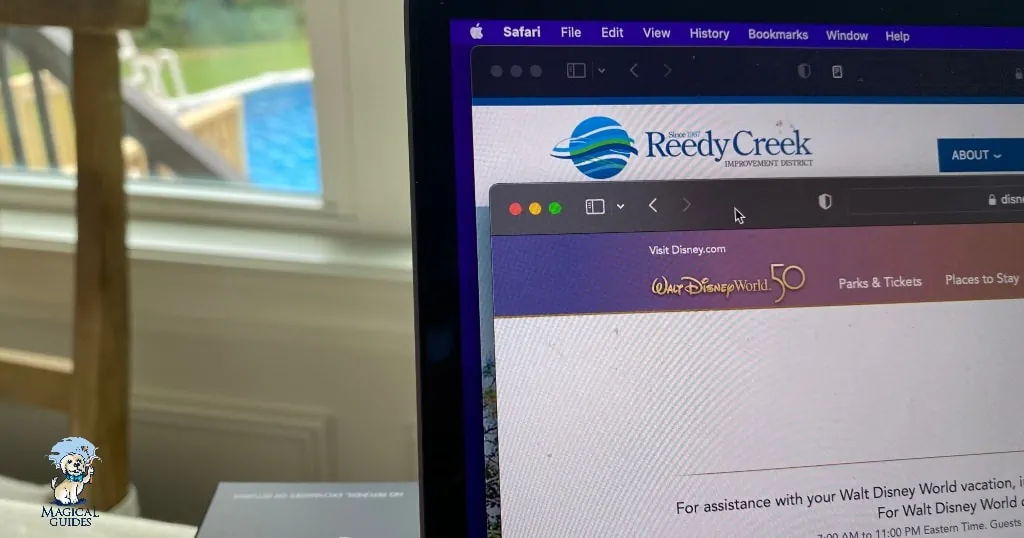 There has been a lot of buzz lately about Walt Disney World and The Reedy Creek Improvement District, a unique type of government agency in Florida. It's not a city, but it's not a county either—it's kind of like a "state within a state." This district is spread out over Orange and Osceola counties.
But why was Reedy Creek ever created? Who controls it now? And who wants it dissolved?
The answers can be discovered in the history of the Walt Disney World Resort.
The Reedy Creek Improvement District (RCID) was created in 1967 after Walt Disney met with Florida Governor Claude Kirk, to discuss his plans for a new theme park. The two men basically struck a deal allowing Disney to create a government entity that would be responsible for managing all aspects of his property. The district has its own police force, fire department, a planning board and provides water treatment and distribution, sewer collection and treatment, and solid waste collection within its borders. It also owns and operates all roads within its boundaries. — The only cities served by Reedy Creek Improvement District are Bay Lake and Lake Buena Vista. Landowners elect the five-member Board of Supervisors, while voters elect their local representatives.
The creation of the district was twofold. Its first purpose was to protect Florida taxpayers from the cost of supplying and sustaining vital public services and infrastructure necessary to construct and operate Walt Disney World. The second reason came when Disney unveiled his plans to construct Epcot, short for "Experimental Prototype Community of Tomorrow," in 1966. In contrast to "everywhere else in the world," it was to be a brand-new metropolis entirely built from scratch, or as Disney phrased it, "the building of a living blueprint for the future."
Unfortunately, after Walt Disney passed away, his original plans for EPCOT were modified, then abandoned entirely. The board of directors determined a theme park called the Magic Kingdom would be a far safer venture and that the city idea was just too challenging. Naturally, the EPCOT park we all know and love came soon after, but the early EPCOT city is still an intriguing part of Disney's past.
Why did Disney want all this control?
When Walt Disney opened Disneyland in Anaheim, California, he not only encountered bureaucratic red tape in planning and construction, but he was upset about not having control over the area surrounding Disneyland. The appearance of tacky hotels, pop-up souvenir shops, and restaurants made Walt and his brother Roy disappointed and frustrated about not possessing the surrounding land and its related income.
Walt and Roy learned from their mistakes. After purchasing 27,400 acres in Central Florida for approximately $5 million in the mid-1960s to build The Walt Disney World Resort, they lobbied to establish The Reedy Creek Improvement District, which they still control today. This move would guarantee their authority over the area surrounding the parks. They could build and make improvements as they wanted without waiting for approval from the counties or the state.
Many people believe that Disney does not pay taxes or that they receive a tax break. The fact is, The Walt Disney Company is subject to greater taxes from Reedy Creek because of the special designation that Florida typically permits counties to impose on organizations. Reedy Creek levies a tax on Disney that is around three times higher than what is typical for other Florida towns. Additionally, Reedy Creek issued public municipal bonds, which Disney is billed for and pays annually.
So who wants to dissolve The Reedy Creek Improvement District, and more importantly, why?
The RCID has a lot of responsibilities which it pays for in the way of taxes and bonds. It's an essential part of the community. Reedy Creek protects the environment by providing clean water and air. They are responsible for maintaining roads, parks, and other amenities. They help make sure that Disney World's rules are followed. You might wonder why anyone would want it dissolved with these apparent benefits. Unfortunately, it has to do with politics and revenge.
Not too long ago, the Governor Ron DeSantis, and his legislators designed and passed House Bill 1557 (Parental Rights in Education). The legislation's supporters claim that it is intended to give parents the freedom to choose when and how to bring LGBTQ issues to their children. In the event that the policy is broken, it also offers parents the opportunity to sue the school district. It was labeled the "Don't Say Gay" bill by its critics, who argue that the policy will harm LGBTQ children. Some LGBTQ+ parents are concerned that their kids won't be able to talk about their families at school like other kids because of the bill's ambiguous language. The issue is that these parents and families have rights as well, but it is their rights that the bill seeks to diminish and remove.
So how do The Disney Company and the Reedy Creek District fit into all of this?
Disney has been outspoken about its support for diversity and inclusion, so when the company did not immediately oppose the bill, many employees were upset and staged walkouts in protest. The demonstration stretched from Florida to California. Disney executives believed quietly lobbying against the bill behind the scenes would be more effective, but this strategy backfired. CEO Bob Chapek decided to change course at their March shareholder meeting and publicly rejected the "Don't Say Gay" bill. He promised they would help repeal the law and stop all political contributions. Disney also announced the formation of a task force to develop a strategy for Disney to be a more significant positive factor for the LGBTQ community through its family content.
The now Disney CEO Chapek is toting the line that, Disney has no place in politics. Some say this stance is now just an attempt to abate those that are now boycotting anything Disney related. Although if you look at the Disney parks, they seem more crowded than ever, so I'm not completely sure the boycott is doing anything Disney's bottom line.
This new opposition by Disney didn't sit well with Governor DeSantis or his party. Hisrepresentatives quickly came up with another bill to dissolve The Reedy Creek Improvement District to revoke Disney's exclusive rights to self-government. The Governor signed it into law within four days. Most people see this as revenge to retaliate against Disney for opposing his legislation.
Now, what happens? Will Reed Creek Improvement District be dissolved?
For the time being, neither Orange nor Osceola counties know the biggest implications or repercussions, particularly since many specifics remain unknown, such as how the RCID will be dissolved. Current laws state that the counties will absorb the costs and taxes for the services and utilities that Disney currently pays. Instead of Disney paying three times more in taxes, these taxes will be distributed equally countywide. This change would actually become a tax break for the Disney Company.
Services such as fire, law enforcement, emergency services, waste and water management would continue to be provided to the Disney World Resort and all other businesses operating in the RCID. However, because the counties are now in charge and are required to pay for these services, they will likely need to reduce their spending in order to meet costs. The district has a strong budget, so workers can maintain the landscaping and pick up trash from the roads. Roadways surrounding the Disney parks and resorts would not be entitled to any more care than other areas in Orange and Osceola Counties once they are merged into those counties.
What are these Reedy Creek bonds that everyone is talking about?
Reedy Creek can obtain funding by issuing bonds, which interested investors can buy. Although Reedy Creek is permitted to issue a variety of bonds, the most significant ones are those that guarantee payment from the district's property taxes and those that secure repayment from utility system earnings. Without the RDIC in place, those bonds are absorbed by the counties involved.
There is over $1 billion in outstanding municipal bonds for Reedy Creek, a large debt whose future was uncertain before the dissolution discussion. According to DeSantis, the district's neighboring municipal governments would not bear the brunt of the debt. On the other hand, Disney claims that the state of Florida must pay the bonds. Under any circumstance, the district cannot be dissolved without the bonds being paid.
In the meantime, why is everyone mad at Disney?
Considering that the law is not effective until June 2023, a lot could happen. The Disney Company is suing to repeal the law. Other landowners have filed suit as well. With so many factors to consider, lawmakers and Disney may reach an agreement similar to The Reedy Creek Improvement District. So far, Governor DeSantis does not have a plan for how this will work out for the counties and the taxpayers.
Could Disney ever leave Florida?
When situations like this happen, there are always rumors. Some of this started because The Disney Company halted the move of its headquarters from Anaheim, California to the planned community of Lake Nona, Florida. The new campus was supposed to be finished by the end of this year or early in 2023. Some workers have already moved to Florida. Many other staff members are angry and do not want the relocation to occur because of the current controversy. The completion is now delayed until 2026. The other rumors come from Texas and Colorado. In a letter to Disney CEO Bob Chapek, Fort Bend County Judge KP George suggested that the Walt Disney Company should think about doing business in his friendly, diversified county. After that, Colorado Governor Jared Polis, in a recent statement on Twitter, also invited Disney to relocate to his state.
The Walt Disney Company in Florida has far too much money invested in it to pack up and leave. Plus, the sales tax they generate for the State of Florida is in the billions. They have created over 500,000 jobs. Their contribution to the state's economy is more significant than in some countries.
In my opinion, whether or not the Reedy Creek Improvement District remains the same or dissolves, the Mouse isn't going anywhere. The Disney Company will continue to use their imagination to grow and improve and keep their resorts "The Most Magical Place On Earth"!