Many guests traveling to Disney want more than the traditional Standard Hotel Room while staying on their magical vacations. The Walt Disney World Villa Resorts are perfect for those guests looking for more space and amenities on their trip. Walt Disney Villa Resorts are like a home away from home and offer studios up to three-bedroom rooms choices and some even have their own private cabins! These rooms are usually more like condos or timeshares, and offer separate bedrooms, living rooms, kitchens, and more space. These rooms are perfect for families and larger groups traveling to Disney.
When deciding which Villa to choose for your family, there are so many factors that can play into your decision. Disney Deluxe Villas are pricier than Standard Disney Resort options, but these accommodations do come with many perks. Disney Villas do allow you to save money on food by having a kitchen in your room. Many of the rooms also offer washers and dryers, which can allow you to pack lighter for your trip. If you are traveling with a party of more than 4 people, Disney Villas are the way to go.
Walt Disney World Villas are typically booked with Disney Vacation Club points. However, you are able to still reserve these rooms like other Disney Rooms. They are more expensive than the Standard Rooms, but you do have the option to use a service like Dave Vacation Rentals to by points at a cheaper rate from Vacation Club Members not using their points.
So, which Disney Villa should you choose? Here is a list of the Top 6 Walt Disney Villas to Stay at on your Perfect Disney Vacation!
Number 6-Disney BoardWalk Villas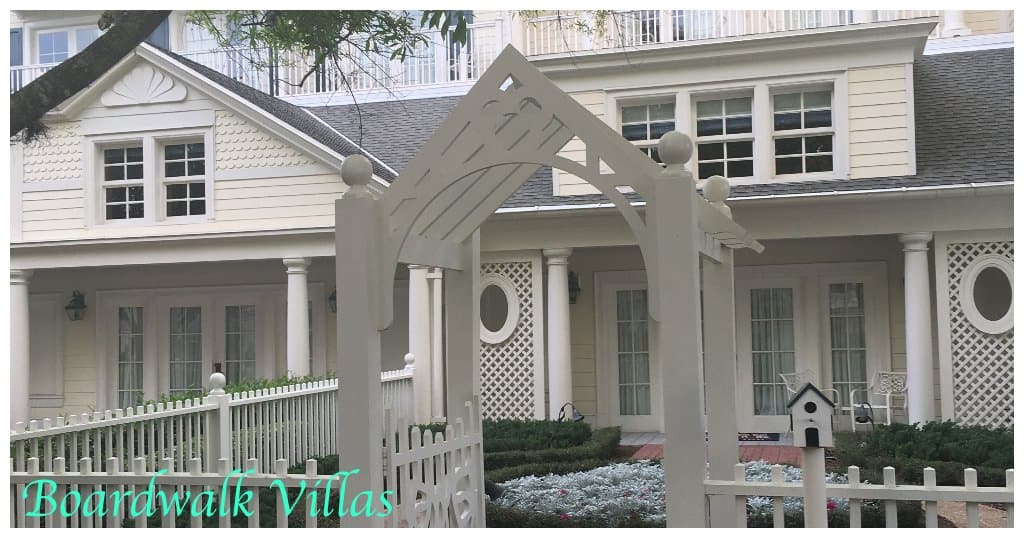 Starting our countdown of the best Villas to stay at while at Disney is Disney's BoardWalk Villa! This Coney Island Themed Disney Resort offers Studio, One-, Two- and Three-bedroom options for families to stay at while on their vacations. The Studio room option has a Queen Bed, Double-sized Sleeper Sofa, Full Bathroom and Kitchenette. The One-, Two-, and Three- Bedroom options offer Private Bedrooms, Full Sized Kitchens, In-room Laundry, Whirlpool Tubs in the Bathrooms and much more! For large parties traveling, the Grand Three Bedroom Villa sleeps up to 12 people!
The BoardWalk Resort is located walking distance to EPCOT and Disney's Hollywood Studios. This entertaining Disney Resort is on Disney's Boardwalk, where you can find unique dining experiences, music clubs, ESPN Club, and street entertainers! They offer Disney Busses, the new Disney Skyliner, and Boat Transportation services from this resort. The main pool area is Luna Park and is themed after a 1920's amusement park. Luna Park even has a slide you can ride that looks like an old wooden roller coaster with a clown at the end!
Number 5-Animal Kingdom Villas
The Animal Kingdom Villas are broken down into two parts, Kidani Village and Jambo House. Kidani Village is the true DVC Resort and holds only Villas in this location. Jambo house is a Disney Hotel but has certain rooms that have been made into Villas. Both Kidani Village and Jambo house have amazing views where you can see animals from the Savannah come right up to your room! The Animal Kingdom Villas have Studio, One-, Two-, Three-Bedroom options to choose from. Studio rooms offer Kitchenettes and sleep up to 4 guests. One-, Two-, and Three-Bedroom rooms offer Kitchens, Full Bathrooms, Separate Bedrooms, In-Room Laundry, and much more. Disney's Animal Kingdom Lodge offer bus transportations to the Disney Theme Parks, Waterparks, and Disney Springs.
Kidani Village
Most of the rooms at Kidani Village are larger than the rooms in Jambo House, with the exception of the Three-Bedroom Grand Villa at Jambo House. Kadani Village has a campfire you can walk out to that is surrounded by animals from the Savannah. The kids will have a blast visiting Uzima Springs Pool, themed after a tropical oasis, featuring palm trees and large canopy trees. This pool is perfect for the little ones as it has a water playground and a zero entry, where you can walk right in! Make sure you stop by and eat at one of Disney's Best Restaurants, Sanaa. Located at Kidani Village, this unique dining experience offers the art of African cooking with Indian flavors.
Jambo House
Jambo House is the original Animal Kingdom Lodge. This beautiful, grand resort is mesmerizing to walk through, and has spectacular views of the Savannahs, where you can see hoofed animals and birds roam throughout the grassland. Make sure to visit Samawati Springs Pool. This Pool is larger than Kidani Villages pool, and features a waterslide, water playground 2 whirlpool spas, and is zero-entry.
Number 4-Bay Lake Towers
Located next to Disney's iconic Contemporary Resort is Disney's Bay Lake Towers. This resort is just a short walk to Disney's Magic Kingdom and sits right on the Seven Seas Lagoon. Luxury meets contemporary elegance at this beautifully themed Disney Resort. Bay Lake Towers shares many of its amenities with Disney's Contemporary Resort. They offer boat rentals, the Bay Cove pool with a 20-foot-tall waterslide, a pool slide bar, and a water play area for kids!
The Villas at Bay Lake Towers are elegant and magnificent! Bay Lake Towers offers Studio, One-, Two-, and Three-Bedroom accommodations to choose from. These rooms, like many of the Disney Villas, are spacious and offer kitchenettes and Full Kitchens, Separate Bedrooms, Kitchen utensils so you can cook without having to bring anything, Whirlpool Tubs, and much more. The Three-Bedroom Grand Villa is one of the best rooms you can get at Walt Disney World. This room is two stories tall and has two story views of the Magic Kingdom. You can have an up-close view from your room of the Fireworks show every night of your vacation in this room!
Number 3-Copper Creek Villas & Cabins at Disney's Wilderness Lodge
Number three on our list is Copper Creek Villas and Cabins at Disney's Wilderness Lodge! A perfect retreat with a rustic vibe, this DVC Resort is themed after the pioneering Pacific Northwest. Copper Creek offers Studio, One-, Two-, Three-Bedroom, and Cabin options to choose from when staying. The Studio room offers a kitchenette, while the other rooms offer Full Kitchens, Separate Bedrooms, Living Rooms and more. Copper Creek Villas & Cabins are located at Disney's Wilderness Lodge and share the same recreation activities. The Copper Creek Springs Pool has a waterslide and a whirlpool spa the adults will love! Head over to the marina where you can rent a boat and travel over to the Seven Seas Lagoon to see the Magic Kingdom! Copper Creek offers bus and boat transportation to Disney Theme Parks.
Cabins
The Cabins are Two-Bedroom waterfront cabins that feature a Full Kitchen, Living Room area, and private patio with a hot tub. Each cabin sleeps up to 8 guests comfortably. These Cabins are perfect to get away from the Disney crowds and have some private time to relax and recharge while on your vacation.
Number 2- Disney's Saratoga Springs Resort & Spa
Runner up on our list is Disney's Saratoga Springs Resort & Spa. This late 1800's New York Themed resort has a Victorian style charm and has one of the few Spas located on Disney property. This Resort has so much to offer including 2 feature pools, 3 leisure pools, a sunrise yoga class, campfire activities and more! The High Rock Spring Pool has gushing waterfalls, a zero-entry, a 128-foot-long slide, and two whirlpool spas! Rent a Surry Bike, which hole either 2 or 4 people, and have a fun time biking around the Resort with your family together. Saratoga Springs offer boat and bus transportation services to the Disney Theme Parks. Make sure while you are staying you stop over and spend some time on yourself at one of the best Spas on Disney Property.
Villas
Saratoga Springs offers a Studio Villa which has a kitchenette and large rooms. The One-, Two-, and Three-Bedroom Villas offer Full Kitchens, spacious room in each Villa, Whirlpool Tubs, and In-Room Laundry.
Treehouse Villas
The Treehouse Villas are Two-Bedroom, sleep up to 9 guests, and feature beautiful views of the forest and a large outdoor patio, where your group can hang out and get away from the busy hustle and bustle of Disney. Like the Villas, they offer Full Kitchens, Whirlpool Tubs, In-Room Laundry, and are spacious so the whole family has room and is not squeezed in together. The Treehouses are the perfect way to stay at Disney and have a relaxing time on your vacation!
Number 1 – Disney's Polynesian Villas & Bungalows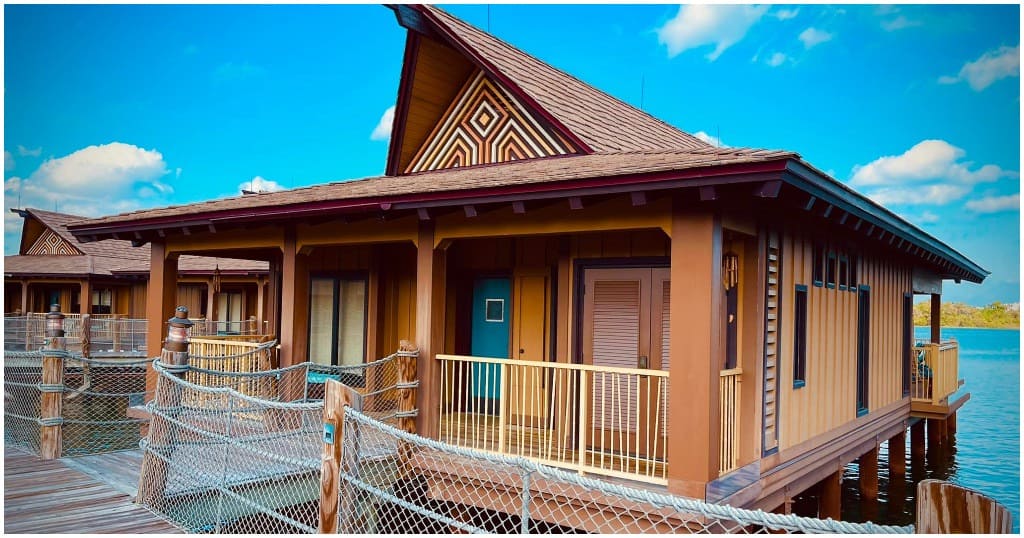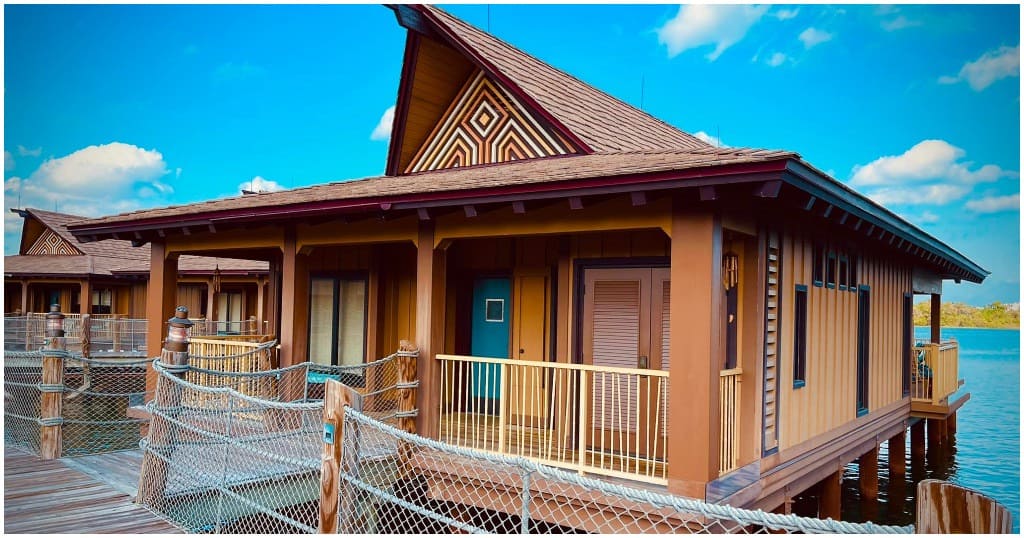 Coming in at number 1 on our list is Disney's Polynesian Villas & Bungalows! The Polynesian Resort has the best of what Disney has to offer, creative and unique theming, beautiful views of Disney's Magic Kingdom, a Resort that has tons of recreation activities, the best of Disney Dining, Disney's Monorail, and so much more. You will need to spend a full day at this Resort just to experience all it has to offer. This stay does come with a hefty price tag, as this is one of the most expensive ways to stay at Disney. During prime season the Bungalows can go for up to $5,000 a night!
Villas
The Polynesian Villas are studio rooms and sleep up to 5 guests. Unlike many of the other Disney Villas, they do not offer In-Room Laundry or Kitchenettes.
Bungalows
The Over the Water Bungalows are the most unique way to stay at Disney! These Villas offer amazing amenities in the rooms, such as televisions in the mirrors of the master bathrooms, Kitchens, In-Room Washer and Dryers, personal balconies with hanging chairs, and plunge pools to cool off from the Florida heat in. You will have your own personal Fireworks viewing area on your private over-the-water-balcony!
The recreation Disney's Polynesian Resort has to offer is unbeatable. They have some of the best pools at Disney! The Lava Pool features waterslides, water playgrounds, zero-entry, and a hot tub for the adults. All day they have recreation activities going on such as pool parties, games, trivia, and more. Visit the Marina to rent a boat and take your own tour of Seven Seas Lagoon and Bay Lake.
Don't forget about the dining at Disney's Polynesian Resort. Make sure to book a reservation and visit 'Ohana, one of the best dining experiences at Disney, featuring an all you can eat Hawaiian cuisine meal the whole family will love. Try and snag a reservation before the Fireworks and have dinner with a view!
So, which are you choosing to stay at on your Disney Vacation? Many guests do not mind staying in the Standard Disney Resort Rooms, but if you are traveling with kids or a large group, the Villas really can make a difference on your trip. Between the extra space, the kitchens, the private pools, and the extra amenities they offer, these Disney Villas can be worth the extra money to make your trip a little extra magical!