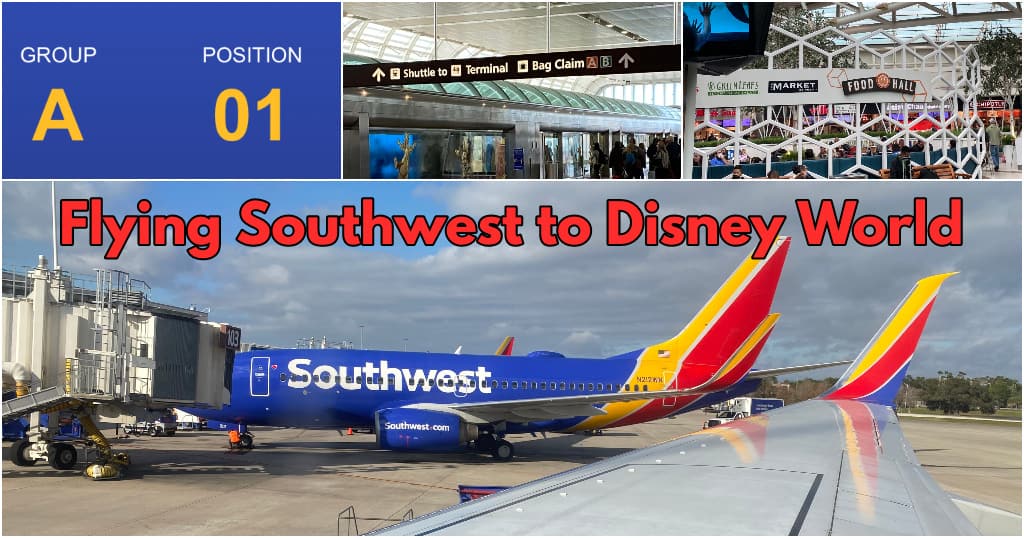 Picking the right airline for a trip can be important as it sets the tone for when you start the trip, and when you return. Southwest Airlines in our opinions is one of the friendliest, cost effective, and best airlines to fly for your Walt Disney World vacation. We know folks are flying with families, couples, and solo – so we will put a few recommendations for seating, saving money, and booking using Southwest Airlines.
Read Also: Does the train go to Disney World in Florida?
You should know Southwest Airlines doesn't assign seats when you board. They have an open seating policy which allows for quicker boarding. They have three boarding groups, A, B, and C, and each has 1-60(ish). So the lower your number in A, means you get to board earlier, and find the best seats in the house. If that type of controlled chaos is a deal breaker for you, I'd recommend paying more at another airline. We find that it's fine for 95% our trips as they offer direct flights into Orlando International Airport (MCO).

If you're concerned about how to get from the airport now that Magical Express is gone, fear not! We have a complete guide on how to get to Disney World from the airport. Just be sure you understand you're leaving from the Orlando International Airport, not the smaller airport in Sanford, Florida.
Value flying Southwest airlines
Let's go ahead and get this one out of the way, cost. Before you start trying to compare prices, Southwest Airlines let's you bring 2 bags free, per passenger. That's at least a minimum $60 savings per person on a flight.
Strollers and car seats fly free, and do not count towards the 2 bags!
If you need to change your flight due to any reason (want to stay another day, someone is sick, etc) Southwest allows you to change your flights with no change fees, but higher fares might apply.
Bring your own device for free entertainment once on board. From the moment you get on board a Southwest flight wifi to watch the latest movies including the Disney Channel. You can text using iMessage or What's App during the flight as well, so you can stay connected. If you want inflight internet it will be $8 for all day flying, which isn't a bad price compared to the $30 per day on other airlines.
Fly for free with the Companion Pass – Southwest allows folks that earn 125,000 Southwest Points in a calendar year to add a companion to their flights for the cost of government fees ($5 as of this posting). You can earn these points by flying, or the short cut we find to be most effective is by applying for their credit cards. Not only do you get this feature for the rest of the current calendar year, you get it for the entire year following. So if you time it correctly you can get 2 years of flying – which can save $200-$400 for a trip! You can change your named companion up to 4 times per calendar year – so if you ever want to have a last minute unplanned guys/girls trip to Disney, you can and bring a friend along saving more money for drinks.

Magical Guides Insider Packing Tip:

Even if you don't bring two 50lb bags with you, bring a collapsable duffle bag with you. You can use it as a second bag on the return for your dirty clothes so that way you can place any souvenirs or other goodies needing a bit more protection in your first bag. More space to go find things at the local Character Warehouse (Disney's outlet stores)
Friendly Customer Service
We've flown Southwest for over 15 years now, and I can say that the customer service at Southwest is consistently amazing. Given, everyone can have an off day, or a newer agent can not be up on policies, but consistently Southwest has what we consider "Disney" level customer service. I'm not talking about just at the airport either, I'm talking about when I have an issue calling the 1-800 number, or sending in a question after the flight. It's hard to not have stellar service when your logo on your planes is a heart.
Read More: Secret Disney Outlet to Buy Gifts and Souvenirs
Southwest cares about their customers – they offer family boarding after the A groups – which allow children under 6 and their parents to board together so they can sit together. This is important, as if you're in the C group, you'll probably be in a middle seat separated from your loved ones.
If you're traveling with a family, be sure to gate check those strollers and car seats prior to line up.
If you're a larger customer, fluffy, or their term Southwest uses is 'Customer of Size', you can get an extra seat at not cost to you so you have enough space. The seats on Southwest Airlines range from 17″ to 18″ with the new Max8 Aircraft, so use a site like Seatguru to see the differences. You can book the extra seat early, or ask for it when you check in. You get to pre-board before the A Group to secure your second seat, but you are not allowed to sit in the exit row. If you book the seat yourself, don't forget to request a refund of the second seat!
Remember, if you preboard or board with someone under 15, you can not sit in the exit row.
Important things to know about Orlando International Airport (MCO)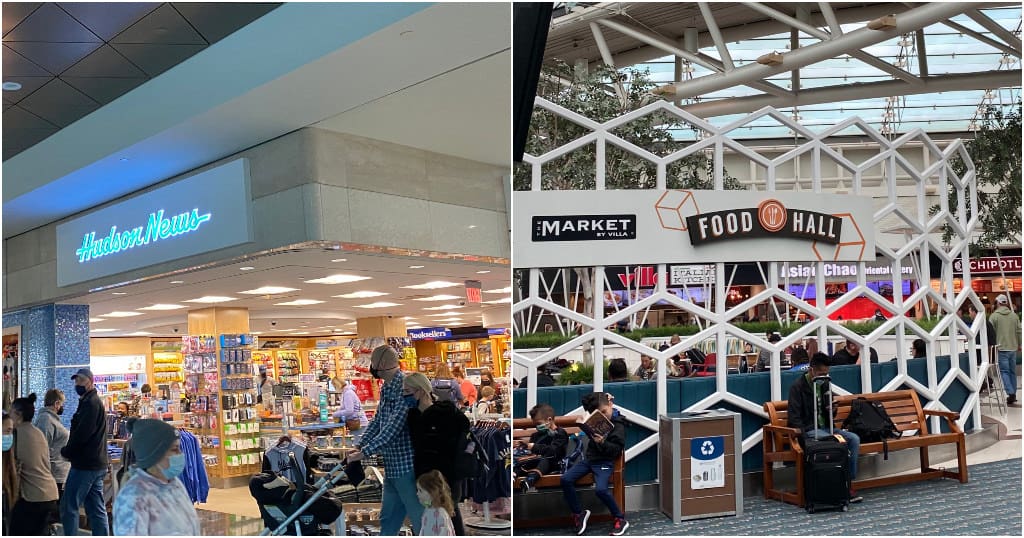 The Orlando International Airport has two terminals, an A and B terminal. Southwest Airlines is in Terminal A. To get to things like the gates, baggage claim, or transportation you will have to ride the tram (think an automated monorail) hear the welcome message from Orlando Mayor Buddy Dyer.
There is a food court containing McDonald's, Chipotle, Jersey Mike's, etc – so if you're waiting for your return flight make sure you grab a snack. Flying hangry is never a good combination for anyone.
If you checked bags, you are going to ultimately go down the escalator passed security (again side A), to find your baggage claim. From there you can connect with Uber/Lyft or pickups. If you're going to take Mears Connect, taxi, or other transportation options you might need to go to side B, so keep this in mind.
Tips to make your Southwest flight even better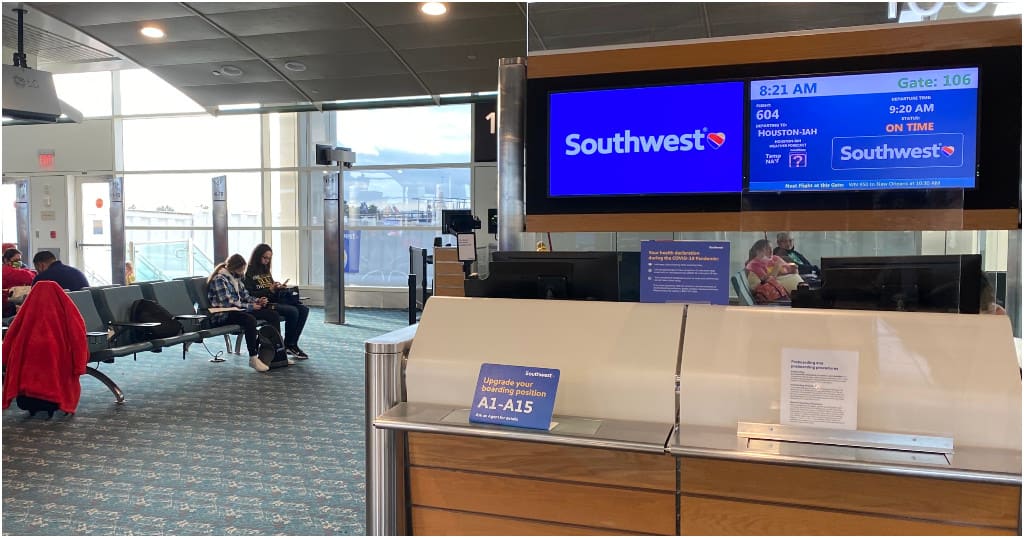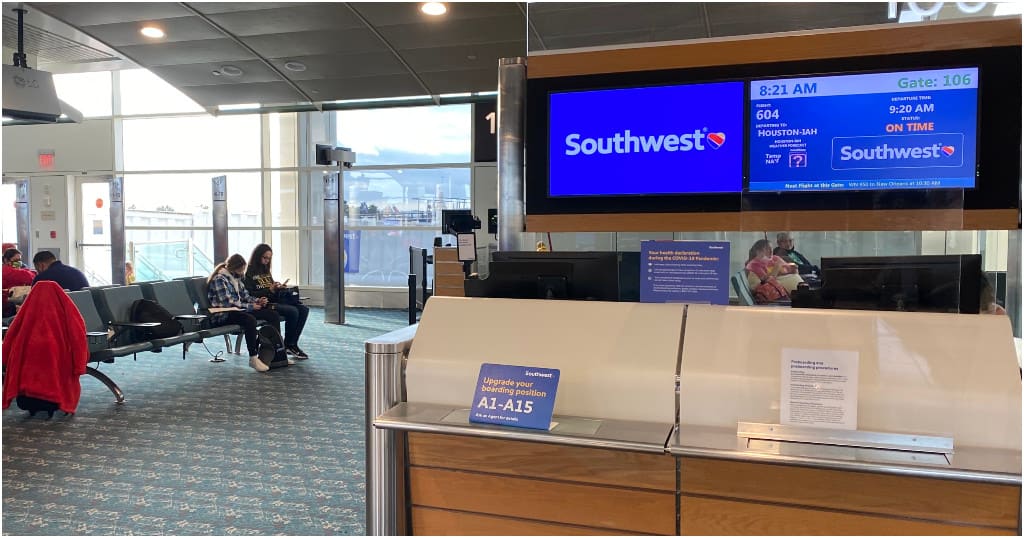 Consider paying for early boarding or a boarding position (A1-A15), but can become costly when traveling with more than 2 people ($30-50 each)
Get to the airport at least 2 hours early when traveling with children.
Charge any devices you plan to use on the plane (MCO does have charging ports, but onboard Southwest Flights they do not)
When waiting for your flights us the empty gates to relax, and stretch out.
Stay hydrated – but use the bathroom 10 minutes before boarding starts.
We love Southwest Airlines when we head down to Disney World for a trip. The value proposition they offer of 2 bags, great customer service, and overall experience we find sets up our vacation for success. Transportation to the most magical place on earth is important – so be sure you plan and prepare for your next trip.
Do you have a favorite airline to take to Walt Disney World? Is cost your biggest concern? Any other recommended airlines to take?