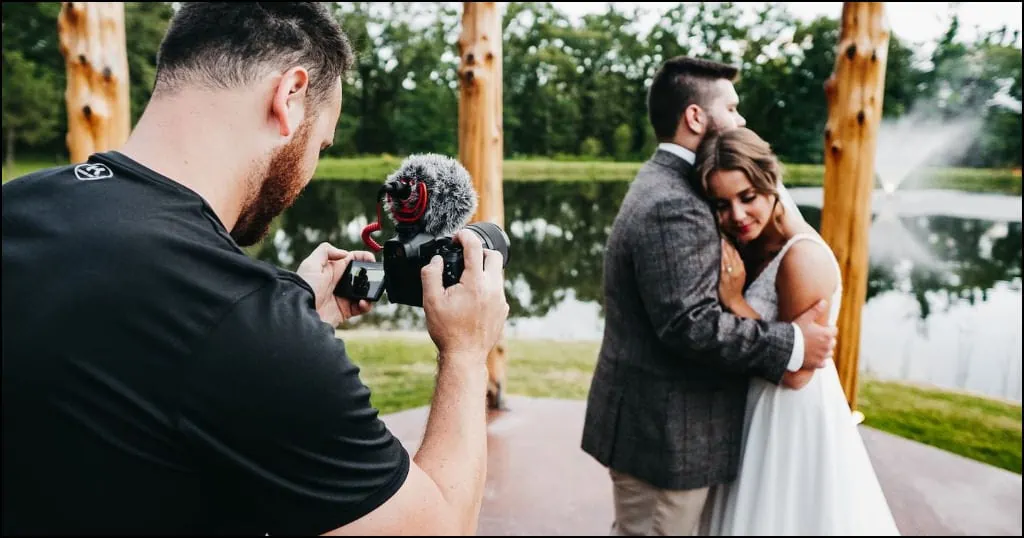 When you get married, you will have to make a lot of decisions up til the big day. One of those questions is should you record your big day. One of the biggest regrets I saw in many of the Facebook groups, and forums from couples was not having the wedding recorded. The wedding day just goes by so fast, so if you have it in your budget, hiring a videographer will be worth it. Just imagine – an actual romantic cinematically film of your own story!
Also, do you wish to live stream the most special day of your life? Are you wondering about what is included in the Disney Wedding videography? Today we answer all of your questions!
The spectacular theme park hosts such magical celebrations. It is no secret that Disney fairytale weddings are truly one-of-a-kind. From exchanging vows in front of a magnificent castle to opting for story-book-inspired venues – everything seems utterly exceptional and remarkable.
Both wedding photography and videography offer a spectacular opportunity to capture special moments of your big day. Having your happily ever after recorded will enable you to reminisce beautiful memories in the future. However, hiring a Disney wedding videographer isn't just a choice-it is a necessity. Why? Because opting for a videographer who resonates with your style and aesthetics and is experienced enough to shoot in Disney World will prove to be immensely helpful for you.
We have created this blog post to clear your queries and concerns regarding Disney wedding videographers.
Is cinematography the same as videography?
Understanding the basic differences between cinematography and videography is essential if you are planning to hire Disney wedding videographers for your big day. It enables you to get an idea about what kind of coverage you will be getting for your wedding day.
Cinematography, as the name indicates, is the art of making movies and photographing scenes. It deals with everything cinematic. On the contrary, videography is often described as the process of recording events.
Cinematographers are the experts hired by movie production houses for making films. They are in charge of lighting crew, setting up the exposure, and acquiring a deep understanding of staging and photography. Videographers are experts in recording live events.
By opting for Disney wedding videographers, you will get live and full coverage of your event. They help to assess your needs and carefully curate strategies to bring your dream wedding aesthetics to reality. They are also responsible for capturing events end-to-end and coming up with a final edited version of the event.
Is videography worth it for a wedding?
Many couples often find themselves in the dilemma of wondering whether or not videography is worth it for their wedding day. If you are one of those couples, let us assure you that this is the MOST essential element of your big day.
Videographers put their heart and soul into creating the most beautiful and enchanting memories for you. The short video will serve as a remarkable keepsake of your most iconic moment. It will help you to cherish these special memories forever – the wedding day passes within the blink of an eye. Having a live recording of your big day will ensure that you don't miss out on anything. A wedding videographer makes sure that your precious memories are stored forever. Videos make sure to record your special moments, smiles, tears, kisses, raw emotions, and heartfelt sentiments.
Read Also: The Best Wedding Officiant for your Disney World Wedding
In short, hiring Disney wedding videographers is definitely worth it especially if you wish to preserve beautiful memories of your big day forever. The day passes within a heartbeat and by the end of it, you will be only left with photos and videos as your souvenirs.
What is included in wedding videography?
Typically wedding videography includes the following parts;
A beautiful 3 – 5 min highlight video of the most special day of your life.
A complete wedding video of the event covering ceremonies and decorations
Cinematic crew
All of these elements are customized to fit the couple's needs and to create a bespoke wedding experience.
Is it possible to live stream a wedding?
One of the features that came from the pandemic was live streaming a wedding, and depending on the connections available can stream in 4k with multiple views.
Live streaming your wedding day is the best way to include guests that weren't able to attend the big event. It helps to capture love, happiness, tears, laughter, joy, hugs, and kisses. If you are deciding to tie the knot in a far-flung land and are concerned about how you can make everyone feel included in your celebration – consider live streaming the whole event. This way people, who were unable to attend the wedding, will be able to take part in your celebrations and add to your happiness.
The Trinity Wedding Cinema is an experienced team of Disney wedding videographers who specialize in live streaming the events. They offer numerous packages to cater to the needs of the couples and help them to create an enchanting wedding experience. Since the Trinity Wedding Cinema uses the best equipment to record videos, get ready to astound your guests with spectacular highlights of your big day.

On our big day, sadly it was raining. At the last minute the rain cleared out, and the call was made at the Waldorf Astoria of Orlando. David and Kristine of Trinity Wedding Cinema along with all of our other vendors – were able to pull it together for a last minute live stream for our wedding. We didn't have a large wedding, mostly due to being in the middle of the pandemic. Here is our live stream, if you're interested to see their work.
Who is our recommended Disney wedding videographer?
When it comes to choosing the best Disney wedding videographer, there are some things that you should take into consideration. These include:
Getting married at Walt Disney World feels incredible and surreal, so make sure that the videographer you are opting for has enough experience to shoot and record videos at the enchanting theme park. Do your research, ask questions to clear your concerns, and discuss your style and aesthetics with your Disney wedding videographer.
Before making the final decision, it is recommended that you have a look at the style and aesthetics of the wedding videographer that you are choosing. You must look at their portfolio and arrange a meeting to discuss your expectations and desired results from the coverage.
Now comes the most awaited part – who is our best recommended Disney wedding videographer?
The Trinity Wedding Cinema is an amazing videography venture led by a husband and wife duo. Their experience and dedication to the work make them one of the most outstanding Disney wedding videographers. The best part? They provide customized services and packages to couples planning to get married in Florida and beyond. Getting married to the love of your life in enchanting Walt Disney World Resort feels magical. If you wish to have all the heartfelt emotions of your big day captured or wish to hire someone to record spectacular videos, we cannot think of anyone better than the Trinity Wedding Cinema team!
When you pair David and Kristine Rennie with the best wedding photographers David and Vicki Ardnt you get a power house team of professionals that are capturing your memories around your Disney Wedding. Working together they will ensure your wedding day is the captured in photographs and