Congratulations on your upcoming wedding or vow renewal events! The first step in planning is to find your dream wedding venue. Now that you have found the perfect venue either with Disney's Fairy Tale Weddings or another venue in the Orlando area, you need to find an officiant.
My husband and I got married at the Waldorf Astoria and have already been through the wedding planning process here. We did a lot of research to decide between the Waldorf Astoria and a Disney Fairy Tale Wedding.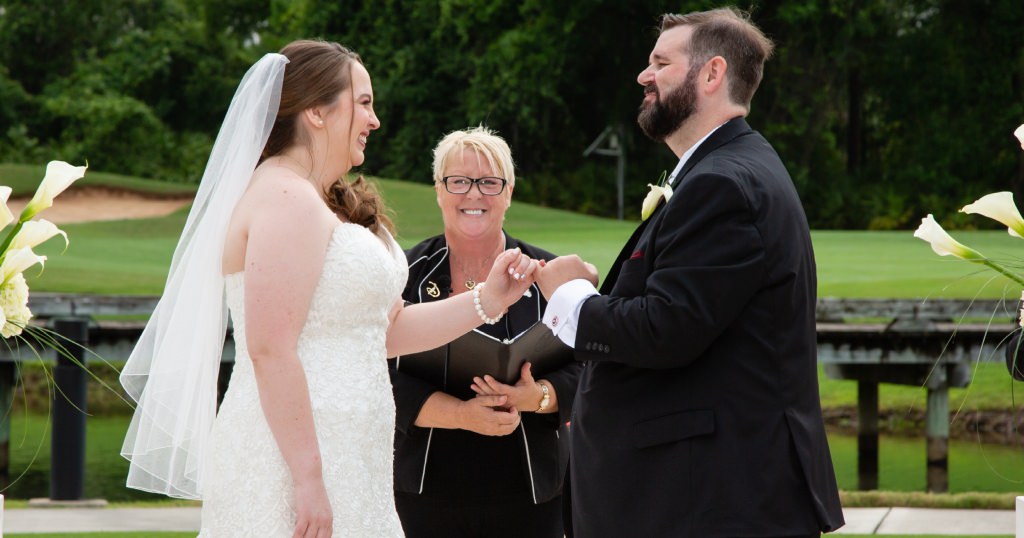 If you were like us when we started planning our wedding, we didn't know any of the vendors. There was a long list of professional officiants to choose from which made it a difficult choice.
Looking back there are many things we would have done differently for our wedding day, but our officiant is not one of them! We strongly recommend you consider Katherine Imundi for your wedding at the Walt Disney World Resort or the Central Florida area.
How To Choose Your Wedding Officiant
You and your partner will want to discuss what your vision for your wedding ceremony is. One of the biggest mistakes we made while wedding planning was not have a vision of the whole day in mind while we were planning.
Step 1: Do you want Religious, secular, or both for your ceremony? Depending on your preferences, search for a Disney officiant properly ordained to perform and conduct a ceremony of your choice. Most professionals can tailor your special day completely to your liking, but searching for what fits your story is vital.

Do you plan to have a civil wedding? A religious one? Maybe a romantic fairytale vibe with a subtle mention of your faith? Come to terms with your partner and proceed to the next step.

Step 2: Research. Searching and choosing remotely can be daunting, but luckily we have the technology, right? Scout for a potential officiant in Orlando and start researching. You will have several options, but you will later filter them out on the basis of our points below.

We chose to search with Wedding Wire and The Knot when we were looking for an officiant in Central Florida. There are also Facebook groups as a resource. All of these sources will give you venders with many reviews to make sure you choose the best person for your wedding day. Another great resource is Carrie Hayward's Fairytale Weddings Guide and Podcast. You can find her interview with my husband about our Waldorf Wedding as well.

Step 3: Inquire about their services and price. You would want someone that is professional and ready to offer you various ceremony kits and show a willingness to personalize the whole experience. Furthermore, you will need to inquire about the cost of their services to see whether your budget allows it. These are some of the other basics that will determine the outcome. Make sure the officiant you chose fits into the budget of your ceremony fees.
Step 4: Meet the candidates. Disney World weddings require some phone talks and some more chatting and video calls to make sure your destination celebration will be pulled off seamlessly. Schedule a phone or video call and start evaluating the officiants. You will find that certain personalities are more aligned with yours. This is maybe a seal the deal moment because when we met with Katherine, we just knew she was the one! In the interview we did with her, we asked what made her fall in love with this job and we loved her answer:"A friend of mine who is also an officiant said that I have an awesome personality and love people from all backgrounds and would make a fabulous Wedding Officiant especially as I have a British accent so I took the journey of becoming a wedding officiant and I haven't looked back…It is my passion and I could not imagine myself doing anything else but joining couples in their happily ever after."
Step 5: Get to know them on a personal basis. Making sure you share have a mutual sense of values will help create the perfect ceremony. Getting to know your officiant will help you decide if they are a good fit for you as a couple. Once we decided to go with Katherine, we had a video call with her to confirm our vision and create a custom ceremony that fit our love story.After all, we are speaking about the person that you will remember for the rest of your lives. That being said, we are happy that we made a perfect choice because we consider ourselves lucky to have met Katherine! When you meet a person, even on the phone, you can immediately tell whether they love what they are doing or not. Well, Katherine radiates happiness, passion for love, and her kind nature to help couples tie the knot is so heartwarming. We adored her British accent which adds a special flair to any celebration, particularly a Disney World Wedding. She was so kind, and thoughtful in her approach, made sure to listen to every wish we had, gave her personal touch, and went above and beyond to make the ceremony truly amazing!
Questions to Ask Your Potential Officiant
Are you available for our wedding date and rehearsal?
Are you able to officiate at our ceremony location?
Are you legally able to marry us in Florida?
Can you incorporate our cultural traditions? (discuss what traditions you want to include with your Fiance ahead of time)
Can you incorporate our religious beliefs in the wedding ceremony?
Do you have a scripted ceremony or is the ceremony personalized to the couples? Are we able to make any changes to a scripted ceremony?
Can we write our own vows? Will you be able to help with the vows?
How long is your typical ceremony?
How many weddings have you officiated?
How many times will we meet before the wedding day?
What do you wear?
Do you have another officiant who can step in for you in the event you aren't able to be there?
What are your fees?
Are you able to perform a ceremony for Disney Fairytale Weddings?
Are you able to help us with the Marriage License Process?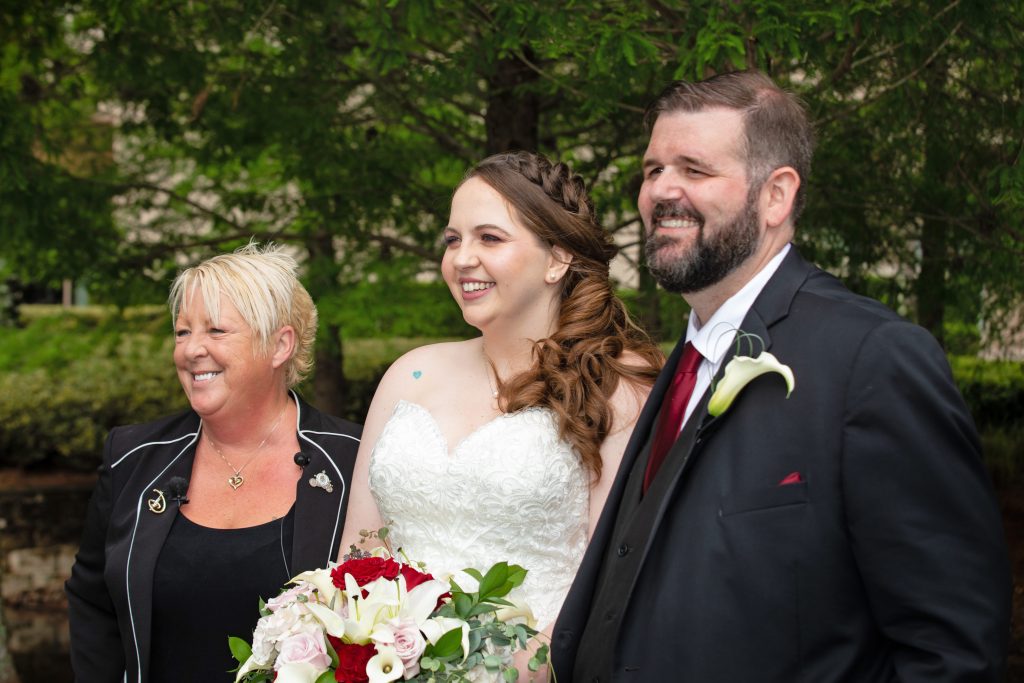 Katherine has limited availability because she is popular so book in advance to make sure she is available on your date and confirm that she can perform your ceremony at your location. I know she does weddings on Disney property as well as the surround areas like the Waldorf Astoria and Disney's Swan and Dolphin Resort.
Katherine is able to legally marry you in Florida, but you will need to apply for a marriage license in Florida. We had to apply in person, so we needed to come down a few days early to apply. Keep in mind they are only open on weekdays depending on what day of the week you are getting marries, you will want to keep that in mind.
Katherine's ceremony was personalized to us and included both Disney elements as well as us as a couple. She also helped my husband with some ideas to start writing his vows that was really helpful.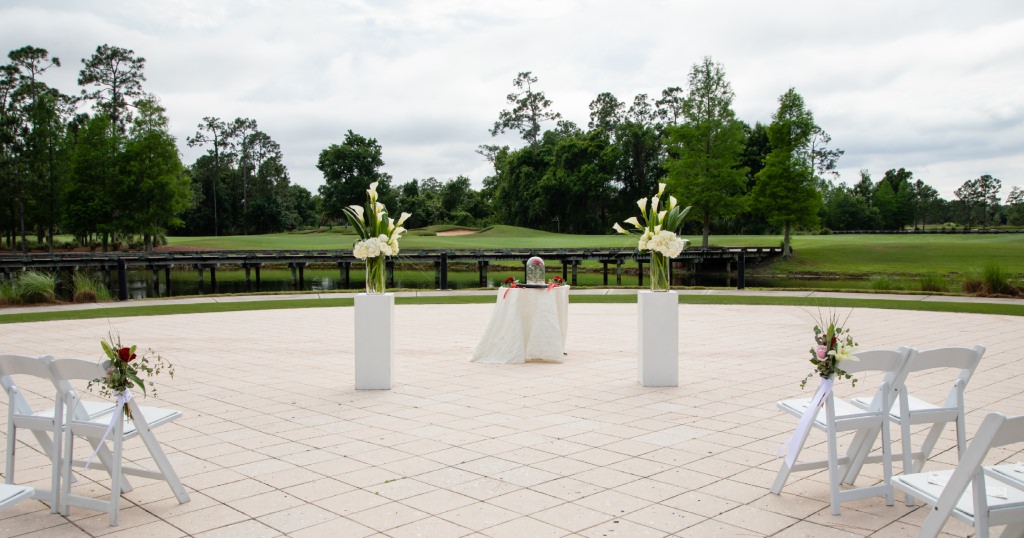 There are many hand fasting and unity ceremonies to choose from. Katherine can wear costumes if you are interested in Disney Characters or Universal characters like Harry Potter. Contact her to see if she can wear the costume you have in mind for your day.
What is the Marriage License Process in Florida?
We had to go to Florida and apply in person a few days before the wedding. It did add a cost since we had to travel down earlier to make sure we had plenty of time to obtain the license.
At the time that was the only way to apply. There is exciting news for all the couple getting married though! You can now apply ahead of time through the mail.
Even if you do not choose Katherine for your wedding, which would be a mistake, you can still apply for a marriage license with her! Check out her website for more information. Apply for Marriage License by Mail.
Read More: How To Obtain A Marriage License In the State of Florida
Can Anyone Officiate A Wedding In Florida?
The law states that a family member or a friend can get ordained, but this also means there are many amateur officiants out there. If you aren't having a family member officate your wedding, look out for amateur officiants and book a long-term experienced professional!
You and your Fiance should decide what is most important to you and create a list of questions for potential officiants. A good place to start searching is Wedding Wire, DisBrides Facebook group, or The Knot.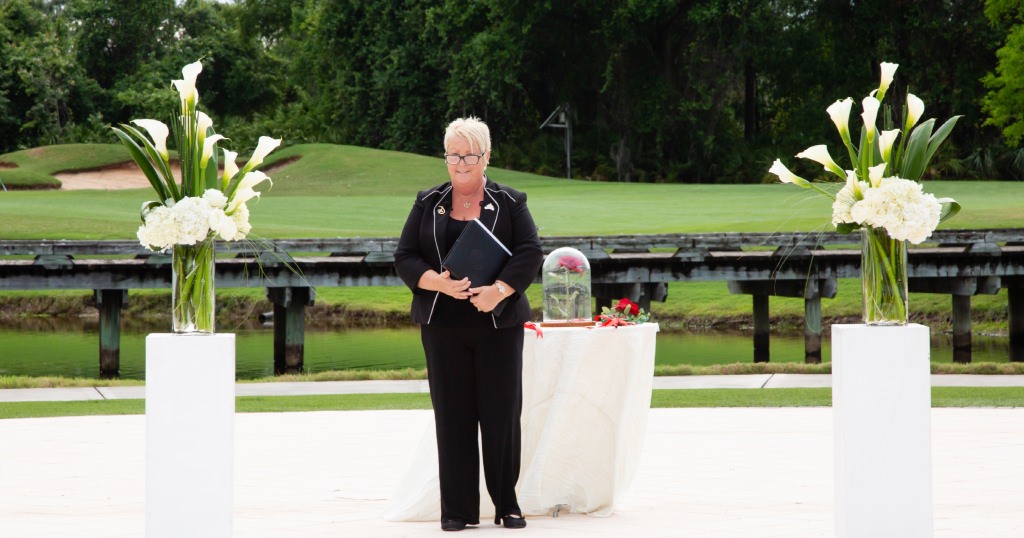 The Knot is how we found Katherine for our wedding. She had many positive reviews, multiple awards, and aligned with our views for the wedding. Katherine has married countless couples throughout her 8+ years of experience!
Katherine also notes that hiring a professional can do even more for your big day than you may realize:
"When a couple is looking to choose a wedding officiant, they should go for a professional with long-term experience in the field. An experienced Officiant facing issues on the day can resolve them very quickly without any problems arising and therefore the wedding ceremony runs smoothly."
Can You Bring Your Own Officiant To Disney World?
Absolutely! You can pick anyone that you'd like officiant your wedding, just know it might not be official. To be recognized by the state of Florida they will have to meet some criteria and be one of the following:
"(1)All regularly ordained minister of the gospel or elders in communion with some church, or other ordained clergy, and all judicial officers, including retired judicial officers, clerks of the circuit courts, and notaries public of this state may solemnize the rights of matrimonial contract, under the regulations prescribed by law. Nothing in this section shall make invalid a marriage which was solemnized by any member of the clergy, or as otherwise provided by law prior to July 1, 1978.
So yes, your friend, cousin or whomever can become an ordained clergy member online. Take a second to think this through before you decide. It can be sentimental and thoughtful to have someone you know if they can deliver a powerful ceremony. Weddings can be costly, you want your officiant to deliver and keep the focus on the couple.
Can Mickey Mouse Officiate A Wedding?
How awesome would it be if Mickey Mouse could officiate your wedding or even be your best mouse! That would be the ultimate way to start your marriage blessed by Mickey himself. We do have some sad news for all those fans that are interested in that:
Unfortunately Mickey Mouse can not officiate your wedding or be an active part of your wedding party. However, he and others can make appearances at your wedding. If you want a character to appear at your Disney Fairytale Wedding, budget approximately $2500-$7000 depending on who, and how many characters you'd like to appear.
Don't worry, our recommended officiant can help focus on your special day, and uniting you in love.
Why We Loved Katherine and Recommend Her To You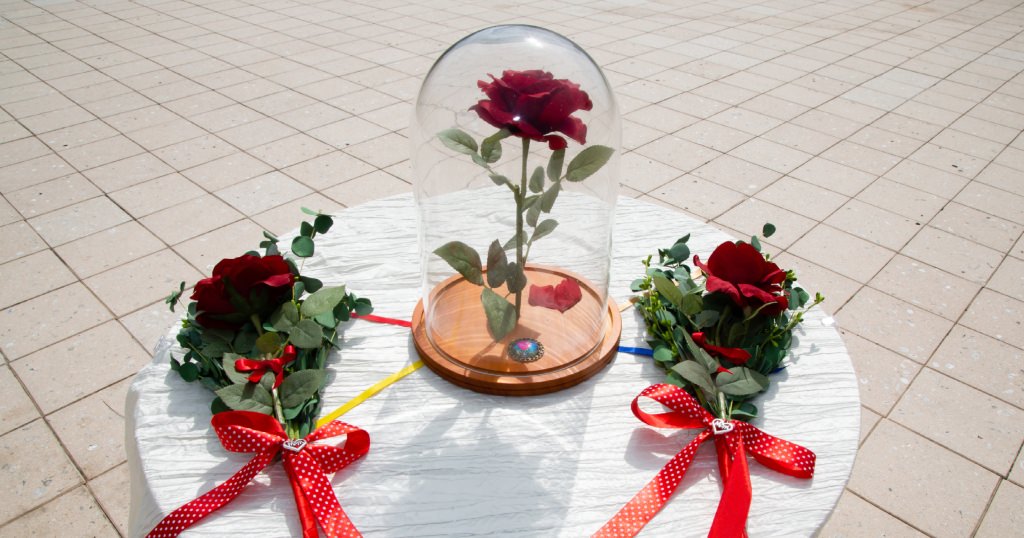 The experience will play a great role in two major aspects – the ability to curate a ceremony that would be customized to your unique love story and how much of a confident speaker they are. Katherine has 6+ years of experience in officiating weddings so she is kind of an MVP in the industry!
The second is extremely important as what you will have left from your big day are the visual memories. That means your Disney officiant will be captured on both photos or video so you wouldn't want them to be constantly reading from their book and feel insecure. Furthermore, having a confident speaker will soothe and relax you as you speak your vows and say the iconic "I do". So watch several videos of the potential officiants and see how they make you feel and how powerful their stage presence is. For example, Katherine made us feel calm, wonderful, and really happy to be having our ceremony! She was so invested in the content she was saying with the most amazing stage presence.
Our wedding ceremony truly felt like a fairytale. "Once in a while, right in the middle of an ordinary life, love gives us a fairy tale." We still get compliments on how original our ceremony was. Our guests really enjoyed the pinky promise, the Disney elements included, the Bella Rose Dome Unity Ceremony, and the celebration of our Moms.
Personalized Ceremony
Some of the top officiants have various methods to customize the ceremony so when you select, have in mind that the best professionals will have various ways to elevate the whole process.
We loved our experience with Katherine as she had a well-curated AMAZING Ceremony Planning Kit that offered us many opportunities to mix and match and fit our own style! Plus, there is a full guide on readings, how to choose and include yours, a whole guide on writing your own vows, unity ceremony ideas like the sand ceremony, unity candle, etc. It is basically a long list of elements that can be incorporated to personalize everything. Katherine gives you all her information and you get to tailor your own day. It is easy and it is meaningful to you as a couple!
We wanted to include a unity ritual in our day, so with her guidance, we decided to do the Bell Rose Dome Unity Ceremony. We opted for it through Katherine and we think is the most wonderful thing we did, felt like being Belle! This lovely ritual features a large glass dome with a rose inside whose first petal is fallen. We had 2 of the colored ribbons to tie the rose stem. Each ribbon color has its own meaning:
Red: Passion, strength, lust, fertility;
Gold: Energy, wealth, intelligence, longevity;
Blue: Tranquility, patience, devotion, sincerity, safe journey & Strength;
Yellow: Charm, confidence, joy, and balance.
If you feel that you have found the right Wedding Officiant, then book early in the process!
You may not realize this fact but great officiants get booked very VERY quickly. Katherine notes that if you feel that you have found the right person to conduct your ceremony, don't think too long because you might miss the chance:
"I wish couples understood how important it is that they have the right wedding officiant because their wedding officiant will not only put their ceremony together but they will be part of the history in photographs, I understand that the wedding has a lot of components…flowers colors, dresses, etc. but family and friends that come to the wedding are coming to be part of the ceremony to watch and listen as they both say I do. So I wish the emphasis of the ceremony and the wedding officiant they choose would be more prominent and important at the start as most great officiants get booked up so quickly they may not have the opportunity to choose their preferred officiant."
I'd like to thank Katherine for taking time to answer a few questions so we could help others as they start on their path to find the right officiant for their own fairytale wedding. She was delighted, and passion with her goal to help other couples with this special event.
Interested in booking Katherine Imundi for your magical Disney World wedding? Reach out to her through her contact info or fill out the contact form on her website below. We would also love to answer any questions you have!

Cell: 4076190173
Email: [email protected]
Website: https://www.imarrycouples.com/
The Knot: https://www.theknot.com/marketplace/i-marry-