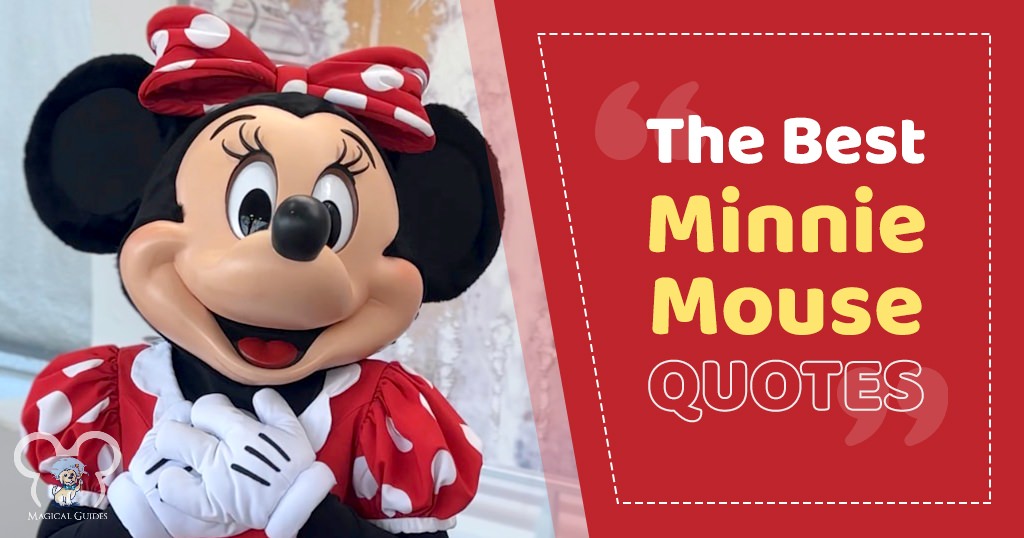 People of all ages, even the most casual fans of the Walt Disney Company, know of Minnie Mouse. Her simple white gloves, iconic red dress with white polka dots, and fun yellow heels make her recognizable.
While her full name is Minerva Mouse, she is very rarely referred to as that in Disney theme parks, television shows, or films. A quick search of "Minnie" on Disney+ brings up many shows you can watch starring or featuring this fabulous mouse.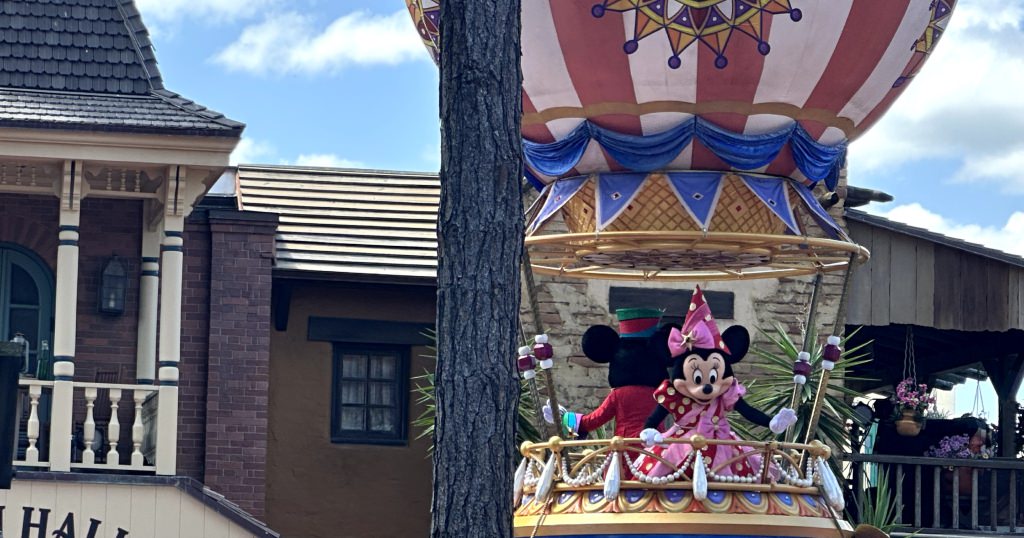 Whether she's on a romantic date with Mickey or running her own bow boutique, Minnie is a staple in any episode featuring the Disney Fab Five (Mickey Mouse, Minnie Mouse, Donald Duck, Goofy, and Pluto).
She's also one of the most popular characters to meet in Disney's theme parks. You can't step foot inside Magic Kingdom without seeing someone walk by in a pair of fashionable Minnie Mouse ears. Whether Minnie is in her Christmas outfit for the holidays or her springtime dress with pink heels, she's always one of my favorite characters to get a picture with whenever I visit the parks.
From Minnie's Bow-Toons, Roadster Racers, Mickey Mouse Clubhouse, and many more.
On November 18th, 2018, Minnie celebrated her 90th anniversary and finally earned her official star on the Hollywood Walk of Fame in California. This proved that she's not just a popular cartoon character, but an important part of popular culture in America. National Polka Dot Day is even celebrated in Disney parks and is inspired by her polka-dot patterns.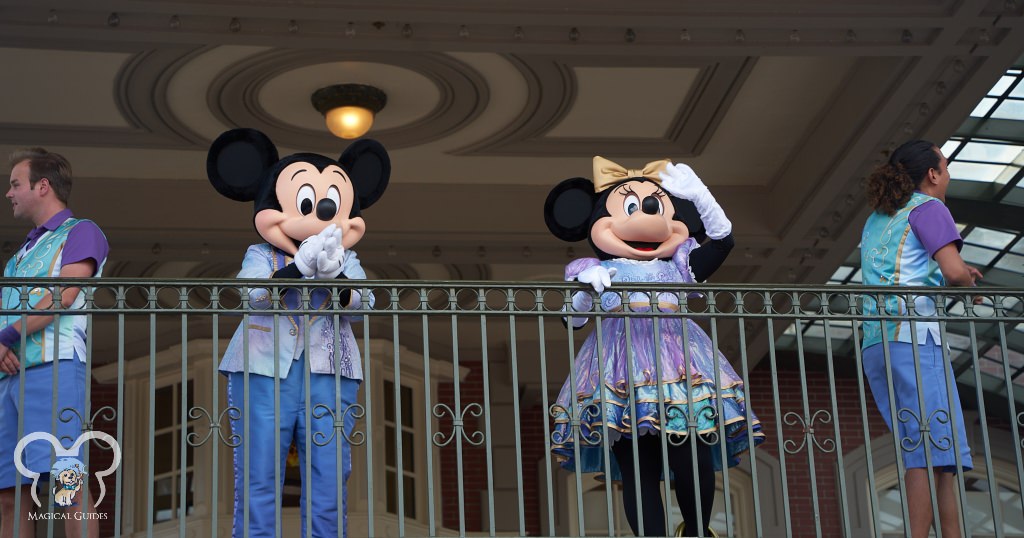 Find Minnie Mouse captions for your next Minnie-inspired Instagram post and some of the magical words Minnie is known for. I've put together a list of some of the best quotes from Disney's favorite style icon.
Keep reading to see what the famous Minnie Mouse thinks about love, friendship, and more!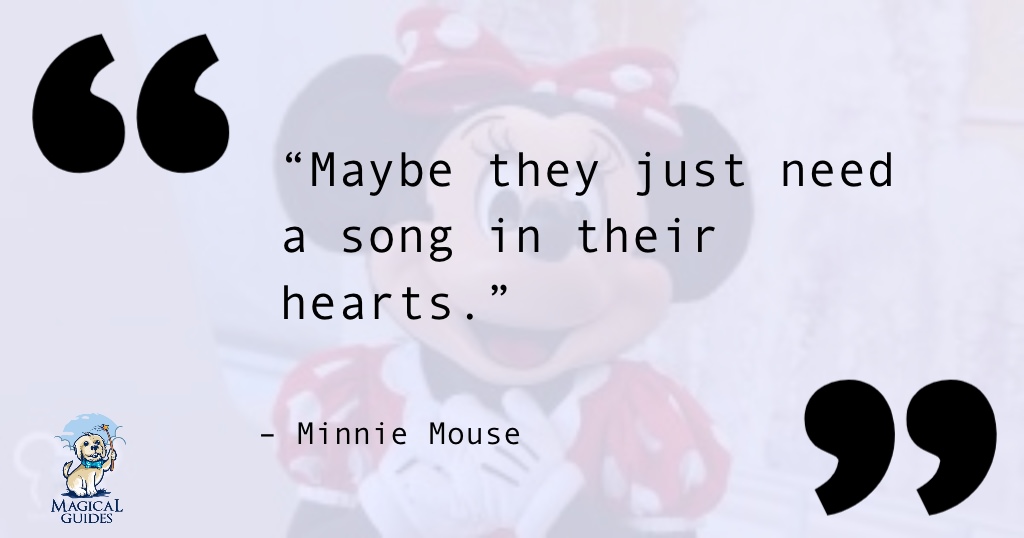 Minnie Mouse Quotes About Love
"Maybe they just need a song in their hearts."
"I can't pick someone I'm not in love with."
"I just get all giggly. Boy, you make my dreams come true."
"Oh, Mickey! When I hear you play that harmonica, my heart sings!"
"Just imagine… He'll stride into the room; a light will glow from him. I'll hear music, he'll bring me flowers and he'll sweep me off my feet!"
"I can't pick someone I'm not in love with."
"Our very first date! Oooh well, from now on you can date your stupid video game!"
"Oh my! A chain for my—watch. Oh, Mickey, it's beautiful. But I traded my watch to get you that case."
"Oh, Mickey! I can't believe you traded what means the most to you for me."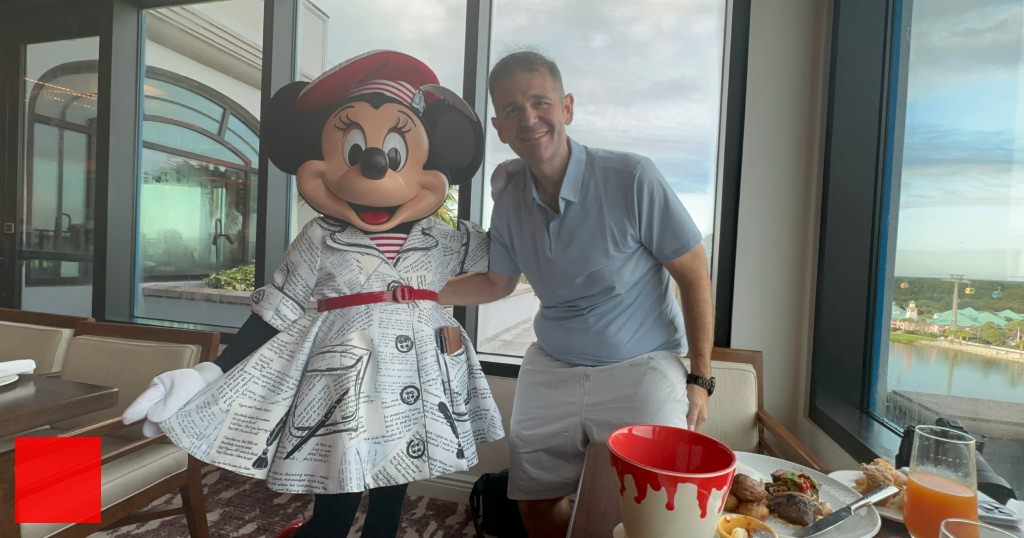 Minnie Mouse Quotes About Friendship
"Happy New Year! I hope this year is your best one yet! Here's to another year as friends!"
"Go dress yourself head to toe in polka dots, then come back and see me! Oh, I just know you'll look like an absolute dream!"
"Oh thank you! You've brought me the last ingredient I needed for those candies! Yes, that's it, all right. Thank you so much! I'd better get right down to work then. Tee-hee! I can just picture Mickey's face once he takes that first bite!"
"Whenever I see you, you have a big smile on your face. It's quite contagious!"
"You can do it! What one thing are you most crazy about right now? Whatever it is, I'll support you all the way!"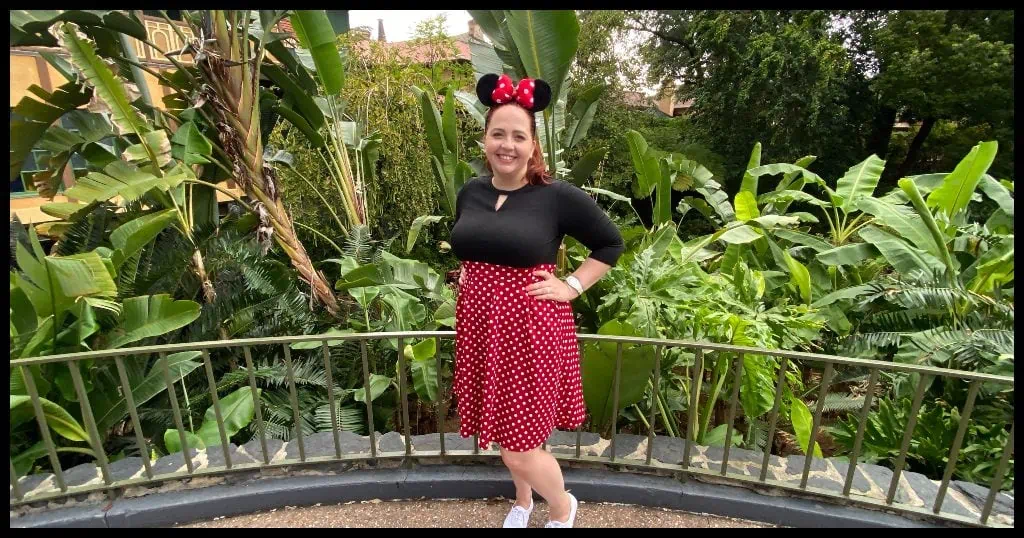 Minnie Mouse Quotes About Clothes
"If wearing mouse ears is wrong, I don't want to be right."
"All you need is faith, trust, and pixie dust… plus a pair of Minnie ears."
"Well Daisy it's like I always say, there's no business like bow business."
"Life is too short to wear boring clothes."
"I didn't choose the ear life. The ear life chose me."
"What's your favorite outfit? Everyone here has his or her own tastes when it comes to fashion. Wear someone's favorite outfit and they'll shower you with compliments!"
"Let's see… If you're looking for compliments, fashion's the easiest way to get them. Try putting on a new outfit and greeting everyone!"
"All you need is faith, trust, and pixie dust… plus a pair of Minnie ears."
"Too much glitter,' said no one ever."
"Some days, you just want to wear a bow in your hair."
"If it's got a bow on it, I'm sold!"
"Life needs a few more polka dots."
"Some days, you just want to wear a bow in your hair."
"Dressing up is fun! Everyone in Castleton is wild about fashion. If you wear a full matching outfit, I'm sure you'll get some nice comments!"
"Yoo-hoo! I came to Daisy's Boutique looking for some new clothes. She has so many nice things – how will I ever choose?"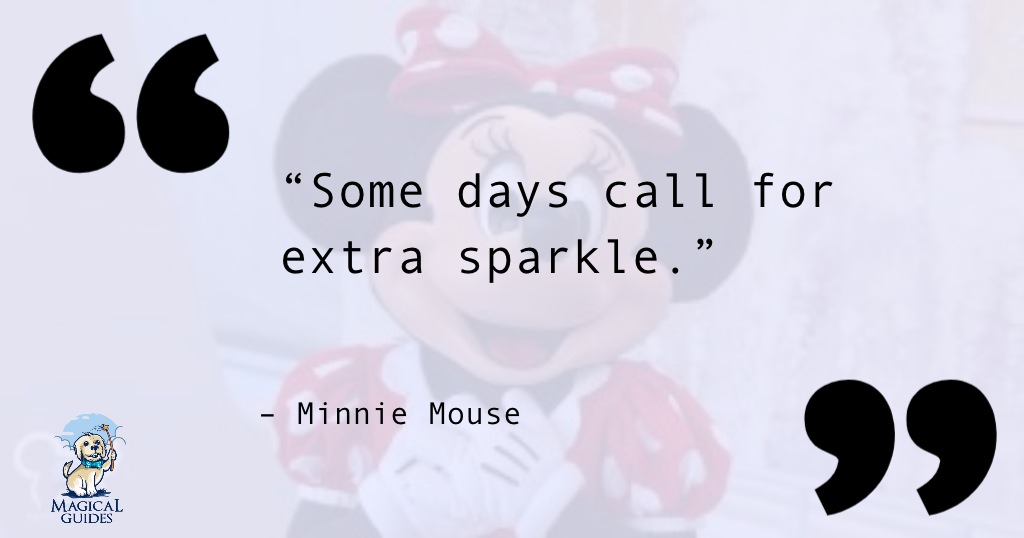 Minnie Mouse Quotes about Life
"Some days call for extra sparkle."
"I love spring! After all, spring is when so many lovely flowers are in bloom!"
"Do you know what I just did? I was just picking flowers from the flower garden. You should pick some, too!"
"Everywhere you go—green! Summer's when all the trees and plants are so vibrant and full of life!"
"Even butterflies know that there's no business like bow business."
Minnie Mouse Quotes for Baby Girl
"Wow! You look gorgeous! Even better than I expected! Why I just couldn't be happier to see you like this. Thank you so much! Oops – I almost forgot! Let's take a picture together! We need to commemorate our friendship becoming even closer than it was before!"
"Some people were just born with Disney in their veins."
"Remember, you're the one who can fill the world with sunshine."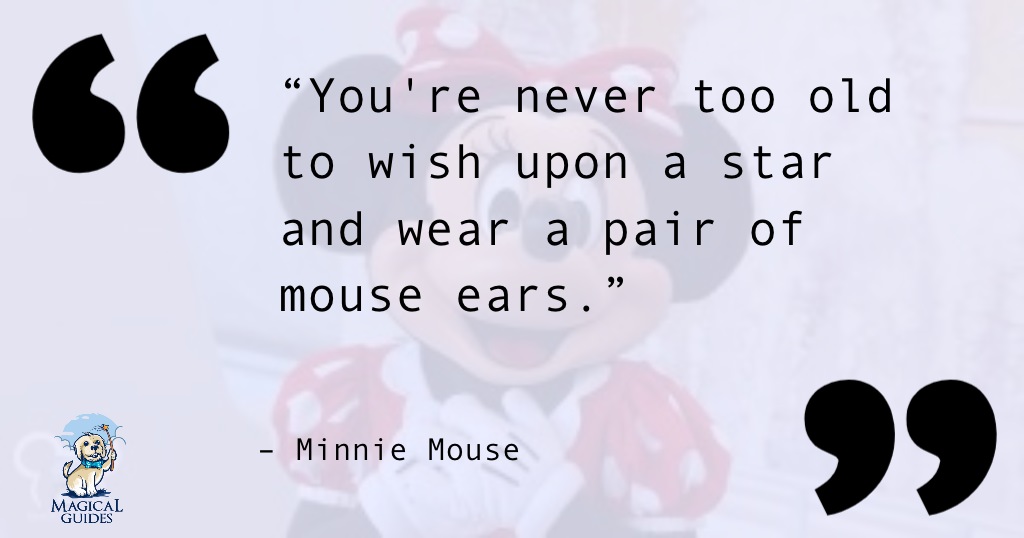 Minnie Mouse Quotes for Birthday
"Tee hee! The party's in full swing now! But I know how to really get things moving—with a dance! Let's start the show!"
"You're never too old to wish upon a star and wear a pair of mouse ears."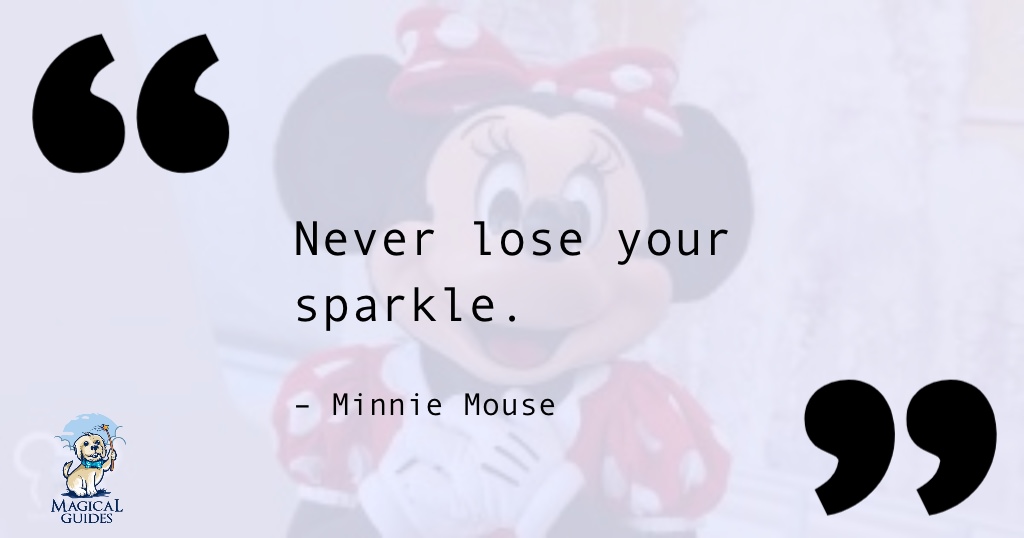 Cute Minnie Mouse quotes
"I don't want to deny anyone of smiles."
"I know you can do it! Have you decided on the café menu yet? Don't forget to put some sweets on there for me, okay?"
"Now what do I do? I told Mickey I'd make him some homemade candy, and I thought I had everything I needed for the recipe. But it turns out I don't have enough of one of the ingredients. And Mickey was really looking forward to them, too."
"Holiday goodies… I think I'll bake up a batch of gingerbread cookies! Those cute little doll shapes are so much fun to decorate!"
"I'm simply ear-esistible."
"The problem is, he's Pinocchio's conscience, not yours."
"I'll know he's the one when he makes me laugh."
"I thought we were pretty darn magical there."
"There's no crying in ice dancing. Besides, the show must go on."
"Let's make magic!"
"If I lived here, I'd be home already."
"Never lose your sparkle."
"You and me, out in the sun fresh air, blue sides waterfalls for 18 glorious hours of—."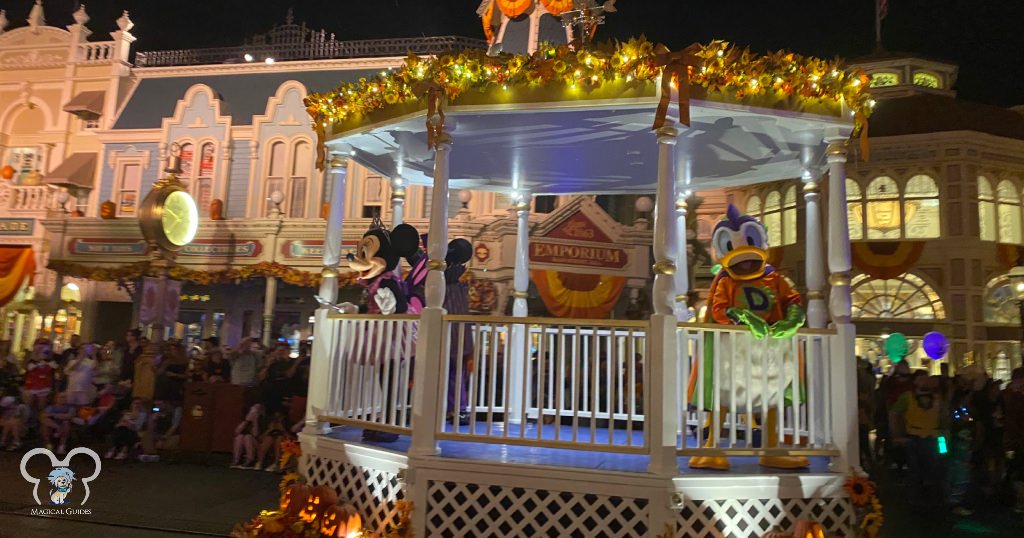 A Classic Disney Icon
Despite being an animated character designed for young kids and children at heart, Minnie Mouse has quotes that can inspire or bring joy to anyone. She can make you laugh one second, then remind you that there is always something to smile about. She is a Disney legend, as well as a fashion icon.
I hope you found some fabulous quotes to turn into magical wall art or write on the cover of your journal to brighten your day and put you in a happy mood.
What's your favorite Minnie Mouse quote?