One of the best things about taking a family vacation to Walt Disney World is that there are rides and attractions for everyone in your family. If you are traveling with infants and younger children, you'll still find plenty to keep you entertained. While we would recommend spending the majority of your time in the Magic Kingdom when traveling with younger kids and infants, you'll still find some fun rides in every park that anyone can enjoy.
Magic Kingdom
It's A Small World
No trip to the Magic Kingdom is complete without taking a ride on It's A Small World. This classic Fantasyland attraction has no height restrictions and is a gentle, slow-moving boat ride the whole family will enjoy. Younger children will love watching the various dolls as you head through the ride, and it's a bright and colorful attraction to keep them entertained. The attraction was originally built for the 1964 World's Fair, and Walt Disney himself oversaw the construction of the ride. It was an opening day attraction in the Magic Kingdom and is still loved by guests of all ages to this day.
Dumbo the Flying Elephant
Located towards the back of Fantasyland, you'll find this classic Magic Kingdom attraction. The great thing about this ride is that you can customize your experience to fit your child's needs, so you can fly low if they seem afraid of going too high. It's a smooth and relaxing attraction, and you'll enjoy looking down on the rest of the park. While you are waiting to ride, younger kids will love playing in the children's playground that's located within the big-top tent.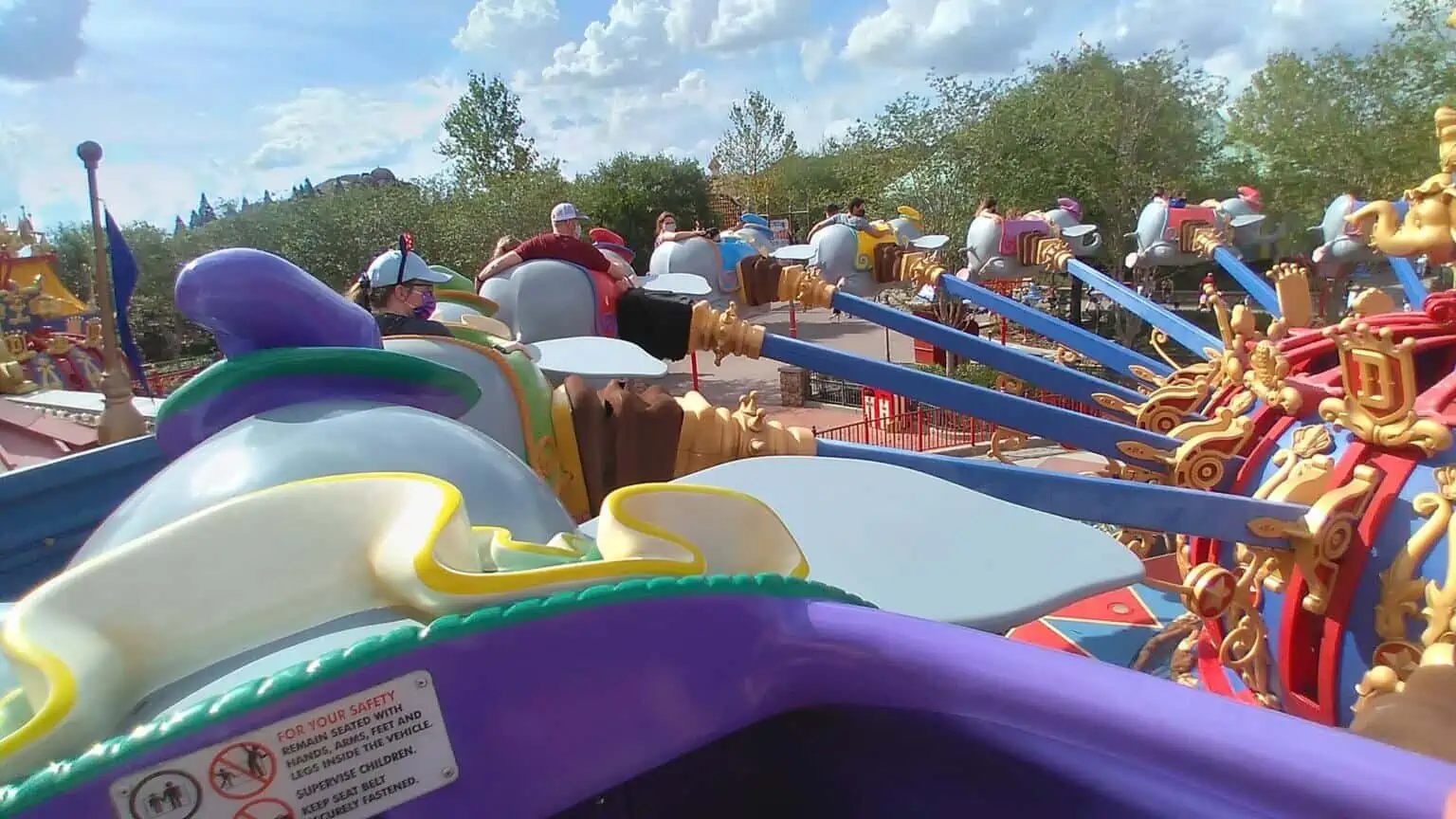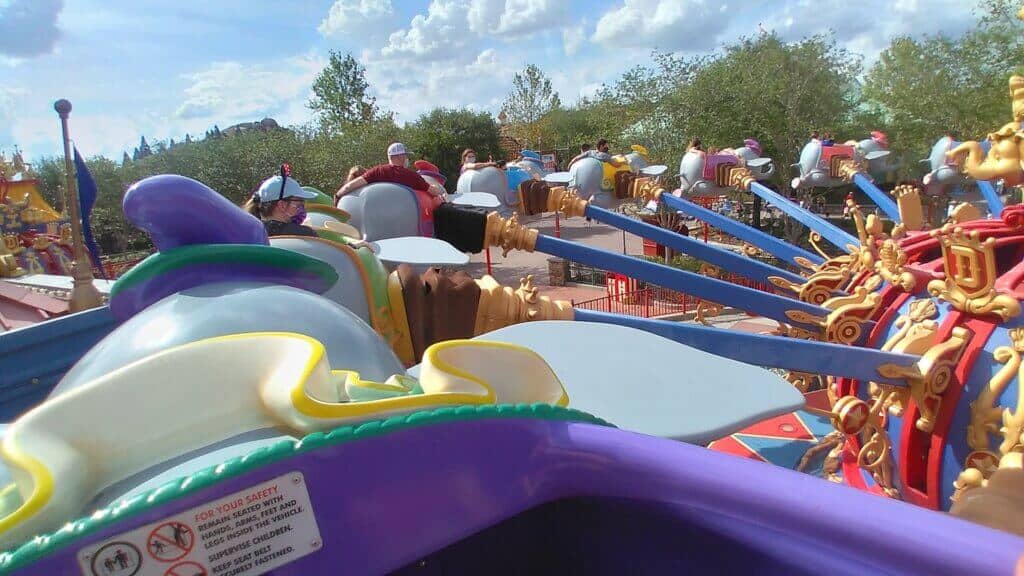 Mad Tea Party
Love it or hate it, the Mad Tea Party is another popular attraction that doesn't have a height restriction. You and your family will be placed in one of the pastel teacups and enjoy swirling around in this colorful and musical ride. A lot of young children love the spinning sensation, and it's often the adults who find they need this ride to be a little calmer. The good news is that you can control the spinning on the ride and opt not to turn at all if you are worried about getting too dizzy.
Peter Pan's Flight
Peter Pan's Flight is a unique dark ride in the Magic Kingdom as your vehicle is suspended from the ceiling instead of being attached to the ground. Your family will board a pirate galleon and then follow Peter Pan on his adventures. Younger kids will love seeing the colorful scenes and pointing out some of their favorite characters from the Peter Pan movie. There's also an interactive queue for this attraction, so you'll find that waiting for it is much more pleasant than some of the other busy rides in the park.
Prince Charming Regal Carousel
If it's your child's first time visiting a theme park, we always recommend taking a ride on a carousel. For anyone who is a little too small for the wood-carved horses, there are chariots you can sit on instead. The attraction is inspired by Cinderella, and the decorations on this carousel make it one of the prettiest attractions in the park. Kids will love waving to other guests in the park during their ride on this attraction, and they'll enjoy watching the world go round from their horse or chariot.
The Many Adventures of Winnie the Pooh
Infants and young kids will love seeing the story of Winnie the Pooh come to life in this Fantasyland attraction. You'll meet Winnie the Pooh, Gopher, Piglet, Eeyore, Roo, and Kanga on your way around before visiting Owl's House and bouncing along with Tigger. There are some gentle but fun motions during this attraction, which younger kids will laugh along with. Before the ride, there's also another interactive queue, where you can explore Rabbit's garden and paint with honey.
Under the Sea – Journey of The Little Mermaid
Head underwater to explore the story of The Little Mermaid in this dark ride that's ideal for your whole family. You'll board a clamshell which will take you down below the ground to visit Ariel and her friends. Along the way, you'll meet King Triton, Flounder, Scuttle, and Prince Eric, and kids will love dancing and singing along to the soundtrack of the ride. 
Epcot
Frozen Ever After
As one of Epcot's most popular attractions, visitors with infants can't miss riding on Frozen Ever After. While this park has fewer kid-friendly attractions, there is still a lot for them to see and do while walking around World Showcase. Frozen Ever After replaced the previous attraction in Norway but is still a water-based ride featuring everyone's favorite characters from Frozen. Kids will love seeing Anna, Elsa, and Olaf on their way around and singing along to classic songs, such as Let It Go.
The Seas with Nemo & Friends
Another fun dark ride is located at the entrance to The Seas with Nemo & Friends, where you'll board a "clamobile" and head underwater. You'll meet your favorite characters from the movie while dodging jellyfish and encountering Bruce the shark. The finale of the ride takes you into the aquarium, where you'll see some of the real-life creatures who call this area home. Make sure you set aside time to explore the whole pavilion with younger children, as you could easily spend an hour or so walking around and watching the dolphins and manatees here.
Disney's Animal Kingdom
Kilimanjaro Safaris
Kilimanjaro Safaris is a hit with visitors of all ages and is one of the best ways to see the animals that call Disney's Animal Kingdom home. This eighteen-minute-long ride gives you plenty of time to look out for hippos, giraffes, lions, and many more creatures. We recommend trying to ride this attraction first thing in the morning, as the animals are often more active when it isn't too hot in the park. This will also make the experience much more comfortable for your kids, who will enjoy pointing out their favorite animals on the savannah.
TriceraTop Spin
Up to four people can ride at one time on TriceraTop Spin, which is very similar to Dumbo in the Magic Kingdom. You'll go up and down and rock back and forth during this ride, which takes you high above DinoLand U.S.A. When you sit in the back row, you'll be able to control how high and low you fly, and then those in the front row can tip your dinosaur backward and forward.
Disney's Hollywood Studios
Mickey & Minnie's Runaway Railway
We were thrilled to have another family-friendly attraction added to Disney's Hollywood Studios when Mickey & Minnie's Runaway Railway opened last year. This is a fun adventure for visitors of all ages, and you'll climb aboard the runaway railway to go through a fun and wacky ride with your favorite characters. It's the first ride in any Disney park to feature Mickey and Minnie, and it's a welcome addition to Walt Disney World. We recommend starting your day off in the park with this ride before exploring more of the shows and rides for kids.
These are just a few of the highlights of any visit to Walt Disney World, but young kids and infants will love just walking around and meeting the characters on their next trip. As you can see, the Magic Kingdom certainly has the most attractions for younger children, but each park has something to offer visitors of all ages. Make sure you keep an eye on the height restrictions before entering any ride to avoid disappointment and to help plan a magical trip to Walt Disney World with your family this year.