When planning your magical trip to Disney World, you're probably searching for places to eat that will appease adults and entertain the kids. While eating on property can be fun, it can be pricey, and with so many different great restaurants in the Orlando dining scene it can be hard to find the right one for your family. Here is our list of tasty, unique, family friendly restaurants that are just a short drive from Walt Disney World that kids and parents will love!
Taverna Opa


9101 International Dr, #2240, Orlando, FL 32819
This lively Greek restaurant is the perfect dining experience for the whole family. With fun live entertainment that will even have you dancing on the tables, the kids will be entertained from start to finish. When you walk in you will love the beautiful décor and Instagram worthy photo spots. The food is phenomenal, authentic Greek plates the adults will enjoy and a variety of dishes even the picky eaters will love. The kids have basic options to choose from, like the typical chicken or mac-n-cheese, or they have Greek kid's meals, meatballs, or lamb sliders. With belly dancers, table dancing, and throwing of napkins, this is a fun spot the kids will be asking to go back to.
Yellow Dog Eats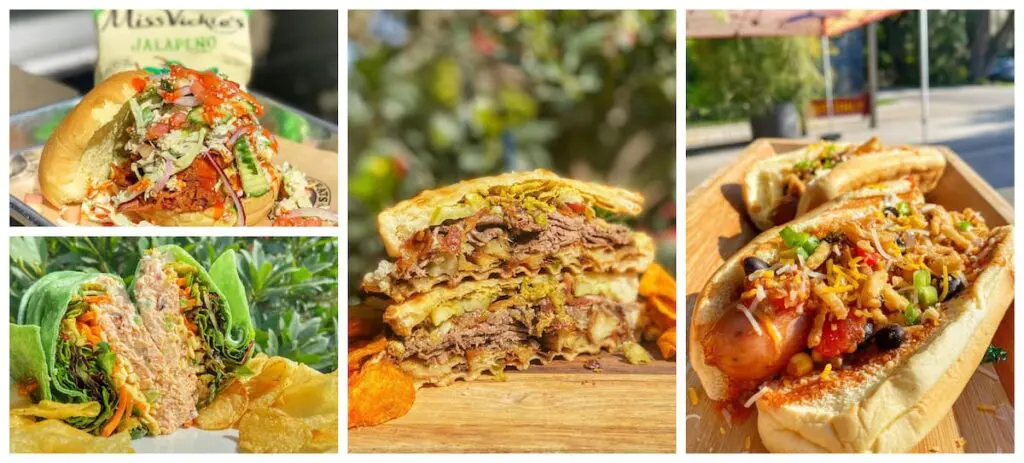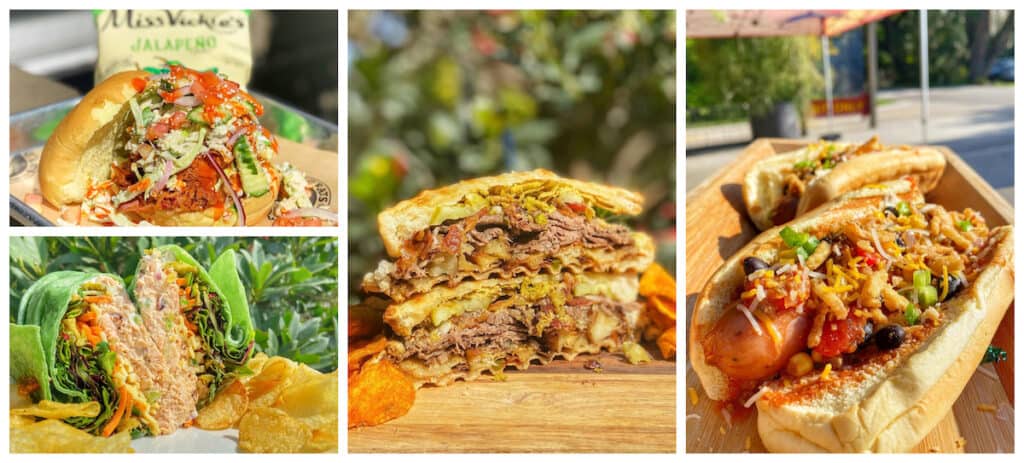 1236 Hempel Ave, Gotha, FL  34786
This fun, family friendly restaurant is a great place to stop by and enjoy the cute patio and live music. With unique meals, you will have a hard time deciding what to try. The kids will love all the fun doggy décor hanging on the walls. Mom and Dad can grab a glass of wine while the kids play in the VW bus on the patio. This restaurant is actually in the historical Brockman House and is even featured in many books about the area. The menu has fun sandwiches, salads and BBQ that are all unique and have a twist to them. For the adults, I highly recommend trying Club Elvis. This tender pulled pork topped with pecan-smoked bacon, gouda cheese, crispy fried onions and topped with Fish's Gold BBQ sauce and is served on a fluffy bun. For the kids they can choose from pulled pork sliders, quesadillas, grilled cheese sandwich, or a turkey and cheddar sandwich.
Black Rock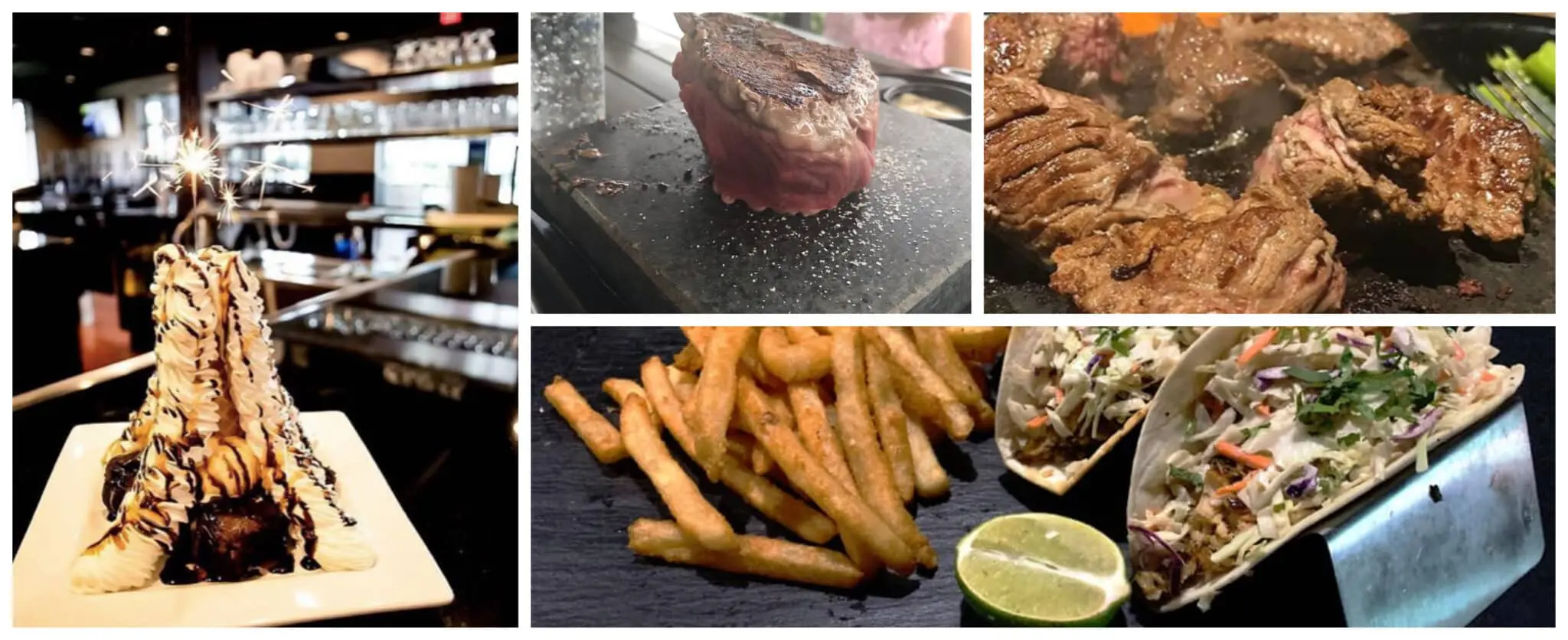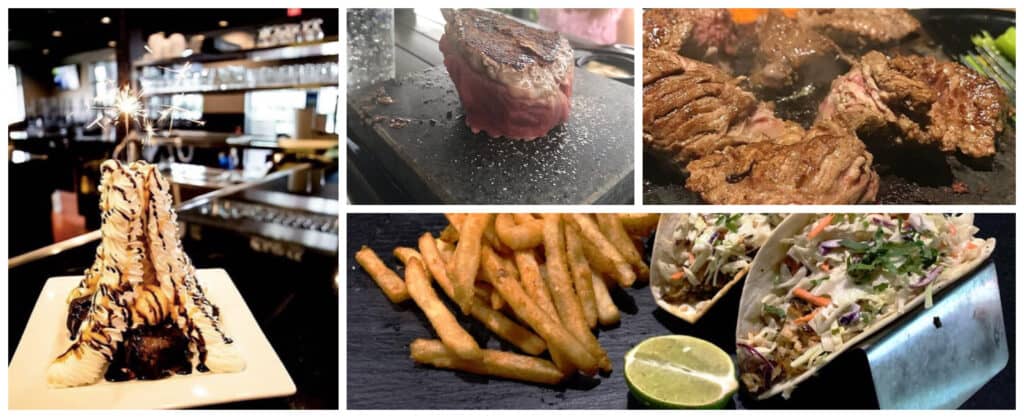 8965 Conroy Windermere Rd, Orlando Fl 32819
Black Rock is an award-winning steak house that is more of a cook-it-yourself dining experience. You can order a traditional entrée here, that are all delectable, but what Black Rock is really known for is their steaks and sea food served raw and you get to cook them to your preference on a 755-degree volcanic sizzling rock. Many of their appetizers, like the Spinach Dip or Dueling Pretzel & Cheese Fondue are served in their volcanic bowls that are warmed on the volcanic stone. There menu will please everyone in the family, from great sea food to vegetarian meal to amazing soups and salads, Black Rock has it all. The best part here is the kids are going to love the desserts! The Sizzling Black Rock Volcano is like watching a volcano on fire right in front of you! This deep-dish brownie topped with four scoops of ice cream, a waffle cone, whipped cream and drizzled in chocolate, caramel, and marshmallow and topped with a flaming sparkler. This delicious dessert will serve 4-6 people and a perfect ending to your meal!
The Pizza Press


6081 US-192, Kissimmee, FL 34747
16406 New Independence Pkwy Suite#100, Winter Garden, FL 34787
In the mood for some pizza? Take the family over to The Pizza Press and let the kids pick what they want on their pizza and watch the chefs build it in front of you, or you can pick a pizza off the menu. The pizzas are all named after different newspapers. Have someone in the family not in the mood for pizza? They have many tasty pasta dishes to choose from, wings, and great salads. The kids can get the Jr. Editor, a 6- inch pizza with 2 topping and a cookie. Kids will love turning into little chefs and picking their toppings and the parents will love the price!
Landry's Seafood House


88800 Vineland Ave, Orlando, Fl 32821
Landry's is the perfect place to bring the family. The kids can play on the playground waiting for their meal to come and let the adults have some great conversation. Landry's is a little pricier of a restaurant, but it has great happy hour specials that will make it a great price. Their Happy Hour is Monday-Friday 3:30-6:30 and offer $5, $6, $7, and $8 food items and great drink specials. Stop in Monday- Thursday and enjoy the Early Bird special, 3 courses for $25! Landry's has it all for the whole family, great food, playground for the kids, and fun atmosphere!
Celebration Town Tavern


721 Front St, Celebration, Fl 34747
Spend the evening with the family walking around magical downtown Celebration and stop in and grab a tasteful bite to eat at Celebration Town Tavern. If you are visiting Disney, this is the perfect, quaint, little downtown to spend the evening, as it was originally developed by The Walt Disney Company. This comfy restaurant is based themed around New England with great "Startahs", chowders, and Boston favorites! The menu has everything from burgers to fish to pastas and each item will have your mouth watering! Even the kid's menu is huge! Celebration Town Tavern is located across from the lake front in downtown Celebration and is the perfect location for your family night out.
Café Tu Tu Tango

8625 International Dr. Orlando, Fl 32819
No Orlando area restaurant list would be complete without mentioning Café Tu Tu Tango! From the moment you walk through the door you will be mesmerized with everything it has to offer. The art covering the walls is all available to buy. Café Tu Tu Tango has live artist, jewelry makers, musicians, and even hula hoop dancers! The whole restaurant is an entertaining show. Food and art are brought together in this fun dining experience. The plates are all small, tapas style meal that are delicious! Reservations are highly recommended at this amazing restaurant!
Rock & Brews


3284 Margaritaville Blvd, Kissimmee, Fl, 34747
Rock & Brews is a concert like dining experience. The kids will love this Rock n' Roll experience that has an appetizing, fun menu. With flat screen TV's showcasing iconic rock concert moments the kids will feel like they are truly at a concert. Enjoy the gorgeous Florida Sunsets on the dog-friendly patio that has fire pits and live music on the weekends. Even the menu items are Rock n' Roll themed! Enjoy Sgt. Pepper's Jalapeno Poppers, the Strawberry Fields Salad or stop in for brunch and have the 'Benny and the Jets' Eggs Benedict.
The Whole Enchilada


129 W Plant St, Winter Garden, Fl 34787
Enjoy dining on the upper deck with the kids and looking over the cute town of Downtown Winter Garden. While the food here is amazing, the atmosphere is fun, trendy, and modern. Order your food downstairs and go upstairs to find a spot to eat on the upper deck and let the kids play outdoor Jenga while waiting for your food. Watch a breathtaking Florida sunset while enjoying your dinner. Known for their "Classic with a twist" menu items, it is the perfect spot if you are wanting a fun restaurant the kids can play at and delicious food! The Tostada salad is amazing, and the kids will love the kid's quesadilla. Feeling really hungry? Have the family cheer you on as you try the Ex-Wife Challenge- you will have 45 minutes during one sitting to complete the 6lb burrito served enchilada style and all of its accompaniments. If you are successful, it's on the house and you will go down in The Whole Enchilada history, plus a free The Whole Enchilada t-shirt!
Sugar Factory

8371 International Dr #70, Orlando Fl, 32819
Last and certainly not least on our list is the Sugar Factory. There is no better way to end your perfect Walt Disney World vacation than to enjoy a dinner at the Sugar Factory. This is probably the most expensive on the list of restaurants, but when you go in you will soon see why. Every meal on the menu is fun and Instagram worthy! You will need reservations for this restaurant, so make sure to make them well in advance. While the burgers and dinners are all tasty, the true reason you will come is for the decadent desserts. You will have a hard time deciding what unique dessert to choose from. You can try the Bacon cheeseburger milkshake, which is a strawberry ice cream blended milkshake topped with a mini cheeseburger and bacon strip, pretzels and M&M's, dessert and your meal all together! Or try one of their sharable bowl drinks that come in a giant bowl to share. Anything you try here will be delicious and fun for the whole family!
So, which restaurant will you be trying on your next family friendly trip to Disney? All these restaurants are within 30 minutes of Disney and priced better for families than the restaurants on property, making your dream Walt Disney World vacation easier to afford. We hope you will enjoy your family time and a great dining experience with your family!