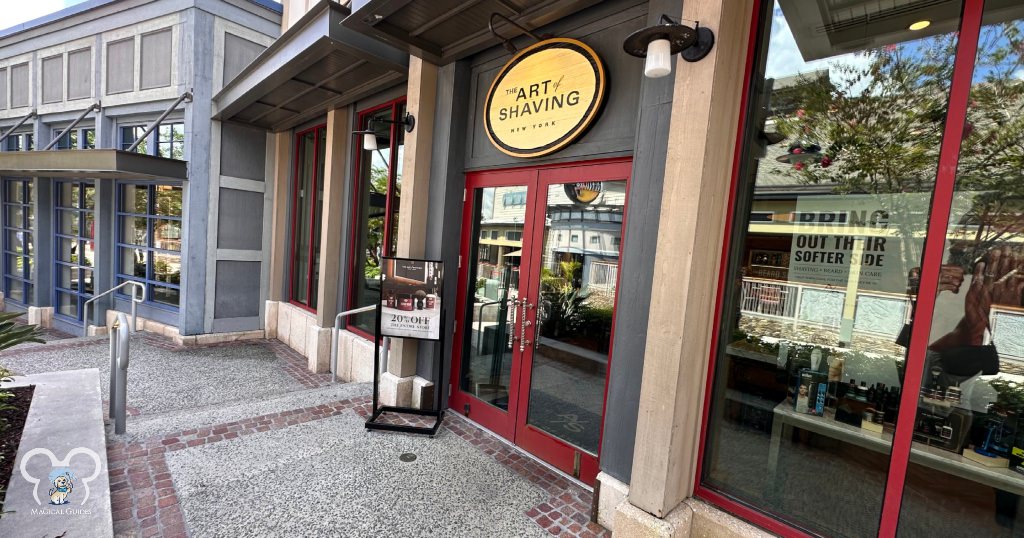 For so long I had a beard. So shaving was not a part of my self-care routine. It didn't hurt that my wife liked the beard that I had grown for almost 10 years.
That changed sometime last year after losing about 300 lbs. I started to develop some facial eczema, that caused my face to become dry and itchy.
When I would visit my barber every 6 weeks to trim my beard, he would give me a hot towel treatment. This was 5 minutes of heaven, and I found myself wanting more.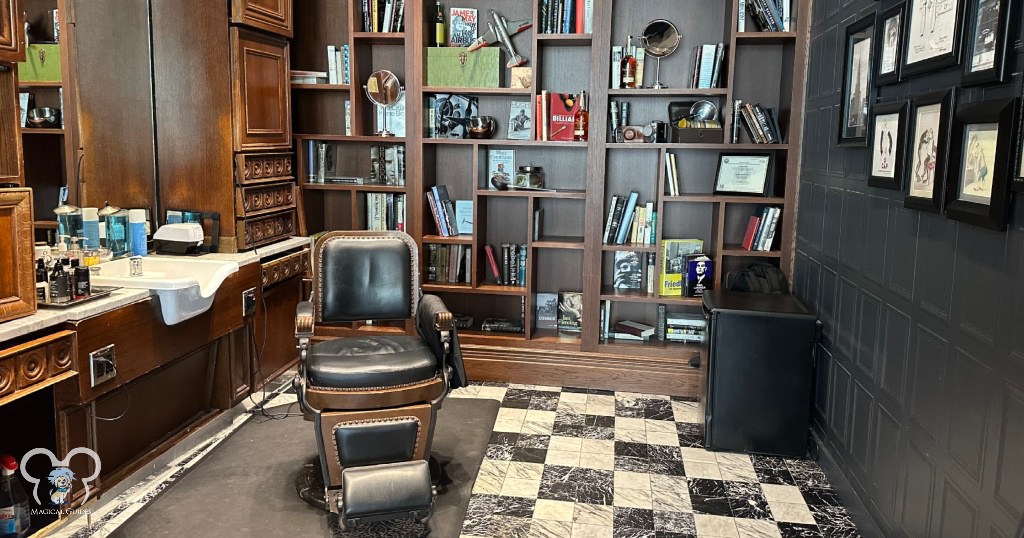 If you know me, you know I love spa treatments like this. So this was right up my alley.
I determined I wanted the best to learn more about the signature service Art of Shaving offered. I set out to have a professional give me one of those legendary straight razor shaves.
So when I saw the Art of Shaving at Disney Springs, and I looked into the window I knew what I had to do. I walked in and booked an appointment during my next trip to relax and enjoy all things Disney.
Let me tell you, the barbershop is nothing but a quiet, throwback to high-end barbershops. The whole barber spa experience was relaxing, and I was in Disney World of all places.
Does Disney Springs have a barber shop?
Disney Springs has a barber shop that is a part of the Art of Shaving. They sometimes have walk-in availability, but I recommend making an appointment.
If you're looking for a haircut for a wedding, business meeting or special event this is the place to go.
How to make an appointment with Art of Shaving Disney Springs?
If you're looking to book an appointment with one of their master barbers give, the easiest way is to call them. Their hours of operation are 10 AM – 11 PM, so call them during those hours at (407) 560-8320
There is no online appointment system, so if you can't make your appointment, you'll have to call.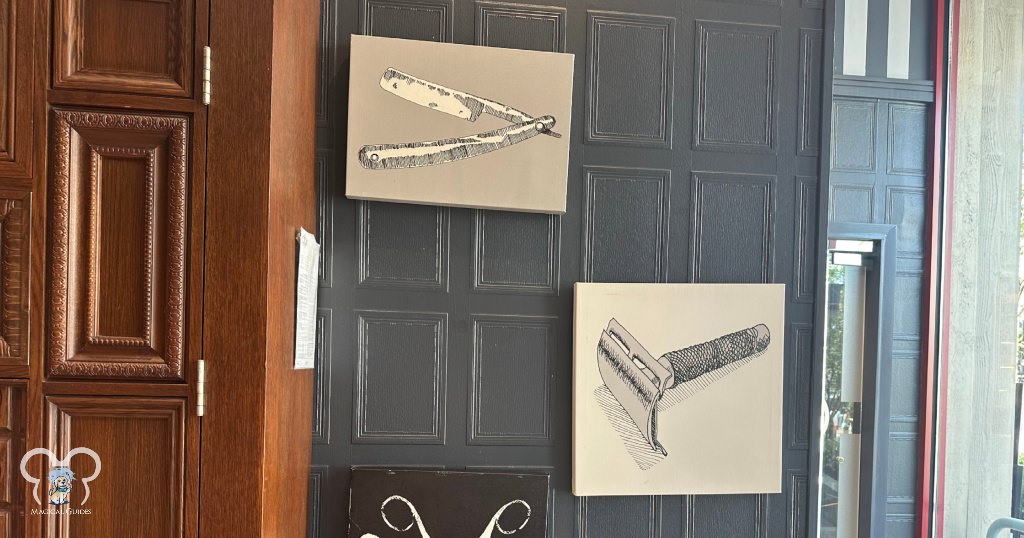 If you're looking for the address for Disney Springs, it's 1600 E Buena Vista Dr, Orlando, FL 32830.
If you're driving to Downtown Disney, park in the Orange Lot that puts you out near the Polite Pig. If you know where Gideon's Bakehouse is in Disney Springs, Art of Shaving is just a few doors down around the corner.
Does the Art of Shaving do shaves?
The Art of Shaving in Disney Springs offers several services.
Enjoy beard, hair, and hot towel services, cuts, shaves, and facials as well as:
Scalp Therapy Treatment
Premium Haircut
Premium Head Shave
Premium Shave
Express Facial
Spa Packages
I did the Premium Shave during my visit, and it cost $100 plus tip. So it's not something I would do all the time, this was a time for me to relax after the stresses of a work trip.
The Premium Shave included a lemon essential oil face massage with a hot towel. Followed by a second hot towel before the royal shave began.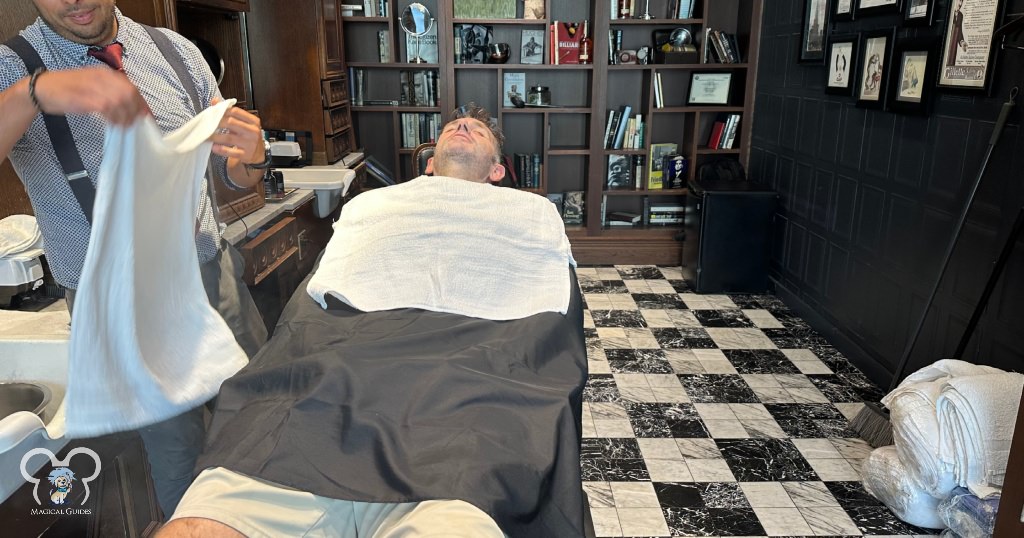 The after-shave mask tightened my skin up, clearing out the pores even more relaxing.
What is the return policy for the art of shaving?
Items purchased in-store can only be exchanged or returned in-store. You will need the original receipt and original method of payment available. Gift receipts are eligible for merchandise exchange or store credit only.
Gift Cards are not returnable. They can only be redeemed for merchandise or services in the store or online.
If you buy items off their website and need to return them you may be on the hook for the return shipping. So be sure to ask and try all the items in the store that you can.
Is the art of shaving going out of business?
Proctor and Gamble the makers of Tide laundry detergent, and Vicks vapor rub own the Art of Shaving brand. P&G did close over 80 Art of Shaving stores citing lack of mall traffic.
Currently, there are only two stores in the US, one in New York City and the other in Disney Springs.
The company has made it clear they plan to push for more e-commerce sales, and wholesaling the brand.
Is the Art of Shaving worth it?
If you're looking for a gift to spoil the man in your life, consider stopping in. The knowledgeable people at Art of Shaving answered my questions about the shaving essentials.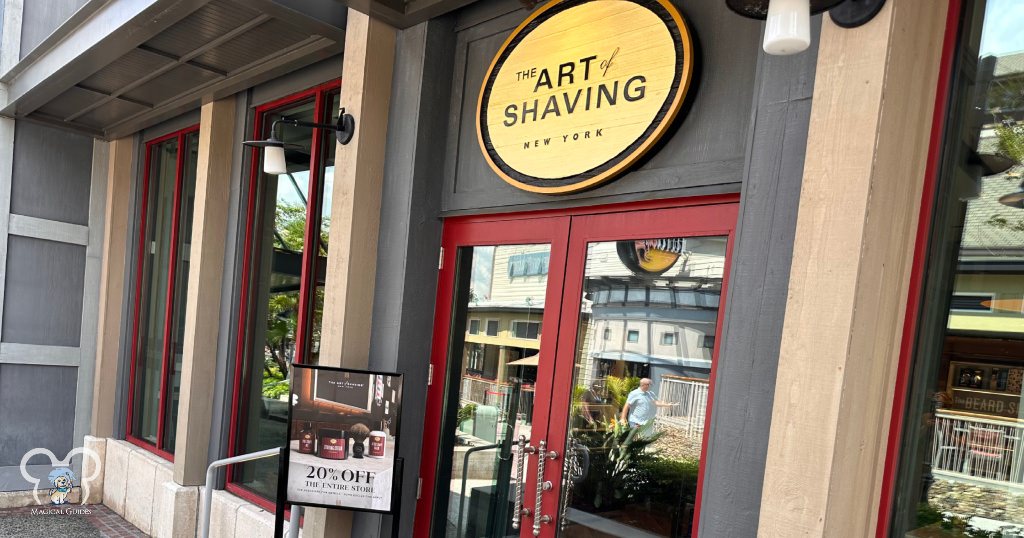 I picked up the pre-shave oil, shaving lather, and after-shave balm all in lavender scents.
Where can I get a haircut at Disney?
If you're looking for a haircut while you are on vacation at Walt Disney World here are a few options:
Harmony Barber Shop in Magic Kingdom (1180 Seven Seas Drive, Lake Buena Vista, FL 32830)
V's Barbershop – Windermere (7848 Winter Garden Vineland Rd Ste 108 Windermere, FL 34786)
The Village Barbershop – Horizon West (13796 Bridgewater Crossings Blvd #1080, Windermere, FL 34786)
S Todd Barbers – Celebration (611 Celebration Ave Celebration, FL 34747)
I can vouch for each of the barbershops listed above. I've counted on V's Barbershop for my haircut and beard trim before getting married. S Todd Barbers I go to for a no-thrills quick haircut before family gatherings.
So if you're looking for a trip to the barbershop to get cleaned up or relax, I hope this article helped you.