If you are looking to enjoy a special meal during your next Walt Disney World trip, you can't go wrong with selecting one of the best steakhouses on property. While there are a couple of obvious choices when selecting a steakhouse for dinner at Walt Disney World, you'll find there are also a few hidden treasures that are well worth considering for your next trip.
These steakhouses are some of the most popular restaurants on property, so make sure you book your advanced dining reservations well in advance to avoid missing out on these fantastic dining opportunities on your next trip.
These are our updated steakhouse ratings for 2023 – updated and reservations are highly recommended for all of them.
Toledo, Disney's Coronado Springs Resort
Another new option for enjoying a delicious steak in Walt Disney World is Toledo, which offers tapas, steak, and seafood at Disney's Coronado Springs Resort. This 1930s inspired restaurant is located on the rooftop of the new Gran Destino Tower and offers incredible views across the property at night-time. On top of the great steaks on offer, you can choose from over 75 Spanish and Californian wines.
Start your meal with a selection of tapas to share before heading onto the main course. We highly recommend the Chuletón 28-oz Bone-In Rib-Eye for Two for a romantic dinner, which comes with a choice of two house sides.
Otherwise, the Marinated Hanger Steak or Manhattan Steak are great value-for-money options. You'll find the prices here to be a little lower than our other featured restaurants, so it's ideal for enjoying after a busy day in the parks. Make sure you save room for dessert after your steak, where we recommend ordering The Toledo Tapas bar, which features four mini desserts for your enjoyment.
STK Steakhouse, Disney Springs
One of the newest steakhouse options in Walt Disney World is STK Steakhouse, which is located in Disney Springs. If you are looking for a more modern steakhouse for a weekend brunch or dinner, this is the perfect spot to visit. Enjoy drinking craft cocktails in their lounge before your meal, and then choose to dine either indoors or outdoors in this lively restaurant.
The menu at STK Steakhouse is one of the most extensive on property, offering over a dozen different steak options alone. We highly recommend the 6 oz. or 10 oz. Filet, but if you are really looking to splurge, upgrade to the Dry-Aged Porterhouse 28 oz. or the Dry-Aged Tomahawk Ribeye 34 oz.
Enjoy adding a selection of toppings to your meal, including King Crab Oscar or Shrimp. One of our favorite things about this restaurant is the wide selection of steak sauces, and the STK and STK Bold are just two of our top recommendations.
Le Cellier Steakhouse, Epcot
No list of the top steakhouses in Walt Disney World would be complete without Le Cellier Steakhouse in the Canada pavilion in Epcot. You'll enjoy the cozy restaurant, which is located within the Canadian chateau, where you can eat lunch or dinner.
While it's certainly one of the pricier in-park dining experiences, we think it's well worth the cost for the incredible menu and relaxed environment.
The highlight of Le Cellier Steakhouse's menu is the Le Cellier Filet Mignon, which is a AAA Canadian Tenderloin served with mushroom risotto. Alternatively, the USDA Prime New York Strip Steak and the USDA Prime Rib-Eye Steak are great options.
There's an extensive selection of wines on the menu, which make the perfect pairing to enjoy with your steak.
Yachtsman Steakhouse, Disney's Yacht Club Resort
Heading over to the Yacht Club Resort, you'll find the Yachtsman Steakhouse. You'll enjoy dining in a New England-themed dining room with nautical touches around the space. This is one of the resort's signature dining restaurants, and so a stricter dress code will need to be adhered to. The restaurant is just open for dinner each day and has an extensive menu for steak lovers.
We highly recommend splashing out on the 28-oz Prime Porterhouse for Two, which is the ideal sharing meal for a date night. The Butcher's Cuts section of the menu includes a delicious 8-oz Black Angus Filet Mignon and a 16-oz Rib-Eye Steak.
Each dish is served with one accompaniment, but there are many enhancements available for an additional charge. The great thing about Yachtsman Steakhouse is that it also caters to seafood lovers, with items such as lobster and scallops on the menu.
If you can't get reservations to the Yachtsman, consider stopping in next door for a burger at Crews Cup. They used to offer a freshly ground smashed burger, but that has been since replaced by a full steak menu. We hope the hamburgers return, but until it does, it will give the edge to Steakhouse 71.
Steakhouse 71, Disney's Contemporary Resort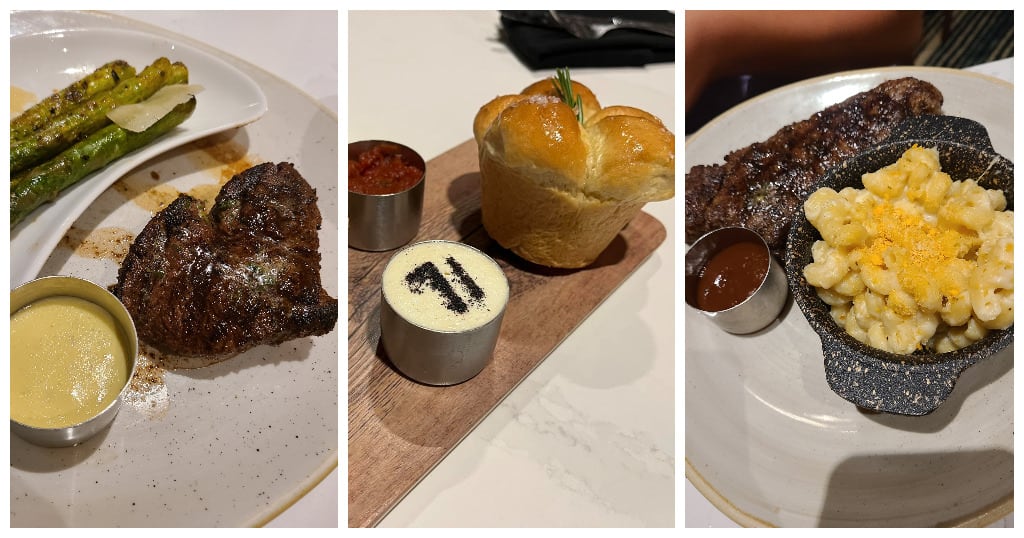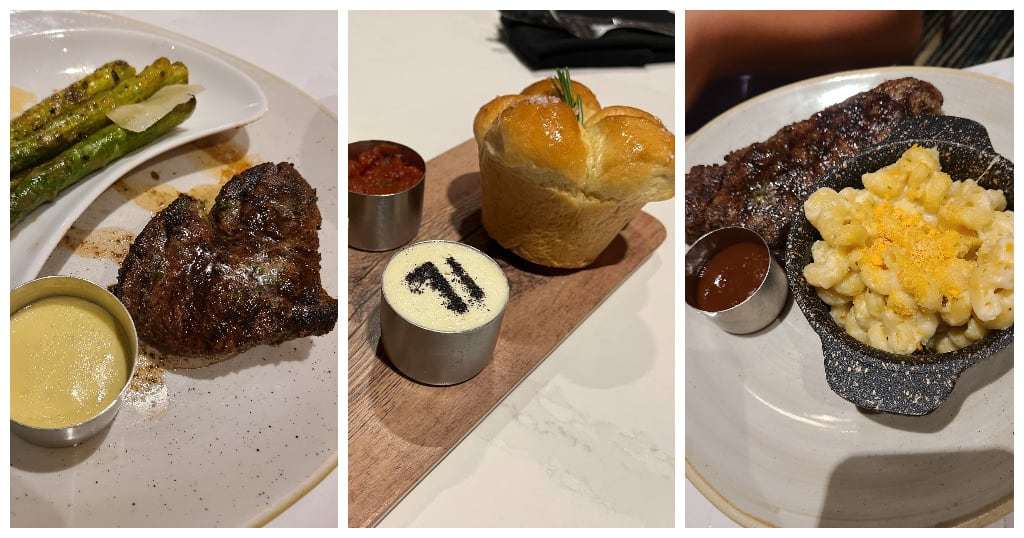 The newly opened Steakhouse 71 is a throwback to the history with a nod to the opening of Walt Disney World in 1971. While you can go for breakfast, lunch or dinner – we recommend lunch, or dinner if you if you want the full steakhouse experience. Be sure to check our full detailed review on Steakhouse 71.
Feel free to enjoy the bar and get a few drinks before dinner relaxing in the lounge area after a day in the park. Dress code is casual, so park attire is welcomed. However if you want an excuse to dress up – feel free, this is a deluxe resort after all.
Often times we judge steak steakhouses by their sides, and this is a prime example of a place that has great sides. Bread service, with a sauce flight, onion rings, and a wedge salad are great options before enjoying steaks or the 14oz dry aged bone-in pork chop.
Shula's Steak House, Walt Disney World Dolphin Hotel
Choose from steaks and seafood at Shula's Steak House, which is located at the Walt Disney World Dolphin Hotel. This would be a great option for dinner after a busy day at Epcot or Disney's Hollywood Studios, and you can easily walk here from either of the theme parks. The restaurant is decorated in honor of the only undefeated NFL team in history and is a great option for the whole family.
From the grill, you'll find a wide selection of steaks, such as the 10-oz Filet Mignon and the 24-oz Black Angus Porterhouse. If you are dining with anyone who would prefer not to eat steak, you'll find there is a daily market fish and other chicken and seafood options on the menu.
The wide selection of sides is one of the reasons we love this restaurant, and you can choose from Macaroni & Cheese, Fresh Jumbo Asparagus Spears, and various potato and vegetable sides to go with your meal.
Business casual dress here, but it's not totally out of place to wear shorts. Just note that you're going to spend at least $100 on dinner, so most of the folks are not going to be in park attire. If you can't get a reservation, try sitting at the bar. The bar offers a full menu, and offers popcorn that you can't get table service.
We highly recommend getting the garlic mashed potatoes with your meal. Your taste buds will thank you.
Recap
Walt Disney World offers an incredible selection of dining options for visitors, and the steakhouse choices are no exception to this. All of these restaurants are ideal for a relaxing dinner after a busy day rushing around the theme parks.
Most of these restaurants will also offer a full children's menu, so they are suitable for a family dinner as well as a romantic date night. Remember, dining at Disney involves so much more than just eating quick-service food, and by taking the time to research your options and book your reservations before your trip, you can enjoy many memorable meals during your next vacation.
We look forward to visiting Shula's and Steakhouse 71 through the year – and look forward to trying each out for the year after top steakhouse.