October 1st 2021 started the 18 month long celebration at Walt Disney World. It's hard to believe that 50 years ago the Most Magical Place on Earth first opened its doors. You can tell Disney is going all out for this celebration from special events, merchandise, and decorations to be seen before you even get to the property.
Swan Reserve Delayed Opening
I booked the Swan Reserve hoping it would be completed and hoped to be one of the first guests to be welcomed there. Sadly I was unable to make that happen due to delays. The Swan and Dolphin hotels are among my favorite on all Disney property due to the location of walking to Hollywood Studios and Epcot, and value for price paid. So when a new hotel was being built on site I knew I wanted to stay there. Sadly it wasn't meant to be at this time, but I can tell you I see them inching closer to an opening with folks working on it through the weekend. So for this trip, I was moved seamlessly to the Swan, which again is my top pick!
I hold a Titanium Status with Marriott Bonvoy program, which the resort is affiliated with, so I'm offered upgrades, late check outs, and continental breakfast ($20 a day value) if the hotel has the opportunity to do it. We were in a 6th floor balcony king room resort view, which means it had a walk in shower, two sinks, and a king sized bed. We also faced the inside of the hotel, where we could see the courtyards. You can not see fireworks from here, or Epcot, but that's alright in my opinion. The heavenly bed, mini fridge, and couch were I'm currently writing this report were great.
Our first night we wanted some food, so we we to Kimono's a signature restaurant at the Swan. It offers fresh quality sushi, which is some of the best I've ever had along with karaoke later in the evening. We arrived at 6pm when it first opened, with others already inside enjoying their meals. Again this sushi was amazing, and the server even thanked me for my status with Marriott Bonvoy. If you come here, try your sushi Sashimi style (not rolled).
50th Anniversary Celebration Menu at California Grill
I love going to the Contemporary Resort, it's one of the original and most interesting resorts at Walt Disney World. This was my first time every getting reservations at the California Grill, and spoiler alert, it will NOT be my last! The 50th Anniversary Celebration menu is a fixed menu and price offering, $89 for adults, and $39 for children. I have a more detailed review about the dinner I attended with my family here. We didn't go to the parks the day of this reservation and instead did a pool day at the Dolphin's Grotto Pool. I did take the opportunity and dress up in a light blue Mickey tie, Mickey cufflinks, Mickey socks, and a Mickey watch. I like to think I looked spiffy, but I thought it just added to the experience.
Our reservation was after fireworks – but I discovered a hidden area of the Contemporary Resort that offers a great view of fireworks! I would highly recommend if you are resort hopping and checking out the awesome shops they have to go to the end end of the shops on the 3rd floor, outside. Get there early, as they chairs they have facing the fireworks unobstructed by the Monorail are few – but even if you don't it's a great view. They even pipe in the music!
I have a rule when dining out, especially at fancy places, don't order anything I can make at home. So I went with a duck pizza, black grouper, and an orange soufflé. Here are some of the photos from my meal – let me tell you something, AMAZING! From the bread they start you off with, to the appetizers, main entree, and dessert this has been one of the the best experiences I've had at Disney.
My wife does have a food allergy, and once again Disney delivered in making sure she was safe, and taken care of. So speak up and don't be afraid you're annoying anyone about your allergy. They have specially trained folks just for this reason.
Riding Remy's Ratatouille Adventure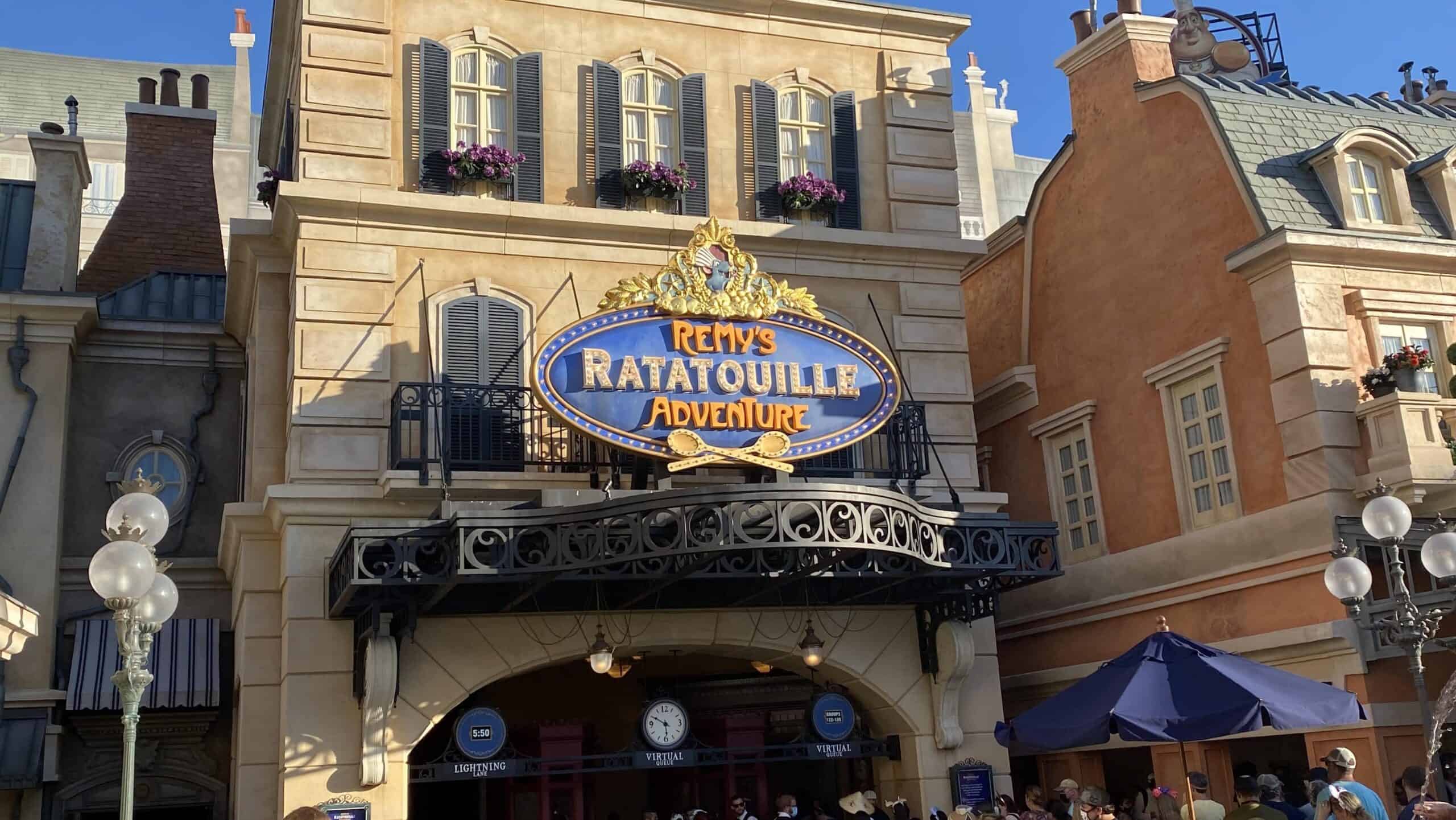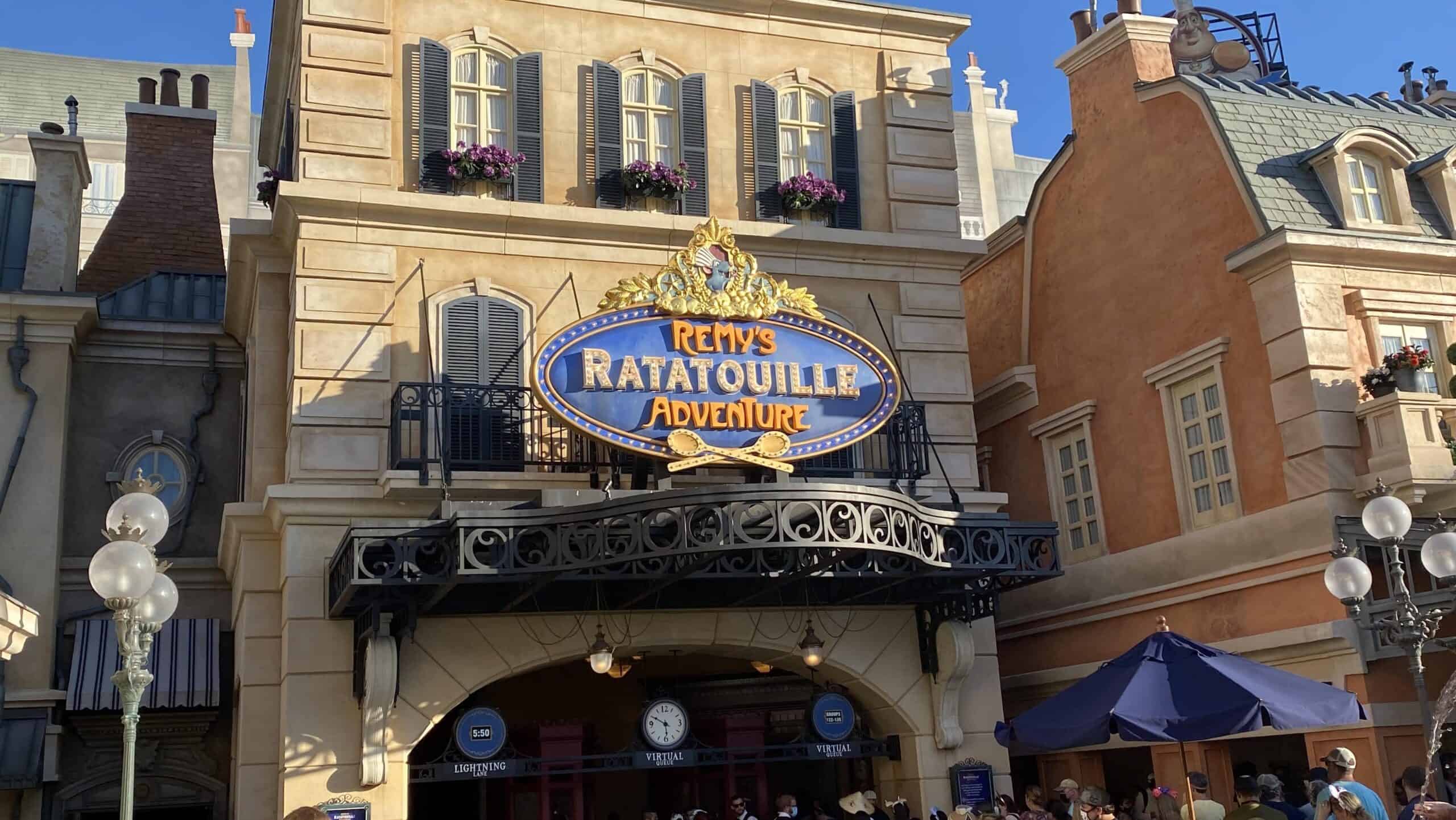 My wife loves to ride new rides with me before I ride them with anyone else. She's sentimental that way, and gives me a hard time since I do plan trips that just happen to have detours to Disney World. So I was happy for us to be able to get to ride this one together. This ride does use a virtual queue exactly like the Rise of the Resistance that is currently paused. We didn't land the 7am queue due to me over sleeping, so we got into Epcot at 1pm, and she actually ended up booking us in the virtual queue.

I don't want to give too much away, but overall we enjoyed the theming of the new addition to the France Pavilion. Would I wait 2 hours in line for it? Eh, borderline no way. The virtual queue was great as we were able to go get snacks from the other country pavilions walk back to the Swan relax for 15-30 minutes, and walk back. We cut it close making it to Boo Bash early, but that's the next update.
Boo Bash
I've never attended an after hours party at Walt Disney World, and the cost was always something that was off putting to me, as an annual passholder. However, this was a special occasion and I never really dressed up for Halloween. We've previously discussed dates and pricing here if you're interested in learning more. While they are listed as being sold out, I've heard a number of rumors that you can sometimes buy same day tickets.
The goal of Boo Bash was to go with my niece as she loves dressing up for Halloween, and this is the last one before she heads off to college next year. So I went all out, and decided to do a match outfit with my wife and I was Prince Eric to match Ariel from the Little Mermaid. With the costume set, wearing polyester pants off to the parks we went.
When you purchase tickets like this, they allow you into the park a few hours early, this trip it was 7pm, which meant we made it in time to see fireworks at 8pm. The fireworks are always impressive, but I have yet to be able to find a spot without getting to the spot early to see the graphics on the castle. That said, Disney fireworks are the best, and most fireworks after just don't compare.
They give you a bag to get candy in
Included in the price is bottle soda, Coke products, Dasani Water
Included in the price is ice cream treats, popcorn
Additional desserts can be purchased
Study the maps, and plan the important rides
The rides will still have waits, so I highly recommend getting to Astro Orbital as soon as you can if you've never ridden that ride. I rode the Seven Dwarves Mine Train for the first time, that was great. We even got my mom on Big Thunder Mountain promising her it wasn't too fast (I don't think she will ever trust us again).
When the clock strikes midnight, all the included soda, popcorn, ice cream stops – so if you're thirsty don't wait! Don't eat your candy either, collect and run on, although they do seem to be a bit more generous towards the end of the night with candy.
Final Thoughts
The weather was gorgeous to be at the Walt Disney World Resort in October. Yes I was sad that I wouldn't be presenting to you a recap of our stay at the Swan Reserve, but the Swan really did a great job this time.
Crowds were moderate, but not bad overall in my opinion. We didn't wait for many things.
This trip had all the feelings of nostalgia, and just overall fun. Going to the parks had the hustle and bustle of going to Disney pre-March 2020. Maybe the 50th decorations and all the excitement around that is the cause. All I know is it was really hard to leave paradise this time. With all that said, I'll leave you with this photo before we had to leave for the airport.