Liberty Square is an area of the Magic Kingdom that many visitors skip over as they are rushing between attractions. If you've never taken the time before to explore this part of the park, there are so many hidden treasures that the Imagineers put in place here. Today we're going to discover some of the things you didn't know about Liberty Square in Magic Kingdom to help enhance your next visit to the park. It's an area that we recommend dedicating a good couple of hours to exploring and dining in on your next visit.
Where is Liberty Square in Magic Kingdom?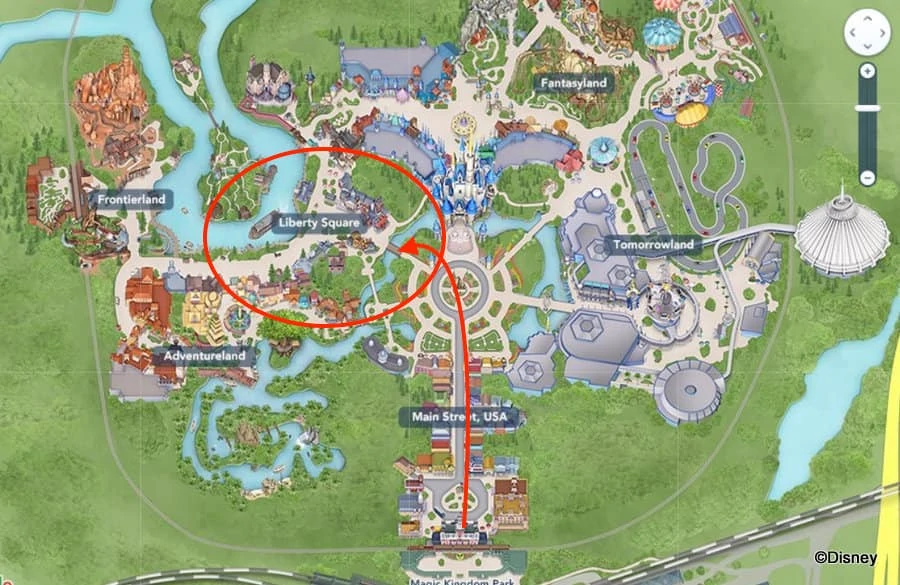 Liberty Square is located between Frontierland and Fantasyland. You'll find that it's primarily known as being the home of The Haunted Mansion. Many people skip over the rest of the area while rushing between attractions, but there are quite a few hidden gems here for you to explore. When you first enter the Magic Kingdom, you'll find this part of the park located on the left-hand side. It's a good place to start your day if you are looking for a slightly quieter area.
What is Liberty Square Based On?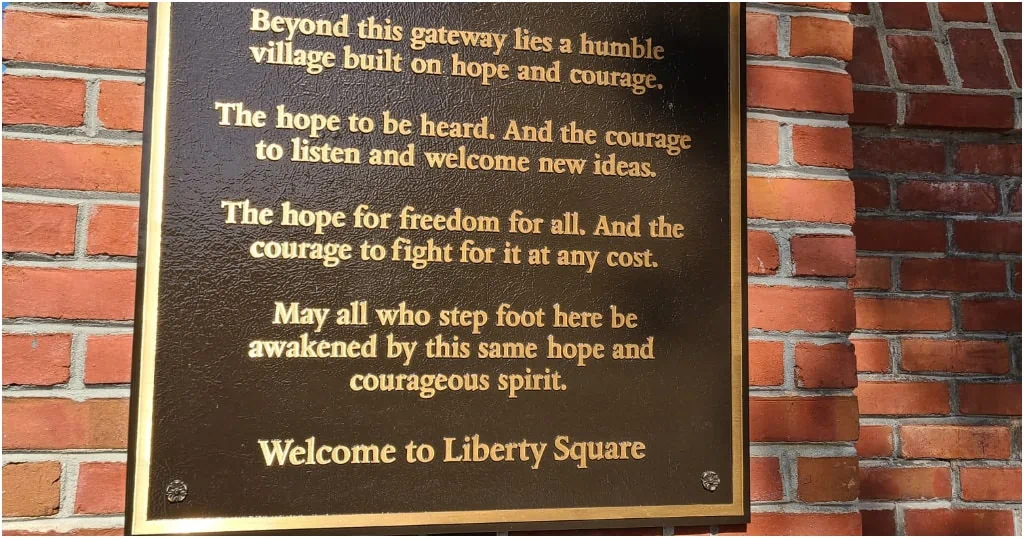 Liberty Square is based on the USA around the 1776 time period. This area was originally designed for Disneyland, however, the plans didn't come to be, and so it was saved for the Magic Kingdom. One thing to keep an eye out for when you are visiting this area is the 135-year-old live oak tree. This is called the Liberty Tree, and it's the meeting place of the Song of Liberty. This is a reference to the live-action movie Johnny Tremain, and the tree was moved here from elsewhere on the land. When it was first moved, the tree weighed an incredible 35 tons, and over the years, it has resulted in a further 500 trees from its acorns.
Why Is The Ground Brown In Liberty Square In Magic Kingdom?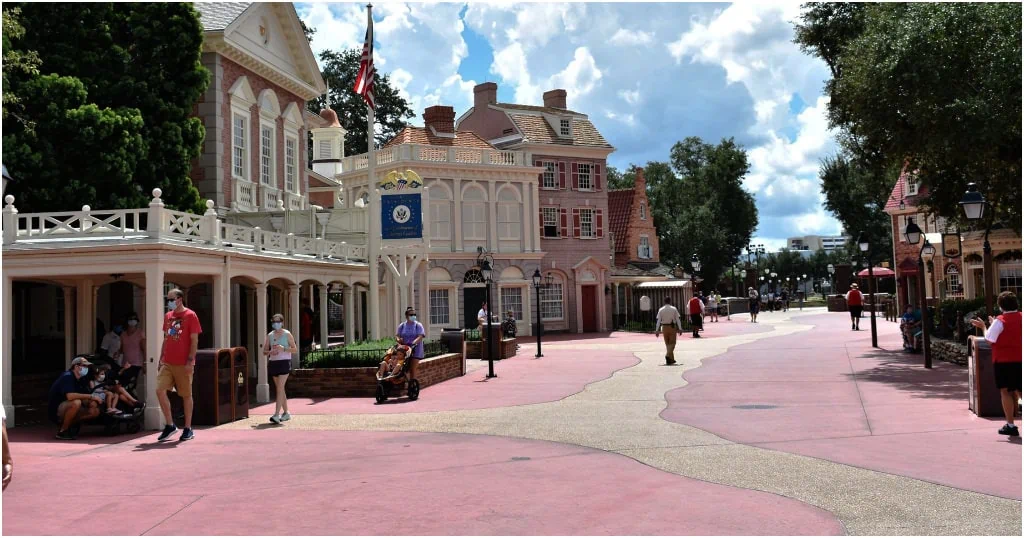 When the Imagineers at Disney design the parks, each area is themed with different ground and decorations. You might notice that the ground is brown in Liberty Square, which is in reference to sewage. In the colonial days, this type of poop river wasn't unusual, as people used to throw out their trash from the windows into the dirty roads below. These little details are what sets Walt Disney World apart from other theme parks, so make sure you keep an eye out on the ground when you are moving through lands in the Magic Kingdom.
What Rides Are In Liberty Square In Magic Kingdom?
While most people visit Liberty Square in Magic Kingdom for the Haunted Mansion, this land is in fact home to three different attractions. When the land first opened back in 1971, it only offered three attractions. The Mike Fink Keelboats have since been replaced by the Liberty Square Riverboat, which welcomes guests to explore the area on the water. While the area isn't somewhere you are likely to start your day, it's a great spot to visit after hitting the most popular attractions in the park. These attractions are suitable for nearly everyone in your travel party, which is why we love this part of the park so much. Let's take a look at what there is to do in this area.
The Hall of Presidents is a great attraction for anyone looking for a break from the crowds. It is an opening day attraction that's been in place since 1971, but of course, it's had plenty of updates since this time. You'll find that it's updated each time the country gets a new president, with incredible audio-animatronic figures of each of these leaders. The attraction lasts 25 minutes in total, sharing a fascinating presentation on the history of the country and its leaders. This is a great attraction to do in the middle of summer when you need to escape the heat and sit down for a little while.
No trip to the Magic Kingdom is complete without a ride on the Haunted Mansion. This dark ride is another great option for getting out of the heat, although it has become more and more popular in recent years. You may want to consider using Genie+ for this if you can, but it does have an interactive queue if you find yourself waiting in line. You'll start by entering the stretching room before heading down into the main part of the ride. While you won't want to take very young children on this attraction, it's not too spooky. The special effects in this ride are absolutely incredible, and you'll come off wondering how the Imagineers pulled off some of them.
An often-overlooked attraction in Liberty Square is the Liberty Square Riverboat. Enjoy a change of pace from rushing around the theme parks on this ride. You'll enjoy sailing on the Liberty Belle riverboat during your half-mile tour, which circles around Tom Sawyer Island. It takes you back into the Colonial era, celebrating everything that this land is themed around. You'll find that the boat has a high capacity, so you'll usually just have to wait for it to return and load up again. On a busy day in the parks, consider riding this attraction in the middle of the day while wait times are higher elsewhere. Keep note of the time it closes each day, as it usually doesn't sail in the evening.
What Restaurants Are in Liberty Square in Magic Kingdom?
Liberty Square is home to multiple restaurants, all of which offer unique food and drink offerings to visitors. Let's take a look at where you can eat during your next trip to the Magic Kingdom. You'll find both quick-service and table-service options here, so there's something to fit everyone's needs and budget.
Quick-Service Dining in Liberty Square
All of these options don't require any reservations, but mobile ordering is a good way to go. This allows you to pre-order your food ahead of time. When you arrive at the location, you'll simply say you are here and wait for the alert on your phone to direct you to the pick-up spot. It's a good option to save your precious park time and avoid standing in long food lines.
Columbia Harbour House – Lunch and Dinner
Columbia Harbour House is a hidden treasure in the Magic Kingdom when it comes to quick-service dining. It's known for its seafood-based menu, but there are also chicken and vegetarian options on offer. One of the things we love about this dining location is that you can escape the crowds and cool off in relative peace and quiet. Take your food upstairs to one of the many dining rooms, where you can take a break from the crowds. You'll enjoy overlooking the rest of Liberty Square from above, watching other visitors exploring the park while you are dining.
Read Also: Where to find Turkey Legs inside Magic Kingdom
Sleepy Hollow – All Day Dining
This quick-service counter is located right by Cinderella Castle in a cute brick cottage. It's ideal for an afternoon pick-me-up, and the menu offers waffle sandwiches and funnel cakes. They are topped with strawberries and whipped cream and are big enough to share between a couple of you. There are a few benches around this location for you to sit and dine before heading off to your next attraction.
Liberty Square Market – All Day Dining
Another great snack spot that's open all day long is Liberty Square Market. They offer healthy snacks, chips, and hot dogs, so it's a good option when you are in a rush for lunch or a snack. Once again, you can take advantage of some of the benches in the area, where you can enjoy watching everyone else rush around between the different lands. This is a good stop for anyone working with a tight budget, as the snacks are a little lower in price than paying for a full meal elsewhere.
Table-Service Dining in Liberty Square
Liberty Square is also home to a couple of popular table-service dining locations. As with any table-service restaurant in the Magic Kingdom, we highly recommend booking as soon as possible. Reservations are always recommended, but they may be able to accommodate walk-ups, depending on how busy the park is that day. Let's take a look at the two options on offer to you in this land.
The Diamond Horseshoe is located between Liberty Square and Frontierland and offers a music-hall setting. It's open for lunch and dinner and offers an all-you-can-eat meal for the whole family. The meal starts with roasted turkey breast, oven-roasted pork, and pot roast. Make sure you save space for the Ooey Gooey toffee cake, which comes with vanilla ice cream and chocolate sauce. You'll also enjoy your choice of drink with your family, making this a great value for money option for anyone looking for a substantial meal during their day at the Magic Kingdom. Keep in mind this venue is only open seasonally, so you'll want to double-check it's open when you visit.
As one of the most popular restaurants in the Magic Kingdom, you'll definitely want to try and book ahead for the Liberty Tree Tavern. The restaurant is themed around the founding fathers and is set in a colonial-style inn. You'll enjoy Thanksgiving dishes when dining here, which are served family-style. It's open for both lunch and dinner each day, with most guests opting for the all-you-can-eat Patriot's Platter. You'll feast on pot roast, oven-roasted pork, and roasted turkey breast, which are served with traditional sides. It's a great way to sit down after a busy day exploring the park, and refuel for the rest of the day.
Watching the Parade in Liberty Square
While this doesn't necessarily fall under the category of attractions in the land, you'll find that Liberty Square is a great spot for watching the daily parade. Now that the Festival of Fantasy is restarting, you'll want to make sure you find the perfect spot for you and your family to watch it from. All of the parades and cavalcades pass through Liberty Square while traveling on the way to Magic Kingdom. While many people like to watch the parade with Main Street, U.S.A. and the Cinderella Castle in the background, it's a great way to try and reduce the crowds around you. Make sure you still get here early enough for the parade though, as this is one of the most popular entertainment offerings in the park.
When to Visit Liberty Square
As far as when to visit Liberty Square on your next Magic Kingdom visit, we recommend coming here mid-morning. You'll find that Haunted Mansion is the main attraction that gathers a line, but it still shouldn't be one of your first attractions of the day. If you can, use Genie+ to book this, and then enjoy pretty much walking on the other attractions in this land. You can then head to one of the many dining locations for lunch before continuing on to elsewhere in the park for the rest of the day. We also love riding The Haunted Mansion later on in the day, when it's a little darker and spookier. It's one of our favorite spots around Halloween and is a great way to celebrate this time of the year.
Liberty Square is an area you'll want to dedicate a good couple of hours to on your next visit to the Magic Kingdom. The area often becomes quite crowded during the day due to the number of guests passing by. However, it's home to some great attractions and dining options, which you shouldn't overlook on your trip. We love exploring the hidden treasures and details which went into this land, which the Imagineers put so much time and effort into creating. A leisurely stroll around this area will make you feel like you've gone back in time many years, helping you to escape the crowds for a short while.