Just a few weeks ago, I posted about about a planned family trip with the magic returning to Disney World. Well an off the cuff remark to a few friends sparked an interest to return as a "guys trip" for us all to connect and relax after hear how I had so much fun just a few weeks ago. Since it was just a few days since my birthday, I also lumped this as a guy's weekend to celebrate my birthday. Luckily, I was able to find some great deals on flights offered by Southwest, and even better Passholder deal staying at the Swan and Dolphin resort. So with those two things book, the Guys Trip was off to a great start.
I asked my good friend who was flying with me what he'd like to do for this weekend, and he said he wanted to do the following, drink, eat well, golf, and stay on budget (he's a new father). So the budget part meant we were going to have to forgo something, so park tickets were out. However, I knew we could still have a great time, we just needed to tweak a few things.
Going in late October meant cooler temperatures, and for our trip crowds was not a factor. We did not go into the parks, but we did take the transportation multiple days. I did notice very little to any wait for the Skyliner, Monorail or buses.
Staying at the Swan and Dolphin
My go to resort when I visit Walt Disney World is the Swan and Dolphin Resort, and with good reason. I'm a Marriott Bonvoy member, where I can get points for my stay, and use those points to stay at here later on. With all my work travel, and other traveling I've earned a status level of Titanium with them, which gives me other perks you can learn about here such as free breakfast, late check out, and in some cases room upgrades. All that aside, being the only non-Disney resort actually on Disney property, the amazing grotto pool, the location to walk to two parks, and being a deluxe resort at a moderate price, this resort can't be beat.
Read More: Disney World Mini Golf Courses: Cost And Other Options
I won't lie, I did email the reservation department and begged to see if I could land the Presidential Suite which is usually reserved for VIP's, and extremely large groups. It's on my bucket list, to stay if not just take a tour of that room someday!
Sadly this trip, I was not able to secure the Presidential Suite, but thanks to their generosity I was upgraded to a Larger Room Suite with an additional room! Not only did this mean I wouldn't have to share a bathroom with my friends, they surprised me with 6 pack of their signature beers and snacks!
I LOVE the Phins and Feathers beer! Walking in and with these surprises, really started the trip off to a great start. This just made me appreciate the magic even more when I stay at the Swan and Dolphin Resort.
Visiting Downtown Celebration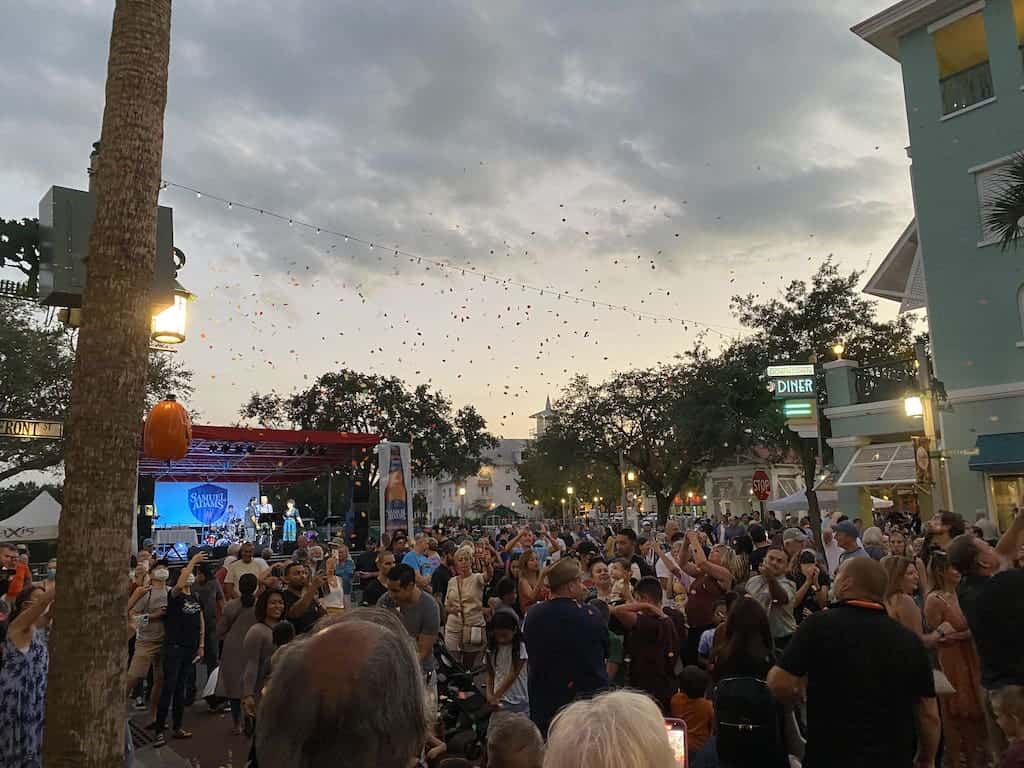 One of the guys lives in Celebration, Florida and he mentioned about the Friday event they were holding in downtown with food vendors, music, and "leaves falling" every hour. So off we went to explore the beautiful town that Disney built.
Read More: Secret Disney Outlet to Buy Gifts and Souvenirs – Magical Guides
We were hungry from our flight earlier in the day, and we settled on Avocado Mexican Grill to eat. We enjoyed a few margaritas from their happy hour menu $5 each, and we decided to chips and queso to snack on. Afterwards we walked around checking out the rest of the town, eventually deciding we better turn in.
Orlando Vineland Premium Outlets

Disney has a few outlets where you can save money on souvenirs like mugs, shirts, magnets, and toys if you're willing to drive or Uber over a few miles. We grabbed an Uber, and from the Dolphin it was a $10 ride. It's an outdoor outlet, that has covered areas so rain or shine, head here. We checked out other stores like Nike, New Balance, and Under Armor stores. I was able to score a pair of shoes from New Balance that had lobsters all over them. I am going to rock them when I go visit family in Maine next year, to let them know what's on my mind (I love eating fresh Maine lobstah!)
During our mall walking I was getting a little hungry and saw they had a Shake Shack and I was instantly hungry! My friend hadn't eaten at one of these fine establishments, so I decided we had to take a detour. We shared a double cheese burger, with fries. I'm not sure if it's the Martin's Potato Roll, or crinkle cut fries but it was delicious! Highly recommend coming back here – and again, share meals in Disney World where ever you go – you not only save money, you're not feeling too miserable to walk around.
Disney's Fantasia Gardens Miniature Golf Course

So after the outlet visit, we decided it might be time for drinks at the Cabana pool bar back at the Swan and Dolphin. After a Mai Tai, I decided to go into the grotto pool, and entering by the slide is the best way. However, I will tell you, the water was freezing when I landed in the pool and so immediately my friends and I headed to the hot tub by the Swan to warm up and figure our next course of action. We immediately settled on walking over to the Fantasia Gardens Mini Golf course.
Walking by the newly constructed Swan Reserve, which is coming along great, and rumored to be opening November 4th…which I can't wait to try this place out when it does! You could drive here if you had a car, as it looks to share a parking lot with the Swan Reserve. I do wonder how traffic will be once the hotel opens.
The Fantasia Gardens Mini Golf offers two courses, one more traditional mini golf and one fairways that takes some skill with a 6 stroke maximum to keep the rate of game up. If you hold a waterparks/sports annual pass you get 1 free game before 4pm daily, or it's $14 a game.
Overall this course was a lot of fun. I enjoyed the challenge of putting, and ensuring I didn't putt too hard to end up in the natural areas. If you are having a friendly game with friends be sure to establish your own house rules like what to do it when the ball goes out of bounds, or is next to a rock for example.
Recommendations: Get an extra ball from the start, as I lost mine in a water trap. Bring a bottle of water or soda as you will get thirsty half way through the game. While we saw a $4 drink machine, the water fountain was dry that was in the middle of the course.

Il Mulino New York Trattoria

The Swan and Dolphin have many signature restaurants, but since this was an unplanned trip we didn't have reservations, and one friend suggested sitting at the bar. We happened to find three empty chairs at Il Mulino's. There is a lot on the menu I can't pronounce, but the bartender who was friendly, and making great drinks helped me with my pronunciation without feeling like a complete idiot.
I knew I was hungry, but I didn't want a lot. I will note that their menu does say they offer pasta at half portion sizes, but I'm not a huge pasta person. I started by order off with a Brace to drink, which is based on bourbon. I enjoyed it. I also order an appetizer of meatballs, while my friends shared a pizza. They offered a bread and olive oil dip while we waited. It was delicious with the soft bread. I would later use the bread with the meatballs, making my own meatball slider, let me tell you something when I dipped it into the olive oil and balsamic vinegar the taste was out of this world. I really think they are missing out by not offering a meatball sub, until then I think I will keep ordering this newly discovered delicious find.
Beaches and Cream

Beaches and Cream is a short walk from the Swan and Dolphin at the Yacht & Beach Club resort. They have a walk up window that offers ice cream and other sweet desserts including alcoholic milkshakes. I wasn't feeling any boozy deserts so I focused on sweets, and in my moment of being over whelmed with decisions, I went with a cookie sandwich filled with cookies and cream ice cream, it was $7.50. I shared the cookie and ice cream with a friend and I was impressed. I enjoy coming here, and if you want to eat inside, reservations are recommended if not required as they have limited seating and walk ups get to sit at the bar after their wait.
Disney's Winter Summerland Miniature Golf Course

At Blizzard Beach there is another mini golf course featuring Santa Claus and adventures through Summer and Winter. Unlike Fantasia, both courses are mini golf oriented and still fun to play with the entire family. We played winter, and again it helped to have those house rules in place. There was still a 6th stroke maximum, but the rate at which we played here was a bit faster as the course was shorter.
Trader Sam's
After mini golf, we had some time to spare before dinner, so we took a bus from Animal Kingdom to the Contemporary, Monorail to the Polynesian trying to get into Trader Sam's Grogg's Grotto bar, but sadly had to settle for the outdoor access. It's always a good time at the Polynesian as they offer dole whip. From the pictures above, I enjoyed an extra Spikey Pineapple which features an extra rum floater. Next time I don't believe I would do that as it was a bit harder to enjoy the dole whip. For snacks, I enjoyed the lettuce wrap chicken, and my friends once again shared a pizza which looked delicious.
Overall thoughts and takeaways
This was a great trip, celebrating my birthday with the guys. We stayed on budget by sharing a meal or two, enjoying drinks and appetizers, along with finding other activities outside of the parks. I was surprised by the mini golf activities, that just a day later I want to go do it again, I can't believe I've been skipping out on that overlooked place for so many years! Food wise, I was so impressed with Il Mulino's and again, I'm craving that bread and meatballs.
I want to thank the Swan and Dolphin for the upgraded room and experience. Being able to enjoy some separate space while on this trip was just outstanding. They continue to be my favorite resort, and I can't wait to book my next trip with them, hopefully checking out the Swan Reserve soon.