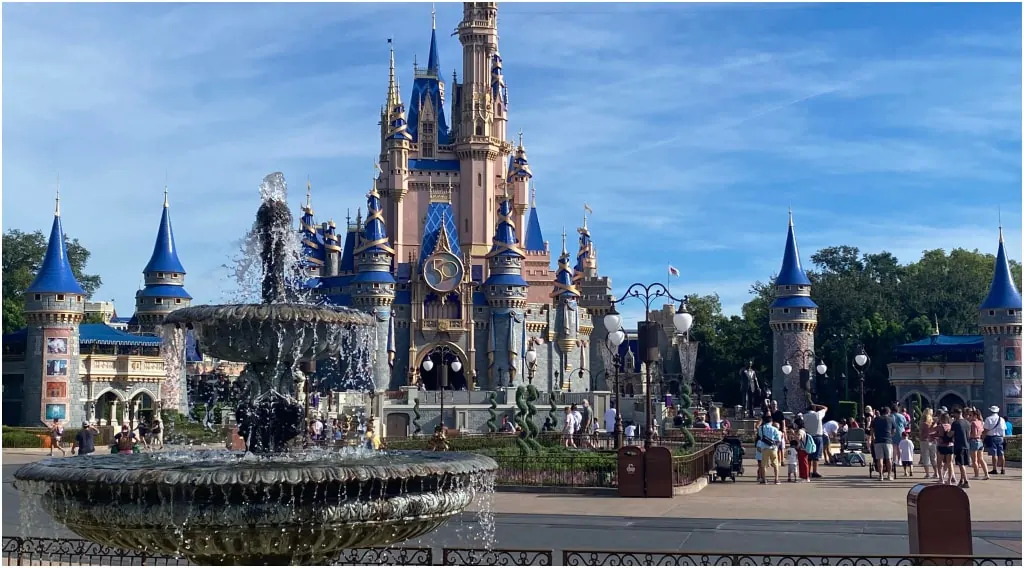 You are starting to plan your dream vacation to the Most Magical Place on Earth but just how much do you need to budget?
Starting to plan your Disney World vacation can feel overwhelming, particularly when it comes to just how much money you need to set aside. To keep things fairly straight forward, we suggest focusing on four areas when planning your trip:
Transportation
Hotel
Food
Souvenirs/Extras
Here is a guide on how to budget for your Disney World trip and tips to help you save some money!
Transportation
The method in which you get down to Orlando and the Disney bubble has a huge impact on your vacation. If you fly and your flight is delayed or the price of a gallon of gas (at the time of writing this is over $4 a gallon) can have a huge emotional and financial impact. So we say start planning this early on.
If you are are going to fly, I always look on a Tuesday. While I do enjoy some airlines more than others, I am open to fly with anyone. Looking for airfares on Tuesday has been the traditional cheapest day to look for airfare. I like to start looking as soon as possible, so I can be flexible with the dates to save money. This is why I use Google Flights, it helps me find the quickest flights with no layovers, and cheapest fares. Keep in mind, I don't book using a 3rd party site like this, but rather use it for scheduling. Google Flights will also monitor the flights for you sending you an email when the lowest fare is found. I've flown Delta, Frontier and even Southwest to Orlando International Airport, without issue.
If you're driving, make sure you don't over do it. It's a 10-12 hour drive from my house, and most of the time we will split up the drive. Either driving 5-7 hours before stopping for the night off the I-95 corridor. We also take time to visit sights along the way such as Buc-ee's which can only be described as the Disney of gas stations. When we travel with our dog, Walt, to Disney we are sure to stop at rest areas so he can stretch his legs along with us in a safe environment.
Hotel
Staying at a Disney World Resort can bring so much magic to your trip as you will be staying in the 'Disney Bubble'.
Disney Resorts come in a range of different categories to suit everybody's vacationing style and budget.
Value resorts are the most budget friendly and also come with the most amount of theming so you really feel like you are staying at a Disney Resort!
Moderate resorts are the perfect balance between a good range of facilities with a midrange budget.
Deluxe resorts are the most expensive to stay in but offer the closest proximity to the parks and the most amount of facilities and restaurants.
The cost to stay at Disney World varies depending on the category of the resort and the time of year you visit. During school holidays, public holidays and in high season prices are much higher.
The average cost to stay at a Disney World Resort is:
Value Resort = $200 a night
Moderate Resort = $300 a night
Deluxe Resort= $500+ a night (and can go into the thousands!)
One easy way to save money is to visit during the low season. A trip in January, February or September will offer you the best prices.
Look out for special deals such as free nights. Disney often put on special offers to entice people to stay and you can save a lot of money by taking advantage of these.
One big benefit to staying at a Disney Resort is the complimentary transport. You can get Disney Buses to every Disney Park and Disney Springs from the Disney Resorts. Many resorts also offer an additional mode of transportation such as the Monorail or Skyliner cable car system.
By not having to pay for theme park shuttles or taxis this is one way you can save money by staying at a Disney Resort.
For the best range of transportation options consider these resorts:
Value – These resorts have the Skyliner which can take you to EPCOT and Hollywood Studios
Moderate – This resort has the Skyliner which can take you to EPCOT and Hollywood Studios
Deluxe – These resorts offer a Monorail to Magic Kingdom
Grand Floridian Resort
Polynesian Village Resort
Deluxe – These resorts offer a Disney Boat to Magic Kingdom
Grand Floridian Resort
Polynesian Village Resort
Wilderness Lodge
Fort Wilderness
Deluxe – These resorts offer a Disney Boat to EPCOT and Hollywood Studios
Beach Club Resort
Yacht Club Resort
BoardWalk Inn
Deluxe – From these resorts you can walk to Magic Kingdom
Grand Floridian Resort
Contemporary Resort
Deluxe – From these resorts you can walk to EPCOT and Hollywood Studios
Beach Club Resort
Yacht Club Resort
BoardWalk Inn
Swan Hotel
Dolphin Hotel
If you are taking a car to Disney World be sure to factor in the parking costs. The good news is if you are staying at a Disney Resort you get free park parking!
Because the parking charges at the Disney Resorts are cheaper than park parking you can save quite a bit of money this way! Disney Park parking costs $25 a day. Staying at a Disney value resort parking is $15 a night, at a moderate resort is $20 a night and at a deluxe resort is $25 a night. So if you are staying in a value or moderate resort you will save lots of money on parking!
If you are looking for a cheaper way to stay at a Disney World Resort you can also look at websites such as Hotwire. This type of site allows you to pick the area in Orlando you would like to stay in and gives you a description of the hotel but you don't know where you will be staying until you book.
This can be a gamble but you can get lucky and save huge amounts of money this way. It has been known that people have booked Disney Resorts on these types of websites so this is a good way to stay at one for a cheaper price if you are willing to take the risk.
Staying off-site at a hotel outside of Walt Disney World Resort can work out a lot cheaper than staying on-site at a Disney Resort. The closest area to Disney World is Lake Buena Vista, which has lots of hotels to choose from. International Drive is another popular area in Orlando to stay in that has lots of hotels, restaurants and local attractions.
When booking an off-site hotel there are some things to keep in mind to add to your budget. Don't forget to factor in transportation costs to the parks. Some hotels will offer a shuttle, sometimes free, sometimes paid for. The other option is to use taxis or car ride services.
Be sure to enquire if there is a resort fee or local taxes to be paid on top of your room rate. Resort fees can be over $20 a day which can quickly add up!
If you have a car be sure to find out whether free parking is offered. If not this can add costs as you will be paying to park at your hotel and the Disney parks.
Once you know all the different costs associated with your hotel stay you will be able to find out the exact amount you will pay without any nasty shocks when you arrive.
Food
No trip to Disney World is complete with getting to sample all the incredible food on offer! With over 200 restaurants to choose from there is something for everyone, whatever you taste or budget!
The general rule of thumb when planning a trip to Disney World is to budget is $50- $60 a day per person for food. But in Disney this can be more depending on where you dine.
Disney has three categories of dining:
Quick service dining where you order at a counter and collect your food, similar to a fast food restaurant. Meals in this category cost around $15 or under.
Table service dining which is a traditional sit down meal at a restaurant where you are served your meal at your table. Meals in this category on average range from $35 – $60.
Signature dining offers you gourmet foods served with the highest level of fine dining service. Meals here cost upwards of $60 per person.
Looking at the average cost of dining at Disney World for a family of four this could easily mean a daily food budget of over $200! Luckily there is a whole range of ways you can save money on dining whilst at the House of the Mouse!
The most budget friendly way to dine at Disney World is a mixture of quick service meals and snacks. Snacks at Disney World are huge and can easily help to keep you filled up!
Eating Disney snacks can help you have fewer meals throughout the day which will reduce your costs. Some great snack options are the Colossal Cinnamon Roll from Creature Comforts in Animal Kingdom, which can easily be split between two people for breakfast. At $7.49 this tasty treat is a super cheap option to start the day. Mickey Pretzels are a great savory snack and are huge! At around $7 this Insta-worthy delicacy is a great way to fill up for a good price.
Another option is to split quick service meals between people. Disney portions are massive! The great benefit to this is they are easily shareable. This is a good option if traveling with children or to be split between two adults looking for a smaller meal.
A quick service meal that costs around $8 is usually a portion for one. But meals that are around the $15 mark mean that you are getting more food, so could be split.
Keep an eye out for menu items that are combos or platters as these will always have the most amount of food. For example the Chicken and Rib Combo from Flame Tree Barbecue in Animal Kingdom.
If you are an adult looking for a light meal you can order off the children's menu at quick service locations, which are always a cheaper price than adult meals.
At quick service restaurants you can get free iced water. This can help you save lots of money as bottled water can cost almost $4 in Disney World!
There are also water fountains throughout the parks where you can bring your own reusable bottle to fill up. Some people aren't keen on the taste of the Florida water so one way to mask the taste is to add some fruit or flavoring to the water.
Table service dining at Disney World is a fantastic way to relax and enjoy some delicious cuisines from all around the globe! As well as awesome food many of the table service restaurants have incredible theming, which totally adds to your Disney experience!
If you have seen some table service restaurants that you would like to dine in be sure to check out the menus on the Disney World website at https://www.disneyworld.disney.go.com/dining/. This will not only help you decide what you would like to eat but also tells you the prices.
A top tip is to check both the lunch and dinner menus. Although the food items are the same the price can be more expensive at dinner. This is a handy hack to save some dollars!
Character dining at Disney World is such a fun activity and one that most people want to experience at least once! As well as a meal you also get to see some of your favorite Disney characters!
The price point for character dining experiences can be high, with some being much more expensive than others. When choosing a character dining meal be sure to look up the menu on the Disney World website as you will be able to see the price and this may be a deciding factor into which dining experience you attend.
If you are looking for a hearty meal that will fill you up be sure to book dining reservations at an all-you-care-to-enjoy or buffet restaurant. This can help you save money as the meal is a set price but you can eat as much as you like. Usually you will have three courses and maybe even a drink included in the price, so these types of meals can work out cheaper than ordering at an a la carte restaurant.
Buffet restaurants have temporarily been changed to family-style dining so you now get the all-you-care-to-enjoy experience at these locations. At these types of restaurants, such as Liberty Tree Tavern in Magic Kingdom, your server will keep bringing out more of the items you enjoy the most which make these a fantastic choice for the budget! At these types of meals you can fill up which means you may not need to buy more food later in the day, which equals more money in your pocket!
A great tip for people traveling with children is that kids under the age of three can eat off of the plate of an adult at buffets and family-style dining restaurants, which is another great way to save some dollars!
At table service locations you can also split an appetizer, main and dessert between two adults. At Disney restaurants you get a lot of food so three courses split between two people would definitely be enough food to keep you satisfied. A great restaurant for this type of meal would be Sanaa at Animal Kingdom Lodge. The famous Bread Service is a fantastic appetizer to share. Follow this up with one of the incredible potje meals, which comes with three different types of Indian curries served with rice, making it the perfect meal to split between two people.
Disney World also has a range of tapas-style restaurants where you can share small plates. This is a good way to sample lots of dishes but at a lower price than paying for a full meal. Spice Road Table at the Morocco Pavilion at EPCOT is a fantastic example of this! Dishes cost around $10 each but you can choose as few or as many as you like whilst getting to try a whole range of different delicious Middle Eastern dishes!
Remember that you need to tip at table service restaurants so don't forget to factor that in as an additional cost. The traditional tipping suggestion is 20% of your bill for good service, so be sure to keep this in mind.
If you know which restaurant you want to dine in you can check out the Disney World dining website to see the menu and price before your trip which will help you be able to calculate roughly what your tip would cost before you go.
You don't need to tip at quick service locations which is another reason why it is the most budget friendly way to dine at Disney.
You are allowed to bring food and drink into the Disney Parks. This is a really great way to cut down on costs. Take a visit to a supermarket at the start of your trip and buy drinks and snacks for the parks and maybe even breakfast items to have in your hotel room to really save some dollars!
Souvenirs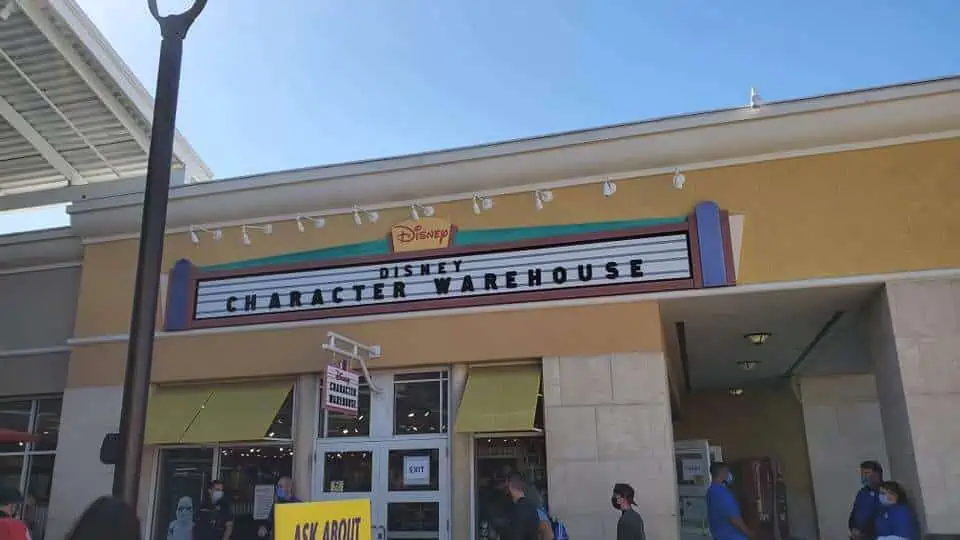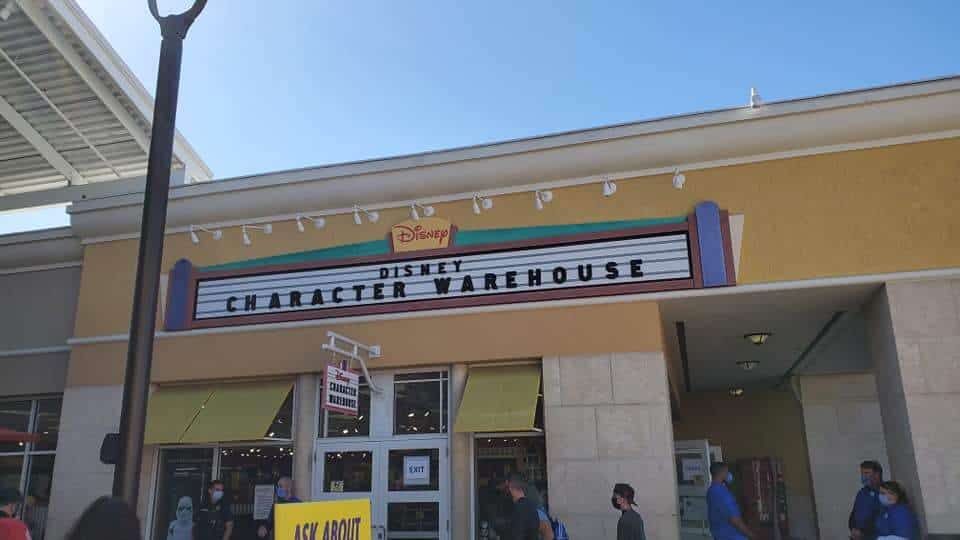 Buying mementos to commemorate your trip is such a highlight of the trip! With so much Disney merchandise to choose from it can be hard to narrow down your options! Some people come home with one keepsake and others love to bring back a suitcase full!
Disney World merchandise can be very expensive. An iconic spirit jersey will set you back $65 or more, Disney Ears are around $30 and T-shirts can be upwards of $25!
Luckily there are some ways to save money when buying souvenirs!
Be sure to make a stop at the Disney Character Warehouse for discounted official merchandise. The best part is many of the items are still available to purchase in the parks for full price! You can save tons of money here!
You will find everything from apparel, bags, mugs, lightsabres and much more here. The stock changes often so there is always plenty to find. They also will occasionally have children's Disney costumes, so this is a great place to purchase these for way less money.
This store also sells designer Disney items from brands such as Alex & Ani, Dooney and Bourke and Danielle Nicole here at massively reduced prices.
This is also the perfect place to get gifts for people back home, as it is all official merchandise but you will save lots of dollars by doing your souvenir shopping here!
There are two Disney Character Warehouses in Orlando. One at the Orlando Premium Outlets on Vineland Avenue, which is just outside Disney World property in Lake Buena Vista. The second location is at the Orlando Premium Outlet on International Drive, near Universal Studios.
Keep an eye out on deals that are running in the stores at Disney World. You will often see offers such as a percentage off certain items or offers where if you buy more than one item you get a discount. This can be great for products such as T-shirts for everyone in your group as if you buy multiple you will save money!
A fantastic store to get Disney apparel for cheap prices is Uniqlo in Disney Springs. Here you will find loads of Disney t-shirts with unique and fun designs at very affordable prices.
For items such as autograph books and glow sticks head to a Walmart or Target and buy some Disney licensed merchandise. You will still have amazing Disney branding but what you pay will be far less than in the parks.
I hope these handy hacks will help you know just what to budget for when you visit Disney World and the money saving hacks to get the most bang for your buck whilst on your trip!