For families planning an upcoming vacation to Orlando, you no doubt know that there is a land in a theme park dedicated to Harry Potter. If you have huge Harry Potter fans in your family, you won't want to miss the chance to spend a day or two exploring Hogsmeade and Diagon Alley during your vacation.
Today we're going to answer the question of whether Harry Potter can be found at Walt Disney World and how to enjoy immersing yourself in this popular film franchise on your next Orlando vacation.
Where is Harry Potter Land in Orlando?
The Harry Potter-themed lands can both be found at Universal Orlando Resort. There are two theme parks here, with Islands of Adventure containing Hogsmeade and the main Universal park offering visitors the chance to explore Diagon Alley. You can buy a park hopper ticket which allows you to travel between the two lands on the Hogwarts Express.
So as you can see, these lands aren't located in Walt Disney World. You'll have to plan to spend a day or two off-site at Universal Orlando if you are looking to explore all things Harry Potter. For keen fans of the books and movies, it's well worth taking a day out of your Disney park plans to visit these parks, as they have some incredible theming and attractions based on the Harry Potter franchise.
How far is Universal Orlando and Harry Potter from Disney World?
Universal Orlando is about a 25 minute drive from Walt Disney World, but this will depend on where you are staying in the resort. It's a completely separate area located not far from International Drive, which is a little way from Walt Disney World.
Keep in mind that if you are opting to see a few of the Orlando-area attractions on your vacation, you may want to consider staying in this area or at one of the Universal hotels instead. It's all about deciding what is most important to your family and planning your trip in a way which will please everyone in your travel party.
How to Get to Universal Orlando
From Walt Disney World, you can either drive to Universal Orlando or get a taxi, Uber or Lyft. You'll want to make sure you arrive for park opening, so if you are going to take a taxi, make sure you leave enough time to arrive early in the morning. If you are staying on International Drive or in a Universal Orlando hotel, you may find that free transportation is included in your resort booking.
Make sure you ask about this when you check in, as this could save you time and money during your vacation. If you are driving to the resort, keep in mind that you'll need to pay for parking, which can soon add onto the cost of the day here. You'll arrive at the entrance to the whole resort and pass through the dining and retail area called CityWalk.
From there, you choose the park you wish to enter first and can start exploring the Harry Potter lands.
Is it Worth Spending a Day Exploring Universal Orlando and the Wizarding World Of Harry Potter?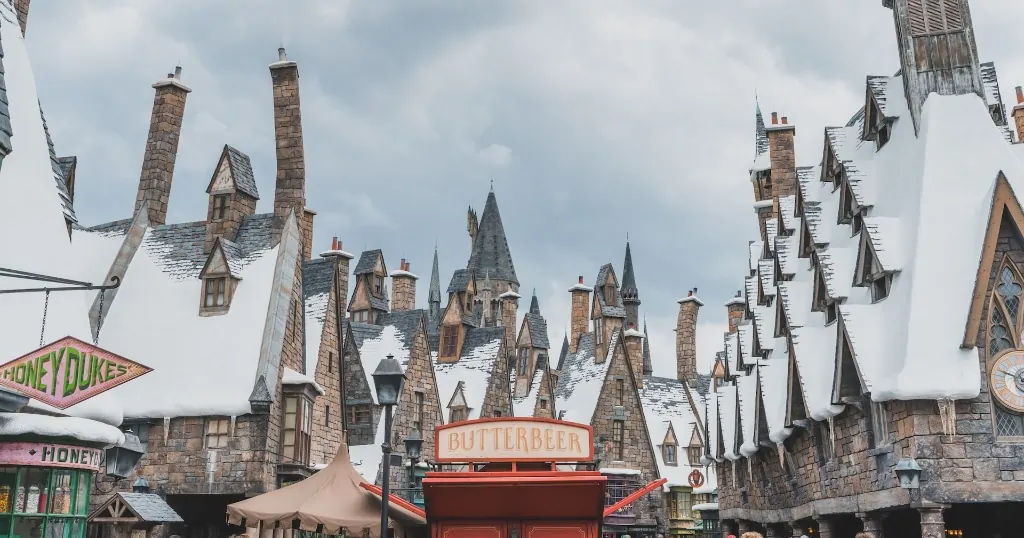 Whether you decide to add a day or two at Universal Orlando onto your vacation plans is completely up to how you want to spend your time in the area. For anyone who has grown up watching the Harry Potter movies and reading the books, this is one of the most immersive Harry Potter experiences in the world.
You could opt to visit just one of the theme parks, but we highly encourage buying the park hopper ticket which will allow you to travel between Hogsmeade and Diagon Alley. You'll enjoy shopping and dining in Harry Potter-themed areas, offering you the chance to feel like you are part of the movies for the day.
Read Also: The Best Way To Get To Universal Studios From Disney World
If you are looking to see the Harry Potter lands as well as spend time in Walt Disney World, you'll likely need to spend about a week in Orlando. This would give you the chance to spend one day at each of the Disney theme parks and a day or two in Universal Orlando.
Of course, the more time you can spend on vacation, the more chance you'll have of seeing and doing everything there is in the local area. It's all about finding how you'll best enjoy spending your vacation time and planning your trip in a way that allows you to see all of the attractions that most appeal to you.
Highlights of the Wizarding World Of Harry Potter
Both Diagon Alley and Hogsmeade transport you to some of the most popular locations from the movies. We recommend getting to the parks early and enjoying the main attractions in each land, which soon gather long lines later on in the day.
You might enjoy having a wand selected for you, which is a unique experience that will make you feel like you are a wizard yourself. Also, save some room for the unique snacks and drinks in the lands, such as Butterbeer. Many of these treats are only available in the theme parks here, so you'll want to make sure you enjoy most of your meals for the day in the Harry Potter-themed areas if you are a huge fan of the movie franchise.
Harry Potter is such a popular movie and book franchise that we highly recommend considering adding a day or two at Universal Orlando Resort to your next vacation to Florida. Of course, you will want to make sure you have time to see and do everything both here and at Walt Disney World, as you don't want to go home feeling even more exhausted than when you first arrived.
The more time you can allocate to your vacation in Orlando, the more likely you will be to experience all of the world-class attractions this part of the country is home to. Whatever you choose to do on your next vacation here, you will no doubt enjoy the incredible theming and attractions that all of the local theme parks offer to visitors.