Star Wars: Rise of the Resistance is the must-visit attraction on any trip to Walt Disney World this year. Located in Star Wars: Galaxy's Edge, the ride opened at the very end of 2019, but due to the recent pandemic, many guests have still not had the opportunity to experience this immersive attraction which uses multiple ride systems. Today we're going to share with you everything you need to know about securing your place to ride Star Wars: Rise of the Resistance this year. This attraction is now on the Lightning Lane list and is no longer a virtual queue.
What is Star Wars: Rise of the Resistance?
If you aren't familiar with this attraction, you'll find it located within Star Wars: Galaxy's Edge. It's one of two attractions in the land at Disney's Hollywood Studios, and an identical attraction can also be found over in Disneyland in Anaheim. Whether you are a die-hard Star Wars fan or not, this is one attraction you won't want to miss on your next trip. Of course, you won't be alone in wanting to ride the attraction, which is why they've adopted a virtual queue system. Once you do get to ride, you'll experience one of the most immersive attractions ever created by Disney, which involves multiple vehicles and experiences within the one attraction. Kids, teens, and adults will absolutely love this attraction, but you will need to be 40 inches or taller to ride.

How to Book Your Place on Star Wars: Rise of the Resistance
The biggest difference between Star Wars: Rise of the Resistance and other attractions in the Disney theme parks is the use of a virtual queue. Due to the overwhelming popularity of this ride, this virtual queue system seems to be here to stay, so you'll want to familiarize yourself with it before your next visit. Before your day in the park, you'll need to ensure you have a valid park ticket and reservation for that day and that you have the My Disney Experience app downloaded on your phone. If you are traveling with your whole family, ensure they are all linked and added to your account. This will allow you to book a boarding pass for everyone in your family, so no one is left behind.
A huge change that has occurred recently is that you don't need to be in Disney's Hollywood Studios to obtain a boarding pass during the morning slot. However, we recommend being nearby if you are trying during the morning session, as you may be lucky enough to get one of the first passes of the day. As of this time, virtual queue slots are available twice a day: at 7 am and 1 pm. For the 1 pm slot, you do not need to be inside the park to participate (this is an update).
A few minutes before the designated time, log in to the My Disney Experience app. From there, click on "Star Wars: Rise of the Resistance – Request Access with Virtual Queue." This will take you through to the screen where you will secure your pass for the day. Keep refreshing your screen until the booking time, and then you should see a button that says "Join Boarding Group." From there, you click through, and you add everyone who wants to ride into your pass. You will then receive a number, which allows you to track your progress throughout the day. However, just because you secured a boarding pass, you may have a long wait. Make sure you have push notifications on the app, so you can be notified when your time to ride commences. Once your ride time begins, you'll have one hour to make it back to the attraction.
Top Tips for Securing a Boarding Pass for Star Wars: Rise of the Resistance
These are a few of our top tips for using the boarding pass system:
Make sure you are logged in before the 7 am or 1 pm slot. Passes go in as little as 15 seconds, so you need to be on time to secure your boarding pass.
If you are going to attempt the 7 am boarding pass from your resort, ensure you are ready to go if you get a pass. Disney now only gives guests one hour to ride the attraction, and you won't want to miss out on this fun experience.
Ensure you put push notifications on for the My Disney Experience app to avoid missing your boarding pass time.
Due to the current restrictions in the parks, you'll need to have a park reservation for Disney's Hollywood Studios for the day you plan to ride.
If you are connecting via the park's Wi-Fi system, ensure you are standing in an area with a strong connection. Keep checking back on your app throughout the day in case you are disconnected.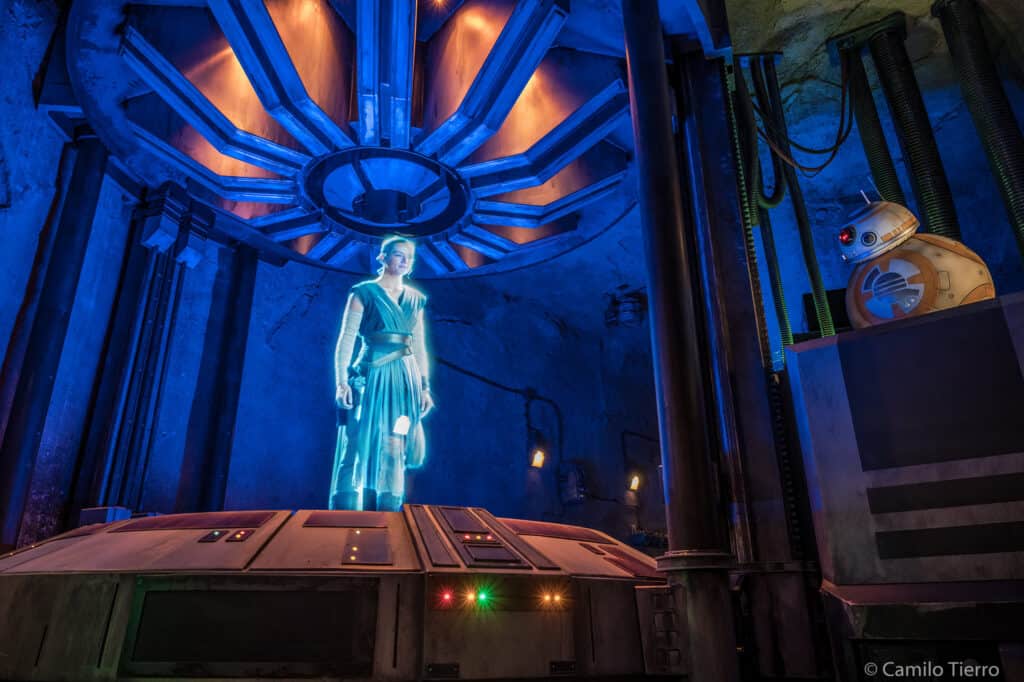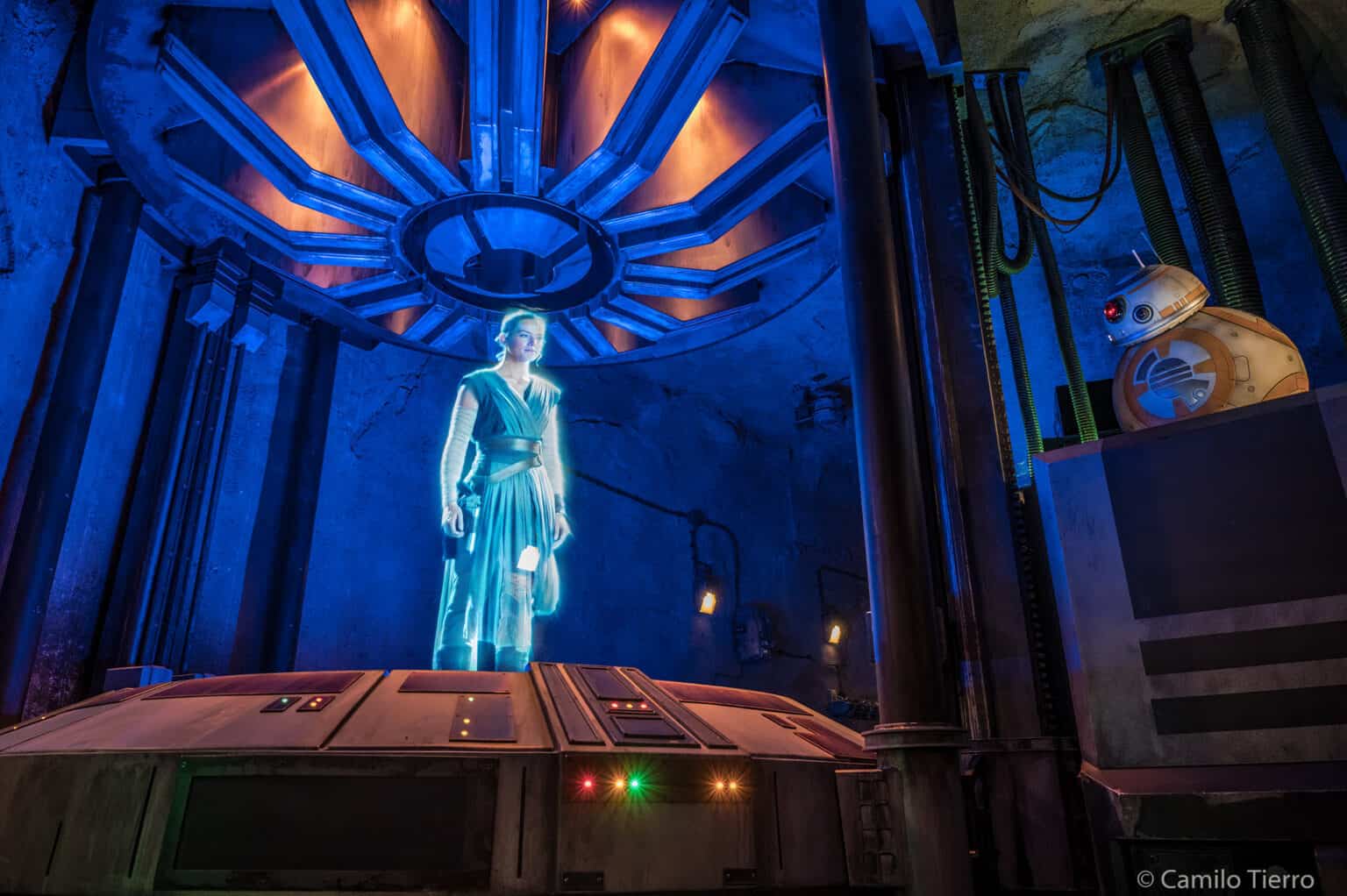 Fun Facts About Star Wars: Rise of the Resistance
While we certainly don't want to spoil the attraction for you, here are a few fun facts about what you have to look forward to when you ride:
The main part of the attraction uses a trackless ride system, similar to the one that has been used before on Remy's Ratatouille Adventure in Disneyland Paris.
For any Star Wars fans in your family, you'll be interested to know the attraction takes place in the time between The Last Jedi and The Rise of Skywalker.

 

It's an original story that still fits within the world of the movies.
One of the highlights of the attraction, which you've probably seen pictures of online, is the Hangar Bay. You'll walk through this area which features fifty stormtroopers lined up. Make sure you have your camera ready, as this is one of the best photo opportunities during the attraction.
You'll see many of your favorite Star Wars actresses and actors in the attraction, including Daisy Ridley, Adam Driver, and John Boyega.
Star Wars: Rise of the Resistance is an attraction you won't want to miss on your next trip to Disney's Hollywood Studios. While Star Wars: Galaxy's Edge has so much to see and do, this really is the highlight of any visit to the land. Follow the tips above to secure your boarding pass, and you'll be ready for the adventure of a lifetime.