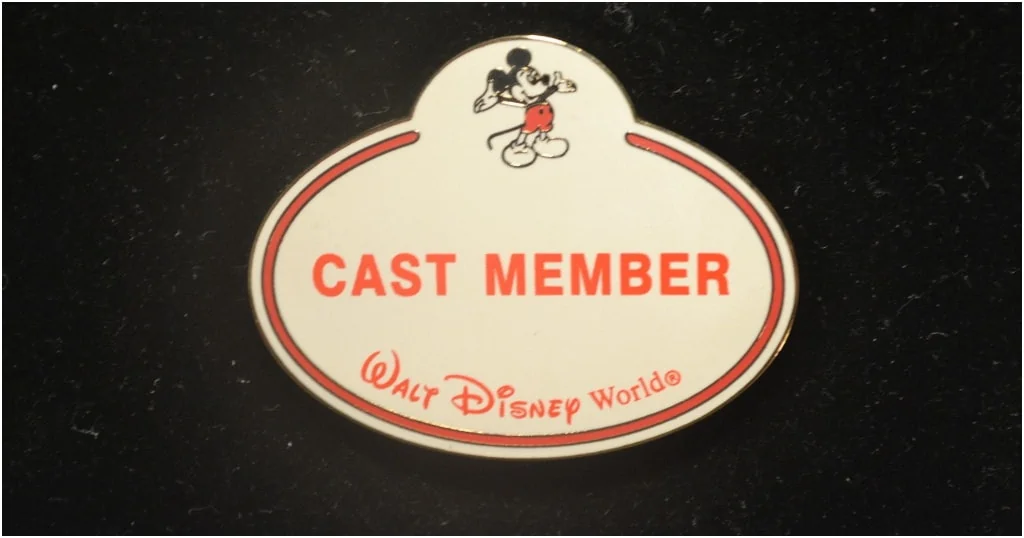 From helping you plan the perfect vacation to serving you excellent meals, Disney Cast Members are indeed what makes the magic happen on your Disney Vacation. Disney employees work hard to make sure guests have everything they need and have a trip of a lifetime while visiting the Happiest Place on Earth.
One of the biggest reasons people decide to start working at Disney is because of the discounts. If you love to see the Disney Parks often, finding deals can help you to afford those pricey tickets and high dining bills.
Disney has changed many policies over the years, especially since Covid. So, what has changed with Disney Cast Members, and do Disney employees get Discounts?
The answer to that question is yes, Cast Members do get discounts on dining, resort stays, weddings, and free park tickets. Disney offers excellent rates, and discounts to employees, this way, their cast members have the chance to not only work at the Disney Parks, but they can enjoy Disney firsthand.
So, what are the discounts Disney cast members can receive, and how do they work?
Read More: What to Wear to Disney Traditions?
Do Disney Employees Get Free Park Tickets?
Disney employees get free park tickets, but there are some rules and regulations to use them. Disney employees can get themself into the Disney Theme Parks using their Disney Cast Member ID after two weeks of employment.
Cast Members also have the chance to get their friends and families into the parks, but some stipulations must be followed to use them.
Main Gate Pass
After 90 days of working at Disney, Cast Members will get a Main Gate Pass that allows them to bring a specific number of guests into the park for free. Most Cast Members can get in how many dependents they have, or three guests at a time using their Main Gate Pass.
The number of times the Cast Members can use their Main Gate Pass depends on how long they have worked for Disney.  Disney Employees who have worked at Disney less than 15 years will receive a Blue Main Gate Pass, and over 15 years receive a Silver Main Gate Pass. Blue Main Gate Pass Cast Members can use their Main Gate Pass 16 times a year.
Read More: Secret Disney Outlet to Buy Gifts and Souvenirs – Magical Guides
For Silver Main Gate Cast Members, there is no limit on how many times you can get friends and family into the park with your Main Gate Pass. There are block-out dates with the Main Gate Passes, and you do need a reservation to use them.
Complimentary Tickets
Disney employees usually get three Complimentary Disney Park Hopper tickets, typically twice a year (usually during the winter and summer) to use to give to friends and family. Disney does not have a specific date or season these go out, and the Complimentary Tickets employees receive have changed many times over the years.
Disney employees cannot sell these tickets, they are only for their friends and families.
Discounted Tickets
Disney employees can purchase extra Disney Park tickets for friends and family. Cast Members get 10-15% off Disney Park Tickets they want to buy.
Do Disney Employees Get Discounts on Resort Stays, Cruises, Dining, or Merchandise?
Disney Cast Members receive significant discounts on most things Disney has to offer. From Resort Stays to Disney Cruises, Disney Employees have the chance to experience the magic of Disney at a lower price than the average guest. Disney Cast Members can score amazing discounts on and off Disney Properties.
Some Disney discounts Cast Members can receive are:
For Merchandise, the value of the discount you receive depends on how long you have worked at Disney. If you are a Blue Main Gate Pass, you receive 20% discounts on merchandise, and a Silver Main Gate Pass, for cast members who have worked at Disney for more than 15 years, receive 35% off Disney merchandise purchases.
20% off select Disney Dining Locations, most of them being sit-down Disney Restaurants.
Up to 50% off Disney Resorts for Cast Members and up to 40% off for employee friends and family.
Cast Members can get great deals on cruises, but limited space is available. The discount will depend on the dates you choose to travel. You must work for Disney for a minimum of 90 days to qualify for the Disney Cruise Discounts. Disney's Sail Away Programs allows Cast Members to buy unsold rooms 2-8 weeks before sail dates for last-minute rates!
Read More: How to become a Cast Member
What Extra Discounts Do Disney Employees Get?
Cast Members get great deals on Disney dining, merchandise, and resorts, but they also get some great discounts and freebies on many other great on and off-property items! Here are some of the great deals Disney employees will receive!
On-Property Discounts
Free entry to Disney Water Parks, there are black-out dates.
Discounts on Disney Spa Services. Cast Members can receive 15% off select 50 minute or longer spa services at select Disney Spa locations.
Discounts on Golfing at Disney Locations.
Jellyrolls at Disney's Boardwalk gives Cast Members 50% off cover charge Monday – Friday and free entry on Sundays.
Disney Mini Golf Courses give Cast Members 50% off for employees and guests.
Disney Cast Members receive extra discounts on Dining, Merchandise, and Resort stays during the Holidays at Select Disney Locations.
Discounted Tickets to Mickey's Not So Scary Halloween Party and Mickey's Very Merry Christmas Party.
Discounts on shopping and dining at Disney Springs and Disney's Boardwalk.
Free Lockers at the Disney Theme Parks.
Complimentary strollers and wheelchairs at Disney Theme Parks.
Discounts on Tours
At select Disney locations throughout the Disney Parks and Resorts, Cast Members get special discounts on Disney Tours. Employees have the chance to get up close and go behind the scenes in these memorable Disney experiences!
Go behind the scenes across Walt Disney World Resorts and see what it takes to bring the magic of Disney to life! This one-of-a-kind tour is 7 hours and takes. You have the chance to experience places most guests have never seen! Cast Members get a 35% discount on this tour.
This 5-hour tour will allow you to explore the Magic Kingdom, where you will discover little-known facts, trivia, and great information about Walt Disney World and the Magic Kingdom. Cast Members will receive 50% off this walking tour.
Take a VIP expedition with up-close encounters with African Wildlife, where you will cross a rope bridge grassland path and ride in a rugged safari vehicle! Cast Members get 50% off this fantastic nature experience.
Cast Members receive 15% off a two hours Fishing excursion at Disney. Disney offers two fishing excursions to choose from, Guided Bass Fishing Excursions and Bass Nitro Fishing Excursions. The fishing boats will pick you up at select Disney marinas and provide everything you will need to catch prized largemouth bass on one of Disney's lakes.
Tuesday through Saturday, Cast Members can get 50% off this snorkeling experience in the aquarium at The Sea with Nemo & Friends Pavilion. Get up close with marine life in this spectacular experience!
Disney Wedding Discounts
Disney Cast Members get amazing discounts on Fairytale weddings at Disney. Cast Members receive up to 50% off Fairytale Weddings! That can save a considerable amount of money, as the prices of Disney Weddings are very high! To use the discounts, it is best to book years in advance. Cast Members will also receive 10% off Disney Floral services for their Disney Wedding. Disney employees receive complimentary registry set up and planning for couples planning a Disney Honeymoon.
Christmas Discounts
During the Christmas Season, Disney gives their Employees Holiday books with different discounts and free items. These are some of the best deals Disney Cast Members receive throughout the year!
As a former Disney Cast Member, I looked forward to receiving these booklets in the mail every year. We would take our family to the park, and the kids would love to pick their favorite snacks to use the snack coupons on! These booklets have discounts that include:
A 50%, 40%, and 30% coupons for Disney Dining at select locations throughout the Disney Parks and Resorts.
Free Disney Putt-Putt Golf Tickets.
Free Waterpark Tickets.
10 Free Snack and Drink Tickets.
Some great Off-Property discounts Disney Cast Members can receive are:
10% off AMC Theaters tickets.
Discounted tickets for Sea World and Busch Gardens.
Discounts at AT&T on phone plans and accessories.
35% off Orlando Magic Tickets on home games.
20% off Orlando City Soccer Tickets (Men's and Women's).
Discounts on Orlando area off property resorts such as Hilton Orlando Lake Buena Vista in the Walt Disney World Resort Area, Hilton Orlando Buena Vista Palace, Four Seasons Resort Orlando, Holiday Inn Resort Orlando- Lake Buena Vista, Margaritaville Resort Orlando, and many more.
Wyland Galleries of Florida gives Disney employees 10-15% off jewelry and 20-35% off art.
10% off at Nike Outlet.
20% off at Timberland Outlet.
Free entry for Disney Cast Members at Howl at the Moon Orlando.
What Benefits do Disney Employees Receive?
Disney employees receive great benefits from working at Disney. Disney does well at taking care of its employees and has many programs to help Cast Members outside of work. Most benefits Disney offers are to their full-time employees, but some benefits are available to part-time and seasonal employees. Some of the benefits Disney Cast Members get are:
Weekly Pay for employees.
Affordable Health Insurance- Disney offers many Health Insurance plans to choose from, including Healthcare Reimbursement Accounts and Family Insurance Plans.
Paid Time Off- Full-time Cast Members receive paid time off for vacations and sick time.
Retirement Options- Disney offers several retirement plans full and part-time employees can choose to participate in. They offer 401K programs and many different options to choose from.
Wellness Programs- Disney offers many Wellness Programs for Cast Members to participate in. Cast Members can even get incentives for participating in these programs.
On-Site Child Care- Disney offers on-site YMCA childcare for Disney employees.
On-Site Wellness and Fitness Classes.
Volunteer opportunities through the Disney VoluntEARS Program.
Disney does a great job at taking care of its employees. They offer excellent benefits and discounts to employees to help them have a tremendous work-life and a great personal life. Ensuring employees can afford childcare and health care is essential to Disney, and it is wonderful that Disney has programs set up to ensure employees are taken care of.
If you travel to Disney often and are thinking about starting a career at Disney, the benefits, and discounts that employees are offered are more than most jobs anywhere else can offer.
Read More: Ways to thank a Cast Member for great service
Are you a current Disney Cast Member? Let us know what your favorite Disney Discount is!